LONDON, ON – The year 2016 was a record breaking one for the Star Wars franchise and its latest edition, The
Force Awakens. The Northern Force drag racing team, which gained its namesake from the quote made famous in the early versions of the franchise, "May the force be with you.", hopes to draw on some of the latest installments good fortune and have an awakening of its own as it eyes the upcoming race season.
A lot of people don't know that the name of the team came from the height of the original Star Wars craze," mentioned team driver Jory Elliott. "My dad's partner with the first Funny Car, Vince Vanni, wanted to capitalize on the success the movie franchise was experiencing at the time, and thanks to a suggestion by my mom, they ultimately landed on Northern Force as the name, which proved to be a really strong marketing play for years to come, even after the Star Wars buzz had worn off."
PHOENIX – Third-generation driver Troy Coughlin Jr. completed the NHRA licensing process for Top Fuel dragster
on Thursday at Wild Horse Pass Motorsports Park under the watchful eye of father Troy Coughlin Sr. and grandfather Jeg Coughlin Sr.
Troy Jr. earned his Top Fuel license in the cockpit of Don Schumacher Racing's Red Fuel dragster, which is driven by Shawn Langdon.
"It was really wild," Troy Jr. said. "It's extremely fast, and it's very aggressive acceleration at its finest. I've always thought power and acceleration brings great fascination to one's mind, and it truly is a wild, wild feeling the way this car pulls from about 100 feet on."
WYNNEWOOD, OK – Two-time defending Pro Stock champion Erica Enders is hosting a contest to give away tickets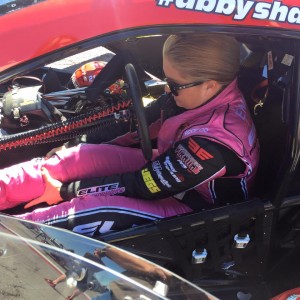 for the premiere of Racing in Red, the film documenting her charge to the 2014 title.
To enter, fans on Twitter can tweet to her (@erica_enders) using the hashtag #racinginred and explain why they should be awarded tickets to the premiere. The contest will close at noon Pacific time on Monday, Feb. 8, and winners will be responsible for their own transportation to the premiere.
Enders will select two winners who give the best response. Winners will also get a chance to meet Enders.
Racing in Red will premiere at 5 p.m. PT, Feb. 11, at the Harkins Chino Hills 18 theater, six miles south of Auto Club Raceway in Pomona, Calif. Only fans who can attend are asked to enter.
The extremely popular Summit Racing Equipment Pro-Am Tour has long been heralded as the cornerstone of the
International Hot Rod Association's (IHRA) sportsman drag racing series. The IHRA and Summit Racing Equipment will continue the industry leading sportsman coverage in 2016 by broadcasting the Summit Pro-Am Tour events live on IHRA.com.
IHRA.com and MotorMania TV will broadcast this incredible program, showcasing IHRA's premier sportsman series, live throughout the season. This program continues due to the unwavering support of IHRA sportsman racers from Summit Racing Equipment and the Summit Pro-Am Tour host tracks. Racers and fans will continue to enjoy professional broadcasts, including multiple camera views, and pass by pass reporting at each race during the 2016 Summit Racing Equipment Pro-Am Tour season.
PITTSBORO, NC – PDRA Pro Nitrous has been a hotbed of big talk this offseason. The class has risen to elite status
in recent years. Just qualifying for an event deserves ample accolade, which at times, has given birth to ample ego among competitors, as well. Not all Pro Nitrous drivers are alike, however. Chris Rini isn't one for all the talk, but that doesn't mean he's not more than ready to prove himself on the track. In 2016 he'll follow the entire PDRA Pro Nitrous circuit for the first time, and the competition can be sure that while his mouth may not be hard at work, his racing program certainly is.
Rini is debuting a brand new '69 Chevy Camaro built by Jerry Bickel Race Cars this season. The slick looking car will pay tribute to the late founder of ATI, Jim Beattie, by copying the Funny Car 'Black Magic' paint scheme he made famous in the '70s.
HOLLYWOOD, FL – This week WFO Radio NHRA Nitro features Mello Yello Funny Car Champion Del Worsham.
The Kalitta Motorsports driver takes questions from WFO Radio listeners and discusses the stretch run of his championship season.
National Dragster's Kevin McKenna talks Pro Stock testing and his latest column.
Lucas Oil Super Stock Champion Justin Lamb stops by to talk about his championship season.
BROWNSBURG, IN – Don Schumacher Racing's 14 Freightliner race-team rigs left from headquarters near
Indianapolis Sunday morning with its seven NHRA Mello Yello Drag Racing Series teams heading west for Phoenix and four days of preseason testing that begins Wednesday at Wild Horse Motorsports Park.
The 1,775-mile trip wraps up an ambitious off-season for DSR and kicks off the unofficial start to the 2016 Mello Yello season that opens its 24-race schedule Feb. 11-14 with the 56th annual NHRA Winternationals at Pomona, Calif.
DSR and most of the best Top Fuel and Funny Car teams in NHRA will participate in private testing beginning on Wednesday with limited access to the public on Saturday for those who have purchased Friday and Sunday tickets to the Feb. 26-28 NHRA national event at Wild Horse Motorsports Park (RaceWildHorse.net).