Diesel pioneer Greg Hogue will compete in Top Dragster
PITTSBORO, NC  – Drag racing has always been a hotbed of innovation and experimentation, and with that in mind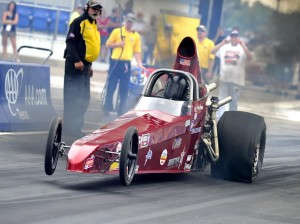 the Professional Drag Racers Association is proud to announce that a bold new step forward will be taken when diesel motorsports pioneer Greg Hogue enters the Top Dragster wars in 2015 with his unique diesel-powered dragster.
For the last decade Hogue has been a leader in the rapidly expanding diesel motorsports arena as an engine builder and components manufacturer, as well as a highly successful racer. His credentials include, among many accomplishments and accolades, being the first to push a diesel-powered truck through both the 9 and 8-second barriers, and also being the first to compete with a diesel-powered vehicle in NHRA's Super Street, Super Gas, and Super Comp categories.
Santa Ana, CA – The National Mustang Racers Association (NMRA), #1 All-Ford Motorsport Show, is proud to
announce the addition of a new major sponsor for the 2015 season. VP Racing Fuels will be the Official Fuel of the NMRA Keystone Automotive Ford Nationals Series and the required Spec Fuel for all NMRA heads up classes. The agreement between ProMedia Events, home of NMRA, NMCA and NMCA WEST, and VP Racing Fuels begins with the 2015 season opener on March 5-8 at Bradenton Motorsports Park in Bradenton, FL and continues through the end of the 2017 season.
"Expanding our partnership with the NMRA further illustrates VP's longstanding and continuing commitment to Sportsman racers," said Alan Cerwick, President of VP Racing Fuels. "We encourage racers to take advantage of VP's full-time professional Tech Support staff which is conveniently available by phone or email and ready to assist racers with fuel selection and tuning."
JUPITER, FL – The Race Track Business Conference (RTBC) has awarded Jason Rittenberry, President & Chief
Executive Officer of IRG Sports + Entertainment™ (IRG), the "Innovator of the Year" award. The inaugural award was presented by Diamond Ticketing Systems at the Performance Racing Industry Trade Show in Indianapolis, Indiana last week.
"IRG has been rapidly expanding their presence on and off the track and on multiple platforms, raising the bar for the industry," said David Hutton, VP of Diamond Ticketing Systems.
"I am honored to receive this award on behalf of the entire team at IRG, the IHRA and our track properties. We continue to implement our vision to transform the sport of drag racing for the fans and racers. 2014 was a tremendous year for us, but I am even more excited and optimistic about what we have planned for 2015," said Jason Rittenberry, President & CEO of IRG Sports + Entertainment™ (IRG).
by Todd Veney/Pro Sportsman Association
You know you've had a good career when you win four times and it's almost an off year.
Duane Shields went winless over a dozen mid-season races in 2014 – a full season for most people – but still ended up sixth in the Top Alcohol Dragster national standings with what turned out to be another solid season: five final-round appearances and four wins – two at national events and two at regionals.
Top Fuel driver Brittany Force talks about her sophomore season with an eye on her third year racing in the NHRA's
quickest and fastest pro category. In 2014 Force raced to four final rounds and three No. 1 qualifiers on the way to reaching the Countdown for the first time in her young professional career.
What was the biggest highlight for you last season?
Brittany Force: The biggest highlight of my 2014 season was locking into the NHRA Mello Yello Countdown in the No. 7 position in Brainerd. That was a proud moment for me knowing regardless of the final races I would be standing on stage at our awards banquet next to the best Top Fuel drivers!
MIR will be the third stop on the seven-city, seven-day tour
MILLINGTON, TN – The legendary HOT ROD Power Tour will return to Memphis, Tennessee in 2015 and they recently announced a stop at
Memphis International Raceway (MIR) on Tuesday, June 9. The seven-day, seven-city journey travels more than 1,000 miles from Madison, Wisconsin, to Baton Rouge, Louisiana from June 6 – 12, 2015 and MIR will be the third stop on the tour.
MIR teamed up with the Memphis Convention and Visitors Bureau to host the annual summer trek of small town America. More than 5,800 participants and upward of 90,000 spectators are expected to celebrate in the 2015 HOT ROD Power Tour. The tour brings together hot rods, street rods, custom trucks, muscle cars, and performance machines from around the world.
"The return of the HOT ROD Power Tour is always a huge win for Memphis," said Malvin Gipson, Director of the Memphis Sports Council. "When you have one of the world's largest tours of iconic cars stopping in an iconic city like Memphis, you're sure to get an enormous turnout of car enthusiasts from around the region."
PITTSBORO, NC – The 2014 Performance Racing Industry Trade Show was abuzz with all the expected announcements and plans for another
season. But for Professional Drag Racers Association racers, staff and supporters it was also a major occasion for celebration. The organization announced new partnerships and plans for 2015 and capped off the event with their first ever awards banquet on Saturday evening.
Besides celebrating an incredible first season, the PDRA made sure to celebrate their champions in grand style. Class Champions each received a monetary award and Championship trophy. Professional champions as well as Top Sportsman and Top Dragster Champs also received a Championship ring.  In Pro Extreme, Mississippi's own Bubba Stanton was crowned King as the first champion of the organization's premier class. Jason Harris celebrated his incredible season by accepting the Pro Nitrous title. Todd Tutterow, Cary Goforth and Eric McKinney rounded out the professional category champions in Pro Boost, Extreme Pro Stock and Pro Extreme Motorcycle, respectively. Sportsman champions included Dan Ferguson in Top Sportsman, Travis Harvey in Top Dragster and Isaac Evans and David Roloff in Pro and Top Junior Dragster.