Dallas, TX – Nancy Matter Motorsports is proud to announce their alliance with the Guardian For Heroes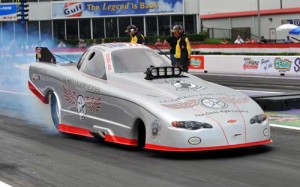 Foundation – The Chris Kyle Legacy will continue through the 2017 Racing Seasons.
Matter acknowledges their on track performance was far from spectacular in 2015 since not only did they change their engine combination which leaves little to no data after brief test sessions, but Matter also sustained an injury to her left foot in July which subsequently, sidelined the team throughout the majority of the season from any racing activities.
"We experienced an immense amount of change during the 2015 racing season" notes Matter. "Being injured was one thing, but our alliance with Wayne, Deby, Jeff and Amy Kyle, Guardian For Heroes Foundation and The Chris Kyle Memorial Benefit has been an incredible honor for us and we look forward to what the future has in store, on and off Track. We learned a lot of what didn't work last year and we've made a plethora of changes that we're hoping will produce results when we test in San Antonio next week."
POMONA, CA – This weekend's 56th annual Circle K NHRA Winternationals marks the beginning of a new era in Pro
Stock. Electronic fuel injection has replaced carburetion, hood scoops are a thing of the past, wheelie bars have been shortened, and rpm is limited. And if popular pro Shane Gray has his way, a new champion will be crowned in the factory hot rod class.
"We have a clear goal this season: We want to win the Mello Yello Pro Stock title," Gray said. "We've got all the pieces in place. I'm surrounded by the best crew in the pits, we have tremendous horsepower, we have wonderful and enthusiastic corporate partners, we've tested a bunch and feel we have a great handle on the new configuration with EFI and everything else, and I feel like I can be steady enough behind the wheel that we can earn a good amount of points every weekend.
POMONA, CA – Morgan Lucas will kick off his 2016 NHRA Mello Yello Drag Racing Series season this weekend at
the Circle K NHRA Winternationals at Auto Club Raceway at Pomona.
The veteran Top Fuel driver will again compete on a part-time basis this season, driving the Lucas Oil Racing TV dragster for his Morgan Lucas Racing team this weekend.
Pomona is a special place to Lucas, and not just because he's a two-time winner here. Lucas Oil Products is headquartered in nearby Corona, Calif., meaning a lot of friends and family will be in attendance. Plus, Pomona is the birthplace of professional drag racing, and NHRA is located in nearby in Glendora, Calif.
5th Annual Nitto Tire NMCA WEST Spring Nationals brings wild heads-up drag racing, Hotchkis Cup Autocross presented by Nitto Tire and more!
Santa Ana, CA – The 2016 NMCA WEST VP Racing Fuels season opener comes to Fontana on April 1-3 with an
exciting line-up of heads-up drag racing and autocross. The 5th Annual Nitto Tire NMCA WEST Spring Nationals event at Auto Club Dragway offers an affordable family-friendly motorsports event all weekend long with something for every automotive fan! On the dragstrip, there's exciting, side-by-side competition between American muscle cars with the Hotchkis Cup Autocross, presented by Nitto Tire, entertaining road-racing fans adjacent to the drag strip.
The NMCA WEST brings all levels of racecars from mild to wild. The Pro Mod class includes wild, extremely fast racecars that are capable of 200 mph in the eighth-mile. ProCharger Limited Street brings on the turbocharged, nitrous-powered wheels up doorslammers with over 2,000 horsepower under the hood. If that's not enough, there's Meziere Top Sportsman, ARP Outlaw 8.5, Lucas Oil N/A 10.5 and MMR Mustang Madness! For everyone from the novice to the experienced racer, there's Gear Vendors True Street where all street-legal rides are welcome. It all comes down to the chance to stand in the Aerospace Components Winners Circle at the end of the event for cash payouts, awards and bragging rights! Want to race? Rules and payouts are here.
POMONA, CA – The more things change, the more they stay the same. At least Erica Enders hopes so.  The Elite
Motorsports driver has won the last two NHRA Pro Stock World Championships, with the 2015 title won in dominant fashion. She went to the winner's circle nine times last year, clinching the title at the penultimate race of the season.
But big changes are on tap for 2016, starting with the Circle K NHRA Winternationals this weekend at Auto Club Raceway at Pomona: The class is switching to fuel-injected engines with a 10,500-rpm limit and wheelie bars are shorter. On top of that Enders and her team are switching to Mopar, and she'll be driving a new Dodge Dart along with new teammate Jeg Coughlin Jr.
POMONA, CA – Just as he finished last season, Chris Demke will kick off this 2016 season at Auto Club Raceway at
Pomona with his usual positive demeanor. The Circle K NHRA Winternationals, February 11-14, is a big race for Demke and his Maddern Racing team, who have won the season-opening race in four of the last six years. It's a clean slate; everyone's first stop in the pursuit of the NHRA Lucas Oil Drag Racing Series Top Alcohol Dragster world championship.
"The Winternationals is always an important race because it's the first race of the season. If you can do well here, it gives your team great momentum going in to the early part of the season. Fortunately for our team, we've won the Wtinernatiaonls the last two years and four total. I have great memories at the Winternationals. My first national event win was at the 50th anniversary Winternationals in 2010. It's the race where I've had the most success," said Demke, who lives nearby in Valencia.
YORBA LINDA, CA – Bank of America and Merrill Lynch Financial Services hosted a luncheon event at the John
Force Racing Yorba Linda headquarters yesterday in advance of the 56th annual Circle K NHRA Winternationals. The financial institutions invited employees and valuable clients to the shop for an afternoon of racing memorabilia and to hear John Force, 16-time Funny Car champion and five decade Bank of America customer, talk about NHRA drag racing and his family's on-track and business success.
"I have been with Bank of America since I opened my first checking account in the mid-60s. Four generations of my family have banked with them over the past 50 years. They have been great business partners and I have worked with Merrill Lynch Financial Services for over 20 years. I told stories about the early days of racing and also how important having solid financial backing is on and off the track," said Force.