SEATTLE, WA – With a new engine that will arrive in time for this weekend's O'Reilly Auto Parts NHRA Northwest Nationals, Pro
Stock driver Larry Morgan is ready to turn his luck around this season at Pacific Raceways.
"We've done pretty good up there over the years," Morgan said. "I've been to some semifinals a few times. I'd just like to get past the first round this time. I need to have a little luck."
While the Lucas Oil Ford Mustang has had its share of crazy rides during the 2014 NHRA Mello Yello Drag Racing Series season, Morgan is hoping that things will finally look up for him and his team when they unload for qualifying in Seattle.
"We haven't really recovered since some problems we had in Topeka (Kan.)," Morgan said. "Once you get behind, man, it's hard to get it back with how tight this Pro Stock class is. We've been scrambling for a while now.
SEATTLE, WA – After posting another semifinal appearance last weekend in Sonoma, GEICO/Lucas Oil Top Fuel driver Richie
Crampton turns his focus to the next stop on the NHRA Mello Yello Drag Racing Series tour, the 27th annual O'Reilly Auto Parts NHRA Northwest Nationals, Aug. 1-3, at Pacific Raceways.
"I'm pretty excited to race in Seattle," Crampton said. "We will have some great air and a fairly good racetrack to lay down some pretty strong numbers. We all know how well Aaron Brooks likes those kind of conditions, and the GEICO team does a great job of putting together a great race car for Aaron. Definitely after what we have learned this past weekend and going some rounds in Sonoma, it's pretty exciting to head up to the Northwest and try to throw down some decent numbers."
Hello Race Fans!!!  Greg "Jake" Jacobsmeyer and the AllStar Rug Doctor Dodge Challenger are set to take on the competition at the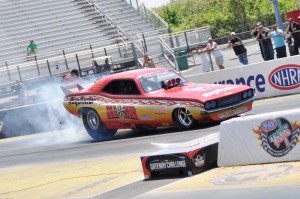 IHRA Nitro Jam Drag Racing Series Pittsburgh Nationals, Friday and Saturday, August 1st and 2nd at the Pittsburgh Raceway Park, New Alexandria, PA.
The weekend's race is the 8th stop for IHRA professional series and the 4rd race of the season for the AllStar Rug Doctor Team. Coming off a solid near record setting performance at the IHRA's President's Cup Nationals in Buds Creek, Maryland, Jake's confidence is high to make the 8 car eliminations field with no plans to stop until the finals.  The team's performance has steadily improved and demonstrated the ability to pose a serious challenge to the series' regular competitors.
Sonoma, CA – Mopar Pro Stock pilot V. Gaines drove his HEMI®-powered Dodge Dart from a ninth place qualifying spot to a
runner-up finish at the 27th annual National Hot Rod Association (NHRA) Sonoma Nationals marking a 17th career final round appearance for the Kendall Western Motorsports entry and a third this season. Gaines' final elimination face-off against competitor and title winner Jason Line was a rematch of their 2006 meeting at Sonoma Raceway which had a similar result.
It was a strong effort by Gaines as he posted an elapsed time pass of 6.564 seconds at 211.30 miles per hour (.063 reaction time) falling short to Line's 6.548 sec / 211.73 mph (.054 reaction time). After starting the season with back-to-back runner-up finishes, this third one helped break an unfortunate streak of six events marred by first round losses and one in which he failed to qualify. It also helped Gaines move up a spot in the Pro Stock points standings to eighth place with three events left to determine which top-ten drivers will make the NHRA "Countdown to the Championship".
SONOMA, CA – Courtney Force took home the Wally from the No. 1 spot today at the NHRA Sonoma Nationals when she dismissed
competitors Peter Russo, Bob Tasca III, Matt Hagan and 16-time Champion John Force to score her fifth career win. She became the winningest female driver in Funny Car history with the win. She took that title from her sister Ashley Force Hood, who had four career Funny Car wins.
"I've just had my eyes set on Ashley for a while. There was a big cluster of people who had four wins and I kind of became obsessed with going for No. 5. You always want to do well and I know that once Ashley stepped out of the seat and started a family she had totally made herself. She did a great job and I looked up to her. I knew she had four wins and I looked at where her stats were to try to see where I was at and compare. She's just done so well. I looked up to her and I feel like I've done a pretty good job if I can do half as well as she did. It's cool to reach No. 5, but I'm very proud of my team because obviously I wouldn't be here without them and the hard work that they put in. I'm only as good as my team is," said Force.
TOP FUEL WINNER:  Khalid alBalooshi – Al- Anabi Racing Top Fuel Dragster (gold)
Qualifying:   Khalid alBalooshi was the No. 8 qualifier at the NHRA Sonoma Nationals.  During the Friday evening qualifying session, alBalooshi recorded a 3.828-second pass at 316.52 mph.
Eliminations: AlBalooshi raced to his second win of the season and the fourth of his career on his 35th birthday.  He defeated Billy Torrence, Clay Millican, Richie Crampton and his teammate, Shawn Langdon on his way to the winner's circle.  After the winner's circle celebration, alBalooshi gave the race-win trophy to NHRA legend Ed "The Ace" McCulloch who spent the weekend with the team in Sonoma. Ed McCulloch is Al-Anabi crew chief Jason McCulloch's father.
SONOMA, CA – Courtney Force qualified No. 1 at the 27th annual NHRA Sonoma Nationals at Sonoma Raceway and for the third
time in her career she won from the top spot to once again give a lucky fan a TV from BrandSource and the Win with Force promotion. The youngest Force also became the winningest female Funny Car driver picking up her fifth career win passing sister Ashley Force Hood (4 Funny Car wins) in the record books. Courtney, the 2012 NHRA Auto Club Rookie of the Year, outran her teammate and father 4.253 seconds to 4.405 seconds in the 44th all JFR final round.
"I think about way too many things when I'm against dad. Normally I'm calm and collected and I think whatever is going to happen will happen, but I was so wanting this win that I was thinking don't screw up on the light, don't red light, don't pull in too deep. I wanted to pull in deep, but I didn't want to light the red light and just ruin it for my team. I was nervous. I just didn't want to screw up and it was just one of those deals where I just wanted to go and get this car straight down the track and do my job as a driver. I knew everyone would be looking at me so I just didn't want to screw it up for us," said Force, a two-time winner in 2014.