Jupiter, FL – The American Drag Racing League (ADRL) and M&K Sport Coach, a full-service dealer of Renegade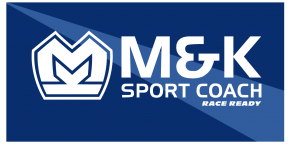 luxury motor coaches and a division of M&K Truck Centers, is proud to announce it will be a Sponsor of the ADRL for 2017. M&K will attend all events for 2017 and will be showcasing their Renegade RV's.
"We're excited for the racers that support M&K Sport Coach," States Kenny Nowling ADRL President. "Renegade already has a strong following in drag racing and we intend to promote and bolster their sales. The ADRL is poised for explosive growth and when quality people and quality products come together, it's a win-win situation."
DAYTONA BEACH, FL – Fresh off a final-round appearance at one famed race track, Advance Auto Parts Chevrolet
Camaro SS Funny Car driver Courtney Force will lead the field at yet another.
Force, who raced to a runner-up finish at the Circle K NHRA Winternationals at Auto Club Raceway at Pomona last weekend, will serve as the Honorary Pace Car Driver for the Advance Auto Parts Clash on Saturday night at Daytona International Speedway.
The Advance Auto Parts Clash is NASCAR's annual non-points special event and features the top drivers from the Monster Energy NASCAR Cup Series.
"I'm so thrilled to be the honorary pace car driver for the Advance Auto Parts Clash!" Force said. "I'm extremely nervous but honored at the same time to be driving that Chevy pace car before the veterans and young up-and-comers take on the track. Being a girl that races the NHRA in a straight line for a living at over 330 mph, I hope I can keep the pace in front of the pack and keep turning left!
JESEL to Sponsor Low Qualifier Award
PITTSBORO, NC – The strength of the PDRA Pro Nitrous program can largely be attributed to the support the class
receives from sponsors, manufacturers, fans, and racers. Switzer Dynamics has been the cornerstone sponsor of the class since the series' inception. The committed nitrous innovator will be back as the title Pro Nitrous sponsor in 2017.
"The PDRA is a very professional organization. We like how it's owned by the racers. The way it's ran and the professionalism is top notch. Judy and Tommy Franklin and the Scruggs family are some of the best people you could ever meet. We are happy to support them for the fourth year now," stated Dan Carver of Switzer Dynamics.
POMONA, CA – The NHRA kicked off the 2017 season with the 57th annual Circle K NHRA Winter Nationals this
past weekend at Auto Club Raceway at Pomona. Champions were recognized in Top Alcohol Dragster and Top Alcohol Funny Car, as well as Comp Eliminator, Stock, Super Comp and the rest of the classes that encompass the nationwide series.
Out of all the Lucas Oil winners, Ed Olpin, Pleasant Grove, Utah., had the most successful weekend by taking home a pair of NHRA Wally trophies. In the Super Gas final round, Olpin left the starting line with a near perfect light (.009), taking home the win at 9.886, 168.98 to Robert Naber's, Ontario, Calif., 9.882, 163.06. Oplin then returned to the starting line to beat out Jeff Gillette, Benicia, Calif., and win his second Wally of the weekend, in Top Sportsman Presented by Racing RVs.com in a close 6.978, 298.26 to 6.939, 193.24.
POMONA, CA – Del Worsham had a strong start with his Lucas Oil Toyota Camry Funny Car at the 2017 NHRA
Mello Yello Drag Racing Series season-opening Circle K NHRA Winternationals on Sunday at Auto Club Raceway at Pomona.
The 2015 NHRA Funny Car champion qualified 12th in his first race back on his family owned team, Worsham Racing.
"We qualified well. Not a career best time, but for that team and for my dad's car that was the best time we ever ran. I thought with the weather conditions and the position we were in, we did a great job qualifying to get ourselves in the show and run as good as we did," said Worsham.
In the first round Worsham defeated Robert Hight with a pass of 4.008 seconds at 313.15 mph.
POMONA, CA – A native of Ohio who has raced Division 3 for most of his drag racing career, Mike Coughlin has
never started a season as early as this year. But after winning the 57th annual Circle K NHRA Winternationals Sunday, things may just change a bit moving forward.
"What a way to start the year," an exuberant Coughlin said in the historic winner's circle of Auto Club Raceway in Pomona. "To think we were in testing less than a week ago with a broken motor and little hope we'd even be able to race this weekend, to end up here in the winner's circle is nothing short of remarkable.
Pomona, CA – The Mopar-powered machines out of the Don Schumacher Racing (DSR) stable were the undisputed
stars of the 57th NHRA Winternationals. Matt Hagan won the Funny Car portion of the event in his Mopar Express Lane Dodge Charger R/T, while Leah Pritchett claimed the Top Fuel crown in her Papa John's Pizza/Mopar Pennzoil Dragster. The win was the 23rd of Hagan's career, while Pritchett earned her second Top Fuel Wally.
Hagan was the No. 1 qualifier in Funny Car on Saturday, tying both his national elapsed time and top speed records. He then worked his way through the ladder on Sunday, defeating two Mopar Dodge teammates en route to facing Courtney Force in the final. Hagan laid down an elapsed time of 3.875 seconds at 330.07 mph in the left lane to win the title.