IRGSE and TEN celebrate record numbers at Memphis and Palm Beach
JUPITER, FL / NEW YORK CITY, NY – IRG Sports + Entertainment™ (IRGSE) and TEN: The Enthusiast Network,
publishers of Super Chevy, Motor Trend, HOT ROD, and more than 25 other automotive magazines, partnered to bring all things Chevy to the forefront in the Mid-South and Southeast during the month of April. The relationship resulted in record fan attendance at Memphis International Raceway and record racer and car show participants at Palm Beach International Raceway.
IRGSE and TEN announced a multi-year partnership to bring an unmatched at-track racer and fan experience to automotive enthusiasts across the country earlier this year. The result of the new relationship has elevated the prestigious Super Chevy Show into one of the premiere automotive events of the year. Fans and racers enjoy top notch racing on the drag strip, a swap meet filled with hard to find Chevy parts, an elite car and truck show, a Chevy specific vendor midway, car corral and much more.
BROWNSBURG, IN – Leah Pritchett will compete in the next NHRA Mello Yello Drag Racing Series event in 10 days
near Atlanta as the fourth woman to drive for Don Schumacher Racing when she pilots the FireAde Top Fuel Dragster.
It's been a whirlwind year for the winner of the NHRA Top Fuel event title at this year's second race when she joins the biggest team in professional drag racing and drives a fourth Top Fuel dragster that will be the eighth nitro team for DSR, which has won 14 NHRA world championships and 269 Mello Yello titles.
This development brings her nitro career full circle. The 27-year-old native of Redlands, Calif., who lives in Avon, Ind., earned her nitro Funny Car license with DSR eight years ago.
HOUSTON – Continuing a colossal string of charitable outings this spring, the Deacons of Deadwood Motorcycle
Club helped drag racing icon Shirley Muldowney present a check for $10,000 to Tacey Raulerson of College Station, Texas, Sunday at the 29th annual NHRA SpringNationals.
Raulerson, 16, has successfully beaten cancer twice in her young life, and although she lost her sight to the disease when she was just 7, her spirit and smile made her a favorite among the members of the locally-based club, which has distributed more than $2 million to Houston-area charities since its inception.
Canandaigua, NY – The 3rd Annual PDRA Spring Nationals in Rockingham, NC marked the debut of the three car
team of the Canandaigua, NY based Caruso Family Racing team and they left their collective mark.
Team driver Ava Lawler took home the win at Rockingham in The PDRA's newest class the "Bracket Bash". The "Bracket Bash" 0 through 4.99 ($3000 to win) ET Bracket Racing program will accompany the sanctioning body's previously scheduled program at each event. There are nine separate events currently scheduled in 2016.
With the win by Lawler and the strong showing by Marc Caruso in Pro Boost as well as Camrie Caruso's efforts in the Bracket Bash the Caruso Family Racing team has made the decision to run the remainder of the PDRA events this season.
PETERSBURG, VA – Duane Shields defended his title as he raced to victory at this weekend's NHRA Lucas Oil Drag
Racing Series Power in the Park race at Virginia Motorsports Park. He was the number one qualifier going into eliminations and then captured the win at this race for the second year in a row. On his way to the final, the Boulder City, Nev., resident scored wins against Richard St. Pierre and Dan Mercier, before being paired against Rich McPhillips in the final round.
Joining Duane Shield as a back-to-back victor was Steve Furr, who earned the Wally trophy in Top Dragster presented by Select Performance. The Harrisburg, N.C., racer doubled-up on the weekend by also reaching the winner's circle in Super Gas. He raced Anthony Bertozzi and Tom Stalba in the finals of each racing class.
INDIANAPOLIS – Despite the best efforts of NHRA and track officials, final eliminations from the Ray Skillman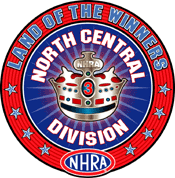 Chevrolet NHRA Spring Spectacle of Speed at Lucas Oil Raceway Indianapolis were postponed late Sunday, due to rain.
All of Saturday's scheduled qualifying and eliminations were lost to rain, but several rounds were completed on Sunday, including the first elimination rounds in Top Alcohol Dragster and Top Alcohol Funny Car.
In Top Alcohol Dragster, 2015 event runner-up Brandon Booher defeated Ken Perry. In the semifinals Booher is scheduled to race Gord Gingles, who eliminated defending event champion and low qualifier, Mia Tedesco. The other semifinal pairing will feature former North Central Division champion, Marty Thacker going against class newcomer Krista Baldwin. Baldwin, the granddaughter of Top Fuel legend Chris "the Greek" Karamesines, won the first round after opponent Robin Samsel smoked the tires, while Thacker earned his spot in the semifinals with a win against Jared Dreher.
BAYTOWN, TX – The NHRA Spring Nationals at Royal Purple Raceway, saw local racer Lee Callaway upset 2015
national champion Joey Severance for his first career win in Top Alcohol Dragster. Despite this being his first-ever final round appearance in the racing class, the Baytown, Texas, resident showed no signs of nervousness as he made his best pass of the weekend.
Callaway opened the final round with a small lead after posting a quicker reaction time, then pulled away to earn the Wally after Severance started hazing the tires at approximately 400 feet. Final round results were a 5.285 second, 271.84 mph pass for Callaway, compared to Severance's 6.610 second, 141.46 mph finish.