HOLLYWOOD, FL – AAA Insurance Midwest Nationals winners edition. Courtney Force, Antron Brown, Dave Connolly, and Jerry Savoie all
join host Joe Castello, along with the NHRA's Alan Reinhart, on WFO Radio Nitro. Plus, John Force and Robert Hight stop by to discuss a great promotion from Goodyear and Tirerack.com. To listen now, go to http://www.wforadio.com
Courtney Force stops by following her historic victory in St. Louis. Force became the first female funny car driver to win back to back races and moved into second in NHRA Mello Yello points, the first time a father and daughter have been 1st and 2nd in points stands in NHRA history.
NORWALK, OH – The last time world champion Pro Mod racer Troy Coughlin Sr. competed at the Bader family's beautiful dragstrip in
northwest Ohio he ended the day in the winner's circle. Now, Coughlin returns for another bite of the apple in the Outlaw Shakedown at the Summit presented by Mickey Thompson Tires special event, hoping for another victory in his home state.
"Certainly with winning the NHRA national event there a few months back our confidence in racing at Norwalk remains sky-high," said Coughlin, who hails from Delaware, Ohio, in the suburbs of Columbus. "Bill Bader and his family have built such a wonderful facility and they really cater to the fans and the racers. It's always a lot of fun to race there, especially when you end the day with the trophy."
READING, PA – The battle for the 2014 Pro Stock championship moves to Maple Grove Raceway for this weekend's NHRA Nationals, and Elite
Motorsports driver Erica Enders-Stevens is motivated to get to the top.
She has won four times this season and is third in the Pro Stock points standings at the halfway point of the Countdown to the Championship. She's a little more than three rounds out of first place, though, with three races remaining this season.
"I'm really excited, really confident," Enders-Stevens said. "Things are going to go down to the wire, and that's what makes Pro Stock all the more exciting. It's going to be a dogfight, and we're right in the mix."
Enders-Stevens is 67 points behind leader Jason Line and 41 behind second-place Dave Connolly after a semifinal finish at Gateway Motorsports Park last weekend.
She qualified No. 1 in St. Louis and had the quickest car in six of the seven runs over the weekend. She also drove well, leaving first on all three opponents at Gateway.
READING, PA – GEICO/Lucas Oil driver Richie Crampton has already put his name in the record book by winning this year's U.S. Nationals.
Now, he wants to add his name in another category: Quickest elapsed time in Top Fuel history.
Crampton will get that chance during the NHRA Nationals this weekend at Maple Grove Raceway.
Maple Grove is home to the two quickest runs in Top Fuel history, with Antron Brown holding the national record of 3.701 seconds set in 2012, and Crampton would love to see his name atop that particular list.
DELAWARE, OH- Team JEGS is going all-in for Breast Cancer Awareness Month, with all of its race cars sporting a pink paint scheme for races
in October.
The effort will be spread across NHRA, ARCA, CRA, and other special events and will include 10 Coughlin family members.
"October, with it being Breast Cancer Awareness Month, is near and dear to a lot of our hearts, not just here in America but around the world," Jeg Coughlin Jr. said. "Being affiliated with the James Cancer Hospital at Ohio State University with the JEGS Foundation, we couldn't be more proud to work with our partners there and with Mopar, Dodge, Mac Tools, Oakley, Speedco, and Traxxas to turn this car into a nice tribute to breast cancer awareness."
For the past 19 years, the Million Dollar Drag Race has made a huge difference in the lives of each of the past winners. This year will be no
different as the Million Dollar Drag Race will take place at Montgomery Motorsports Park in Montgomery, Alabama on the weekend of October 23-26.
But it can also make a difference in anyone's life as memberships are being sold in the Million Dollar V.I.P. Club. By joining the VIP Club at www.themilliononline.com, you'll be in the running for thousands of dollars in prizes from a variety of race sponsors. At each of the four races held at the Million Dollar Race in Montgomery, after every round of racing, a name is drawn from the VIP Club members and that winner receives the designated prize. The winners are randomly chosen by a computer generated file system.
In addition a Grand Prize winner will be chosen and that person will receive a custom-built, just for them, brand new rolling dragster chassis. This is the third year of the Club and previous Grand Prize winners Chris Barker and Steven Barnett both received new dragsters.
READING, PA – While Pro Stock driver Rodger Brogdon didn't get the opportunity to put in extra track time at Gateway Motorsports Park this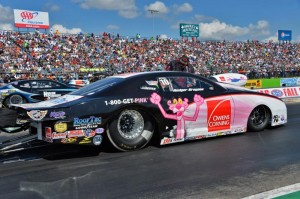 week, he still has a plan of attack for the NHRA Nationals this weekend in Reading.
"We decided not to stay and test at Gateway due to other obligations back at home," Brogdon said. "We're going to go to Reading though and change everything in that car, front to back. It'll be a whole different car when we get there than it was this past weekend. We're going in a whole different direction, that's for sure.
"We're not starting from scratch but we're making some major moves in the four-link area since we can't get it in the 330-foot area."