DETROIT – Reigning NHRA Top Fuel world champion Brittany Force, two-time and reigning NHRA Funny Car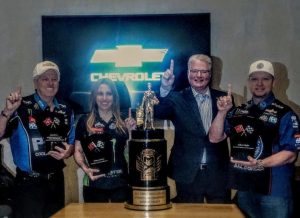 world champion Robert Hight and 16-time Funny Car world champion John Force were featured guests at Chevrolet's Detroit Dealers Auto Show Kick-Off Breakfast today. The trio recapped the 2017 NHRA Mello Yello Drag Racing season, one that started off with uncertainty and ended with triumph, and drew parallels between their struggles and success with that of the many Chevy dealerships being recognized at the breakfast.
The Chevy leadership team presented the three champions with Crossed Flag Awards highlighting each individual's championship qualities. Hight, also the President of John Force Racing, was highlighted for being a champion and a leader. Brittany Force, the first woman to win a Top Fuel world championship in 35 years, was also recognized as a champion and a role model. John Force, who now has 20 world championships as a team owner, was given recognition as a father, icon and team owner. All three were acknowledged as partners and friends of the Chevy brand.
HOLLYWOOD, FL – NHRA Champions Joey Severance, Shane Westerfield, David Rampy, and Jay Turner all join
the 'Parade of Champions' on the WFO Radio NHRA Nitro podcast.
NBC Sports Jerry Bonkowski discusses his recent column with host Joe Castello.
CompetitionPlus.com editor Bobby Bennett previews Legends: The Series Jeb Allen.
NHRA's Alan Reinhart pays tribute to the passing of icons Keith Jackson and Dan Gurney.
NIAGARA FALLS, ON – Anyone who has class raced in the northeast knows the 1956 Chevrolet of Steve McCarrick
from Phelps, New York. In 2017, McCarrick earned a second-place finish in one of the most competitive sportsman drag racing series in the country, the Joe's Transmission TNT Super Series.
He drove his wheel standing 1956 Chevy to 550 points earning him the spot near the top of the chart. McCarrick achieved it with a pair of semi-final finishes, two quarter finals and a couple of strong qualifying efforts. This is his best finish yet in TNT Super Series competition.
A long-time .90 sportsman drag racer, McCarrick has raced in and sponsored the TNTSS since it began back in 2006. "I started racing before most of the "KIDS" in the TNT Series were born," said McCarrick. "Kinda neat to kick their butts this year."
The impressive accomplishments of the 2017 Summit Motorsports Park champions were celebrated during the
inspiring 44th Annual Edelbrock Banquet of Champions presented by Lincoln Electric, January 13, 2018 at LaCentre Conference and Banquet Facility in Westlake, Ohio.
"It was a terrific weekend," said Bill Bader Jr., president of Summit Motorsports Park. "There was a high amount of energy, and people were excited to be reunited after not seeing each other since the last race of the season in October. It was a perfect way to end 2017 and an even better way to begin 2018."
The ceremony opened with side-by-side entrances by Bear Motorsports Junior Dragster presented by Wiseco Novice champion Roman Iocoangeli and his father, Mike Iocoangeli; Intermediate champion Ava Lawson and her grandfather, Ray Bouman; Advanced champion MacKenzie Kerns and her father, Ron Kerns; Edelbrock Sportsman Delivered on Time by TFC Transportation champion Larry Strohscher and his wife, Nancy Strohscher; Edelbrock Pro champion Damien Hazelton and his wife, Sara Hazelton, Edelbrock Super Pro champion Eric Manuel and his wife, April Manuel, and 2016 Bill Bader Sportsman of the Year, Dennis Hall and his wife, Leann. Wiseco/Cycle Tech Super Bike champion Craig Adams was not able to attend.
LIMA, OH – An emotional and proud John Force, legendary NHRA Funny Car driver, accepted an honorary
doctorate today at the University of Northwestern Ohio in a special ceremony presided over by university president Dr. Jeffery Jarvis. The 16-time NHRA Funny Car champion received an honorary Doctor of Laws degree for his historic motorsports career and his dedication to racing safety.
"I never had this kind of opportunity. I learned on the race tracks and in the board rooms. I got an education at truck stops across the country," Force told students and faculty during the special ceremony. "I am honored to receive this doctorate mainly because I saw the passion these UNOH students have for motorsports as well as their other programs. They are really turning their passions into careers here. I could not be more impressed with what I saw around campus and I am excited to be Dr. Force."
SAN ANTONIO, TX – VP Racing Fuels, Inc., today announced the appointment of Tiffany Boone as Business
Development Representative to support its growing retail consumer products team.  "With the increasing number of retail opportunities requiring additional resources to meet the demand, we're fortunate to be able to bring someone with Tiffany's varied experience on board," said Alan Cerwick, President of VP Racing Fuels.
Born and raised in the "Gateway to the West", Boone received a Business Administration Degree with an emphasis in Finance from University of Missouri – St. Louis.  Boone started her career in banking, investments and trust services at Commerce Bank where she worked with business development officers to onboard new accounts and develop new products and services for Commerce's clientele.
Most recently Boone spent several years as National Sales Manager for a plastic manufacturing company in the St. Louis area.  She was responsible for the daily operations of sales, customer service, shipping and project management, as well as an active participant in the company's leadership team developing long term strategic plans and implementing new policies and procedures within the departments she managed.
YORBA LINDA, CA – The reigning NHRA World Champion and driver of the AAA Chevy Camaro SS Funny Car,
Robert Hight, will make a special appearance during the annual Saint Louis Auto Show, Jan. 25-28.
Hight's appearance, taking place Jan. 27 at the AAA Missouri booth, has become an annual tradition for the now two-time world champion.
"After a long winter it's pretty cool to get out to the Saint Louis Auto Show and get back with the fans and talk a little NHRA drag racing. It will probably be more special this year coming in their being the champion. In years past, the fans, every time I've gone to this auto show, they say things like, 'I hope JFR gets their act together this year' or 'I hope you guys get back into your winning ways.' Now I can go in there with a little confidence because we won two championships. So, it's going to be a lot of fun."