HOUSTON – For the second straight year, Shell partnered with Shirley's Kids in support of a local child in need.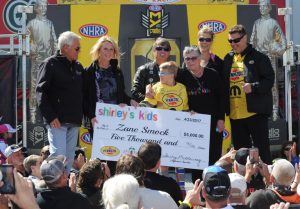 Headed by drag racing pioneer Shirley "Cha Cha" Muldowney, Shirley's Kids selected 9-year-old Zane Smock of League City, Texas, to join the four-time world champion as a guest of honor at the annual NHRA Spring Nationals in Baytown, Texas.
While at the drag races, the Smock family was presented a check for $5,000 from Shell representative John Chiboroski. Zane suffers from Cerebral Palsy and the donation will be used to offset some of his medical expenses. Cerebral Palsy is a disorder of movement, muscle tone or posture caused by damage that occurs to the immature, developing brain, most often before birth.
INDIANAPOLIS – The Spring Spectacle of Speed at Lucas Oil Raceway at Indianapolis, April 28-30, kicks off the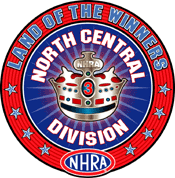 NHRA North Central Division 2017 series. The North Central division will host its first of seven races this year, and the first of two regional events at Lucas Oil Raceway at Indianapolis.
Racing categories include Top Alcohol Dragster and Funny Car, Comp Eliminator, Super Stock, Stock Eliminator, Super Comp, Super Gas and Super Street. The division's Brodix/Steve Schmidt Top Sportsman Series and Spitzer Race Cars Top Dragster Series will also run in conjunction with the event. Moser Engineering is also presenting the DRAW/RFC Super Shootouts that will be contested on Friday. Tickets are $10 each day; children 12 and under are free. The schedule is as follows:
ENNIS, TX – Texas Motorplex will play host to the NHRA South Central Division on April 28-30. The event is one of
45 scheduled across the country where drivers in the NHRA Lucas Oil Drag Racing Series earn points leading to divisional and national championships as well as a chance at a share of the year-end purse of more than $519,000. Categories include Comp Eliminator, Super Stock, Stock Eliminator, Super Comp, Super Gas and Super Street. The division's SDPC Raceshop Top Sportsman and Top Dragster Series will also be run in conjunction with the event.
Saturday's action will be highlighted by the NHRA Moser Sportsman Shootout with racers from seven different classes battling it out for a posted purse of $15,000. Defending South Central Division Moser Sportsman Shootout Champion­­ ­Ray Dew ­­­­­­­has once again qualified for the 16-car field and is eager to defend his title. Former national champion Austin Williams is qualified in both Stock and Super Comp and is looking to dethrone Dew.
LONG BEACH, CA – DENSO Products and Services Americas, an affiliate of leading global automotive supplier
DENSO Corp., has partnered with Pro Stock Motorcycle racer Angie Smith as her lead sponsor for four weekend contests of the 2017 NHRA Mello Yello Drag Racing Series. The first event, the NHRA Four-Wide Nationals, takes place April 28-30 at Smith's hometown racetrack, zMAX Dragway in Concord, N.C.
After extensive off-season testing, Smith is racing on DENSO Iridium spark plugs for the entire 2017 season. A member of the Matt Smith Racing Team, she is within three points of breaking into the top 10 rankings for a shot at the championship.
"I started off the season with a lot of momentum and I'm getting great results on the track," said Smith, who rides a Buell V-Twin at speeds of nearly 198 mph. "I am on a mission to get our DENSO Pro Stock Motorcycle into the winner's circle this year!"
BAYTOWN, TX – The 30th annual NHRA SpringNationals were in full effect this past weekend at Royal Purple
Raceway. Joey Severance, Woodburn, Ore., and Doug Gordon, Paso Robles, Calif., led the winner's circle for the Lucas Oil Drag Racing Series.
Fans in attendance were treated to a special champions battle in the Top Alcohol Dragster final round. 2016 Lucas Oil Drag Racing Series World Champions, Joey Severance and Mia Tedesco, Murrysville, Pa., clashed in the final rounds. Tedesco took home the 2016 LODRS Super Gas crown, Severance the Top Alcohol Dragster title. Severance had the better reaction time at .014 and never let up earning the win light at 5.203 seconds, 275.39 mph. Tedesco, tripped the clocks at 5.445 seconds, 264.70 mph.
DINWIDDIE, VA – Mother nature got the best of the NHRA Lucas Oil Drag Racing Series this past weekend at
Virginia Motorsports Park and the 2017 NHRA Northeast Division opener.
With weather forecasted for Sunday, NHRA and track officials altered the schedule and were hoping to run all rounds of eliminations on Saturday and complete the event. However, the wet weather came early forcing officials to postpone the event which has been rescheduled for August 26, back at Virginia Motorsports Park. Qualifying was completed and all classes are closed to new entries except for the NHRA Jr. Drag Racing League classes that are running in conjunction with the event.
When racing resumes on August 26, competitors will get one time run, prior to the start of eliminations. Round one of Stock Eliminator was completed on Saturday prior to the rain putting a halt to the racing action. The track will be open on Friday, August 25, for a test and tune day.
Northeast division racers will head to Maple Grove Raceway, May 26-28, for their next NHRA Lucas Oil Drag Racing Series event.
PITTSBORO, NC – The revitalized GALOT Motorsports Park has quickly become one of the most sought-after
venues. The Professional Drag Racers Association hosted its largest event yet there last fall and recently enjoyed another successful event on the 2017 tour, despite battling adverse weather. The young organization's commitment to continuity and growth is evident. The PDRA will continue to build upon the successes of the past events and has already signed with GALOT Motorsports Park for the 2018 East Coast Nationals. The event will be held April 6-8.
"Right now we're creating the events and traditions that will become legendary to this organization," stated PDRA's Bob Harris. "Our events at GALOT Motorsports Park are certainly part of that and we couldn't be more proud to continue our partnership with them into 2018. Our racers enjoy going there and know they are going to have a top-notch racing surface to lay down historical runs."