ENNIS, TX – Slate Cummings, Hammond, La., took home the win in the NHRA Moser Sportsman Shootout at
Texas Motorplex and the NHRA Lucas Oil Drag Racing Series.
Cummings worked his way through the 16-car field made up of drivers in seven different NHRA classes, knocking out Christopher Dodd, Double Oak, Texas, in the final with a time of 5.946 seconds in his Moser Engineering sponsored '03 Cavalier. Cummings took a nice starting line advantage and it was over after that as the quicker Dodd could not make up the difference as Cummings took the win and the $5,000 purse from Moser Engineering. Cummings had excellent reaction times throughout eliminations beating Jacob Pit, Austin Williams and defending Moser Shootout Champion Ray Dew on his way to the final.
Concord, NC – Mopar HEMI® power claimed four of the top 10 spots in Funny Car qualifying for the Four-Wide
Nationals at zMAX Dragway near Charlotte, while Mopar-powered Top Fuel machines will start sixth and ninth on the unique four-wide eliminations ladder. Only three rounds are required to crown the event champion in the classes that make up the NHRA Mello Yello Drag Racing Series.
Matt Hagan turned in the best qualifying time among Mopar drivers in the Funny Car ranks with a pass of 3.898 seconds at 331.28 mph during round two in his Mopar Express Lane Dodge Charger R/T. His No. 4 qualifying effort is best among teams not in the John Force Racing camp. His Don Schumacher Racing (DSR) Mopar teammates in Funny Car, Ron Caps, Tommy Johnson Jr. and Jack Beckman, will begin from the sixth, seventh and 10th spots, respectively.
CONCORD, NC – If there's a team that can make it through the energy-sapping heat and humidity that the NHRA
Mello Yello Drag Racing Series has faced at the Four-Wide Nationals this weekend at zMAX Dragway, it's Brittany Force's Monster Energy Top Fuel dragster team.
Temperatures were in the upper-80s and low-90s during qualifying in Charlotte, with humidity adding to the discomfort level. But Force and her John Force Racing team came through with a No. 7 qualifying effort – and a terrific pass in the heat of the day in the final qualifying session.
Force's official qualifying run will be 3.745 seconds at 324.75 mph, but her most impressive pass may have come in Q4. There, she was third-quickest of the session with a run of 3.799 seconds at 322.27 mph.
CONCORD, NC – The eighth annual NHRA Four-Wide Nationals have started pretty well for Lucas Oil-sponsored
Pro Stock Motorcycle riders Hector Arana Sr. and Hector Arana Jr. The father/son duo earned the sixth and seventh positions, respectively, on the elimination ladder and are already looking forward to better results when race day arrives.
"I guess hard work does pay off," Arana Sr. said. "I even think we have a little more left in these bikes. We haven't figured out exactly what this new combination likes so we are going to keep on beating on it, keep on going and as long as we can keep picking up the pace as we go along we will be fine.
CONCORD, NC – Pro Stock driver Allen Johnson will head into raceday at the NHRA Four-Wide Nationals in the
No. 12 position in his Marathon Petroleum/J&J Racing Dodge Dart.
On Friday, Johnson hit zMAX DRAGWAY with a tune-up to see what the track would hold. The Marathon Petroleum/J&J Racing Dodge Dart launched a little too aggressively and he shook a little after the 60-foot mark; he coasted to a 12.005-second pass at 94.79 mph. The Adam Hornberger-led team came back in the second session on Friday and greatly improved with a 6.657, 208.33.
In the first session on Saturday, Johnson ran his best of the weekend when he lit up the scoreboards with a 6.644, 208.55. Johnson clocked in with a 6.674, 209.14 in the closing round of qualifying but he felt there was more out there for his car in the final session.
CONCORD, NC – PEAK Coolant and Motor Oil Chevrolet Camaro SS Funny Car driver John Force has had a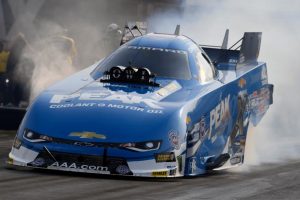 subtle weekend at the Four-Wide Nationals at zMAX Dragway.
But with a fast Camaro heading into eliminations, the 16-time champion could make a lot of noise on Sunday.
Force qualified No. 3 for the unique Four-Wide Nationals – behind John Force Racing teammates Courtney Force and Robert Hight. That's the first time JFR swept the top three spots since Topeka 2014, when Courtney Force was No. 1, John Force was No. 2 and Robert Hight No. 3.
"We have won this race – I won the inaugural (in 2010)," Force said. "Robert has won it, and Brittany (Force) has won it. That only leaves (Courtney). So, we will see what happens tomorrow.
CONCORD, NC – Perhaps no one was happier to suffer through the heat and humidity that settled on zMax
Dragway Saturday than two-time Pro Mod world champion Troy Coughlin, whose Friday night pass of 5.770 at 254.95 mph remained unchallenged in the final two rounds of qualifying for the eighth annual NHRA Four-Wide Nationals.
"I was sweating it out, literally," Coughlin said with a laugh. "In reality, it got too hot today for anyone to really challenge that 5.77. The day kind of turned into a test-n-tune for tomorrow's elimination action because all indications are that we'll see very similar conditions. Either way we'll be ready.
"It is very satisfying and rewarding for Steve Petty and the rest of the guys on this JEGS.com race team to put this turbo-charged Corvette on the pole. They're the ones that earned it through a bunch of hard work. I'm super proud of them."