Tonight, Alex "The Car Girl" Rogeo is live in studio. She was hosting the show last week and did such a great job that she will be doing it again
tonight. She has a lot to talk about.
She recently raced at the big event in St Louis and has been upgrading and making her supercharged Dodge even faster. She also has a great line of car car products. Hear all about what is going on with Alex "The Car Girl" this month on Speed Scene Live TV.
Did you see last weeks show? If not, check out last weeks show on the archives page at Speed Scene Live.
Check out the live show Tuesday at 6:00 to 7:00 at www.SpeedSceneLive.com
CAYUGA, ON – The Pro Modified Racing Association is gearing up for a return to Maryland later this month for the second annual
International Pro Mod Challenge at the SuperChargers Showdown.
Billed as Canada versus the USA, the PMRA Pro Modifieds will take to the track at Maryland International Raceway in Mechanicsville, MD for a return showdown with the Northeast Outlaw Pro Mod Association September 26-27.
This is a non-points event. The regular PMRA season has been completed.
Shawn Langdon, Al-Anabi Racing Top Fuel Dragster (silver):
Reigning NHRA Mello Yello Top Fuel world champion Shawn Langdon enters the AAA Texas NHRA Fall Nationals, the second of six races that comprise the Countdown to the Championship NHRA Playoffs, in third place in the NHRA Mello Yello Top Fuel Point standings – the same position in which he started the Countdown last week in Charlotte. Langdon lost to his teammate, Khalid alBalooshi, in the first round of Charlotte eliminations, but since the race was suspended and will be completed this weekend, the point standings are unchanged.
DALLAS, TX – One of the Pro Stock Motorcycle competitors favored to earn the Wally at the Pep Boys NHRA Carolina Nationals, Lucas Oil rider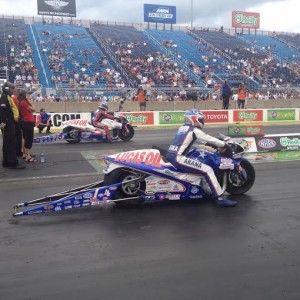 Hector Arana Jr. now has a chance to double up when Charlotte eliminations continue this weekend during the AAA Texas NHRA FallNationals at Texas Motorplex.
The No. 2 qualifier was geared up to take on No. 15 Shawn Gann in the first round of eliminations before deteriorating track conditions and rain postponed the entire event. While Arana isn't concerned about the makeup race, a compacted schedule does throw a few wrenches into the team's weekend plans.
"You know, it's a completely different scenario now," Arana said. "Normally we have four runs of qualifying any given weekend, and we were able to try all different kinds of things. Now we're going to be racing during qualifying. That takes out some of the testing we would normally do during qualifying.
NORWALK, OH – The International Hot Rod Association™ (IHRA) and IRG Sports + Entertainment™ are excited to welcome Steven Cole as
Vice President of Corporate Partnerships for IHRA Motorsports.
Cole brings over 20 years of sports marketing experience to the IHRA, with the past 17 years almost exclusively in motorsports with NHRA, NASCAR and IndyCar. Cole resides in southern California and will be handling corporate partnerships under the guidance of IHRA President Scott Gardner and IRG Sports + Entertainment CEO Jason Rittenberry.
"I am really looking forward to Steve joining our team. Having worked directly with him in the past through several different racing ventures and projects, I am confident that he is going to make an immediate and far-reaching impact on our company," said Jason Rittenberry, President and Chief Executive Officer of IRG Sports + Entertainment.
DALLAs, TX – Even though the Pep Boys NHRA Carolina Nationals in Charlotte were postponed until this weekend's AAA Texas NHRA
FallNationals, Pro Stock Motorcycle rider Adam Arana welcomes the challenge of running two full races at Texas Motorplex.
While he was ready to line up his ProtectTheHarvest.com/MAVTV Buell against Chaz Kennedy in the first round of eliminations in Charlotte, the youngest Arana thinks that the makeup rounds in Dallas might fit his riding style even better.
"It's not going to be any different having two races in one weekend really," Arana said. "If anything, I think the Charlotte races running during qualifying may be a little easier mentally because it won't have the same atmosphere.
MARTIN, MI – The IHRA Summit Racing Equipment Team Finals presented by AMSOIL continued its championship tour over weekend with
the team championship and Summit SuperSeries runoffs at the Division 5 Summit Team Finals at US 131 Motorsports Park.
US 131 Motorsports Park took the team crown over Grand Bend Motorplex. It was the third year in a row US 131 Motorsports Park has taken the Division 5 Summit Team Finals team championship. Wisconsin International Raceway, the last team other than US 131 to win the team championship back in 2011, was third, followed by Osceola Dragway and Cordova Dragway Park. The remaining teams in competition were Marion County International Raceway, Eddyville Raceway Park, Ubly Dragway, Cedar Falls Raceway and Central Illinois Dragway.