Pomona, CA – The 2014 NHRA racing season ended in Pomona for Ahten Racing. As the crew arrived on the top end after the last qualifying
pass, Johnny Ahten was standing next to his car with a look on his face that said it all. There would be no racing on Saturday, and no repeat victory, it was over.  The thing Johnny was thinking about was why. The car had the right tune up, and track conditions were optimal. The reason for tire shake had to be found, and Johnny, his crew chief Al Ahten, and team partner Howard Katano were going to find it. As the team packed up the car and headed home, the plan for the future was beginning to take shape.
"It was a heartbreaker to not qualify at our home track for the last race," said Johnny Ahten. "Winning this race last year was amazing and we all wanted a chance to defend our title. The car experienced tire shake and we missed the cut. At the last national event in Vegas we were the number one qualifier. It just goes to show that drag racing can be tough. We have a task in front of us this off season, and we will find the answers. We know how to make the Island Renovations / Combust Filters dragster go fast. We had the quickest A/Fuel pass this year with our 5.202@269.73 run in Seattle. We qualified number one several times and went to four final rounds. The time off will allow us to review the chassis, the parts, and make the appropriate changes," added Ahten.
NORWALK, OH – In a continued effort to grow its sportsman programs and continue to provide an abundance of options for its competitors, the
International Hot Rod Association is pleased to announce a brand new, entry-level sportsman index class that will be run at select events in 2015.
The new class, currently labeled the No Throttle Stop (NTS) 11.50 class, will be run at four events in 2015 and will feature entry-level, heads-up index racing for racers without the need for additional expenditures.
"This class will be a way to introduce heads-up racing to a large number of No Box competitors who want to try 'old school' index racing without major changes to their vehicles," said Skooter Peaco, VP of Race Operations. "We will be testing the viability of the class in four distinct regions on the IHRA's Nitro Jam Drag Racing Series. We look forward to seeing how this class develops throughout the year."
JASON MILLER LEADS IDBL AS PROMOTER
MECHANICSVILLE, MD – IRG Sports + Entertainment™ (IRG) President & CEO, Jason Rittenberry, announced today that the company has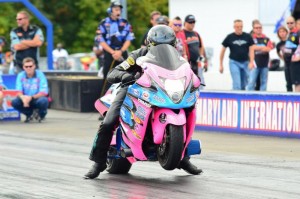 launched the International Drag Bike League (IDBL), and has named MIROCK Superbike Series founder Jason Miller as the Promoter of the new series.
For 2015, the IDBL will be comprised of five events with four events at IRG owned Maryland International Raceway and one event at Atco Dragway. There are plans to expand the IDBL to additional tracks in the Northeast for 2016 and return to a seven or eight race schedule.
IDBL Promoter Jason Miller states, "I started the Mickey Thompson Tires MIROCK Superbike Series a little over a decade ago between Maryland International Raceway and Rockingham Dragway and it has always been my biggest passion. I have always done most of the leg work to grow the series into what it is today and I am very fortunate to have the support from our motorcycle racers, families, fans, sponsors, media, and staff. I want everyone to view this transition to the IDBL as an evolution of the MIROCK Superbike Series, and not a dissolution."
POMONA, CA – While Chris Demke didn't bookend his dream season with a win at the Auto Club NHRA Finals, he did accomplish a few goals
set for the season finale. Demke and his Peen Rite Top Alcohol Dragster team celebrated their national championship with family and friends, drummed up interest in their spare 'For Rent' dragster, and enjoyed some success, qualifying No. 3 and reaching the semifinals. It was a fitting end to a monumental season for the fun-loving, hardworking Maddern Racing team.
"It certainly went well but it didn't end like we hoped it would," Demke said of the Finals. "We received numerous inquiries about driving this car next year, which was our goal. While we haven't signed any deals, we talked with numerous players. Performance-wise, the car ran a few twenties. I think there's more left in it, we're just creeping up on it. The chassis is still plenty competitive, as competitive as the championship car."
LAS VEGAS – Fresh off a runner-up finish in the NHRA Pro Mod Drag Racing Series, two-time world champion Troy Coughlin returns to The
Strip at Las Vegas Motor Speedway as a top contender at this weekend's 10th annual Street Car Super Nationals presented by Chris Alston's Chassisworks.
Coughlin and noted tuner Steve Petty, who was named the 2014 NHRA Pro Mod Cre Chief of the Year, will enter their powerful twin-turbo JEGS.com Chevrolet Corvette in the premier Outlaw Pro Mod category. The duo has won the last two Street Car Super Nationals.
"This race is always a bunch of fun," Coughlin said. "The PSCA puts on a great show for fans, and they make sure the racers are happy as well. It makes for a good time all the way around.
HOLLYWOOD, FL – NHRA Mello Yello Funny Car Champion Matt Hagan, and Arana brothers, Hector Jr. and Adam all join host Joe Castello,
along with the NHRA's Alan Reinhart, on WFO Radio Nitro. To listen now, go to http://www.wforadio.com
Matt Hagan stops by WFO to discuss his 2014 championship run, his battle to the final round of the season, and defeating NHRA icon, John Force in the points battle and Auto Club Finals. Hagan reflects on his crew, his future, and what it means to be a champion.
Auto Club Finals, #NHRAPSM winner, Hector Arana, Jr. and his brother Adam take time out for WFO. Hector talks about ending his season on a high note and his racing family getting ready for 2015. Adam discusses his decision to serve his country in the United States Coast Guard.
Alan Reinhart recaps the Auto Club Finals and NHRA Awards banquet.
Hot Rodders of Tomorrow just completed half of their Engine Challenge Dual Championship. Held at the Specialty Equipment Market
Association's (SEMA) annual Trade Show, the high schoolers competing in this Engine Challenge Championship had the largest group of spectators at any Engine Challenge to date.
Team Autometer from Eastern Oklahoma County Tech Center set a new Engine Challenge record on their way to becoming one of the SEMA Dual Championship winners. They completed a performance engine rebuild in just 18:09. The average time of their three rebuilds was an incredible 19:28. This gives them the first place seed going into the National Championship at the Performance Racing Industry (PRI) Trade Show, December 11-13 in Indianapolis, Ind.