INDIANAPOLIS, IN – Three-time NHRA Top Fuel world champion Antron Brown announced today that longtime motorsports industry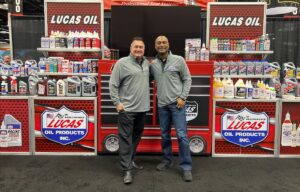 supporter, Lucas Oil Products, Inc., has joined his team, AB Motorsports, as its official lubricants partner for the 2022 NHRA Camping World Drag Racing Series season.
Lucas Oil has manufactured and distributed automotive oil, additives, and lubricants since it was founded by the husband-and-wife team, Forrest and Charlotte Lucas, in 1989, and has been a fixture in the NHRA community ever since. Brown has enjoyed a longtime relationship with the Lucas family for decades, and part of what spurred this new partnership between Lucas Oil and AB Motorsports was the family values shared by the owners on both sides.
Brown's relationship with the Lucas family extends back to when he first embarked on his NHRA career in 1998 aboard a Pro Stock Motorcycle, and Lucas Oil signed on to support the young upstart. Brown credits Forrest and Charlotte for helping him to be able to compete on a full-time basis during his earliest NHRA years, stepping in to fulfill any open races on Brown's schedule. Since that time, Lucas Oil has remained a part of the Brown family racing operation, having supported all three of Brown's children's Jr. Drag Racing careers, and Brown's father, Al, and uncle Andre's Super Comp team, all of which still proudly banner the Lucas Oil logo to this day.