TNT
NIAGARA FALLS, ON – Anyone who has class raced in the northeast knows the 1956 Chevrolet of Steve McCarrick
from Phelps, New York. In 2017, McCarrick earned a second-place finish in one of the most competitive sportsman drag racing series in the country, the Joe's Transmission TNT Super Series.
He drove his wheel standing 1956 Chevy to 550 points earning him the spot near the top of the chart. McCarrick achieved it with a pair of semi-final finishes, two quarter finals and a couple of strong qualifying efforts. This is his best finish yet in TNT Super Series competition.
A long-time .90 sportsman drag racer, McCarrick has raced in and sponsored the TNTSS since it began back in 2006. "I started racing before most of the "KIDS" in the TNT Series were born," said McCarrick. "Kinda neat to kick their butts this year."

NIAGARA FALLS, ON – In third place in the 2017 Joe's Transmission TNT Super Series points chase is Chris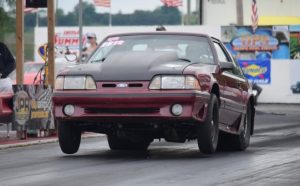 VanBaalen from Wellandport, Ontario.
He earned it with a consistent run in 2017 both in qualifying and going rounds. At 532 points, he was only six points ahead of fourth place and only 18 points out of second. This is VanBaalen's fourth time in the top five in the past six seasons.
"I have to thank my parents (Pete and Sherry) along with Matt and Sherri Devries at Matts Auto Service," said VanBaalen. "And all the sponsors who make the TNT series the best sportsman series around."

NIAGARA FALLS, ON – It was a pair of familiar faces earning a fourth place finish in the 2017 Joe's Transmission
TNT Super Series points chase, the team of Jim Thomson and Ryan Boniferro.
Both drivers are former Rookie of the Year winners and Thomson was last year's series champion so it's no surprise to see them in the top five. The 2017 season saw them top the field with two number one qualifiers and only one first round loss all season. They were deep in eliminations at most races.
The points battle was so tight this year, these guys only finished two points ahead of fifth place and only six points behind third.

Jarrod Kolne – 2017 TNT Super Series FIFTH PLACE
NIAGARA FALLS, ON – Southern Ontario's Jarrod Kolne had an outstanding start to his class racing career. Not only
did he finish in fifth place in this year's Joe's Transmission TNT Super Series points chase, he also took home Rookie of the Year honours.
The Cayuga, Ontario based racer has had lots of success in the bracket racing ranks. In 2017, he set his sights on 10.90 index racing and found himself competing at the top of the field.
Along with earning a number one qualifier this year, Kolne was seen deep into eliminations many times and ended the season with his first TNTSS final round appearance, earning a runner-up to veteran Harry Phelps.

Sam LoVetro Automotive presents points chase season finale!
LANCASTER, NY – The Joe's Transmission TNT Super Series visits Lancaster Dragway this Friday September 29th
for its re-scheduled season finale event.
Presented by Sam LoVetro Automotive, the event was originally set for earlier this month but got rained out.  This week looks to bring some of the toughest sportsman drag racers together to crown the 2017 TNTSS Champion.
Leading the championship points is Tom Coonly.  He has a 55 point lead against second place Steve McCarrick.  Another 18 points back is Chris VanBaalen and then only 6 more back is the team of Jim Thomson/Ryan Boniferro followed by Rookie contender Jarrod Kolne only another 2 points back in fifth place.  With over 130 points available on any given raceday including qualifying points, this championship chase is far from over.

Rain forces one race to be re-scheduled to September 29!
LEICESTER, NY – Championship weekend for the Joe's Transmission TNT Super Series turned into a single race
when rain forced Friday's event at Lancaster to be postponed to September 29. Empire's race on Saturday turned out to be a great day with Harry Phelps from Newark, New York taking the win over the 30 car field.
First, he used the tree to defeat Kirk Parry in round one. Then he was behind at the hit in round two but used the stripe to steal second round from Chris VanBaalen by pushing him under the 10.90 index.
Third round saw a tree malfunction so a re-run was called. There he overcame a starting line disadvantage and pushed Ryan Boniferro under to a 10.894.

Sam LoVetro Automotive presents final weekend with no points fee for new racers!
NIAGARA FALLS, ON – Season eleven in the Joe's Transmission TNT Super Series will crown a champion this
weekend as it heads to Lancaster Dragway on Friday night and then Empire Dragway on Saturday. Sam LoVetro Automotive once again presents championship weekend where the teams go from 1/8 mile racing to 1/4 mile racing in the same weekend.
The points battle is extremely tight with first through fifth only separated by 75 points. Including qualifying points, there are over 130 points available on any given TNTSS race day so this is truly anyone's championship.