WHO'S IN THIS ISSUE OF RPM – JULY 2013
Brandford, ON – Angela Ray's Thoroughbred Mare – Moving through the male dominated sport of Pro Modified drag racing, Angela Ray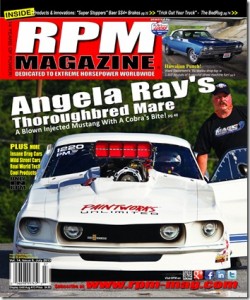 is an upcoming sensation since late in 2012 when she officially announced her arrival with the "Magic Racing Team" and the highly distinctive blown injected Shelby Mustang.
13-06 Cover FINAL 650Hawaiian Punch! – How about an 8-second quarter-mile, street driven 1969 Chevy Malibu convertible… pretty cool right? What about if we told you that it weighs 3,800 pounds, has a little 406 small block with nitrous under the hood and rides on 8" wheels… now that is badass!
Extreme Event #1 Rocks Canadian Long Weekend In Grand Bend – 6-second quarter-mile Pro Doorslammers, 5-second Alcohol Funny Cars, an insane Jet Dragster, tons more fast cars and lots and lots of original music… there's no better way to start the Canadian summer!
Just Say No! – No More "No Bottle" for Ron Rhodes as he puts the world of stock suspension nitrous oxide drag racing on notice with his wicked small block on juice!
The Winning State of Mind – The Drag Racer's Mental State
RPM Project Green Machine – Project Green Machine Needs To Stay Cool, And Look The Part, For Lots Of Hot Summer Driving!
The Perspective – Melanie Troxel Talks Drag Racing and More!
Gentlemen Start Your Engines! – What to Know about Firing up your New Engine for the Very First Time – Project Thug engine gets a good going over.
Back issues are available to read online at www.rpm-mag.com. Below are links to the last six issues for your convenience and viewing. Feel free to pass these links on to your friends.