TESTING MOVING FORWARD AS EASTON AND PATRIOT PRO MOD HEAD TO NORWALK THIS WEEKEND
SALEM, OH – Multiple test sessions have Steve Easton and the Patriot Pro Mod team eager to get back on a race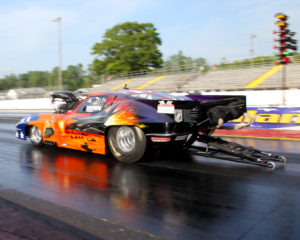 track this weekend with an eye on moving into race mode. The team will be racing the Rumble Wars 8 Pro Mod race which is one of the many exciting classes that will be featured during the 18th Annual Lingenfelter Performance Engineering Blue Suede Cruise presented by ScottRods Custom Hot Rods and Fiberglass, July 12-14, at Summit Motorsports Park in Norwalk, Ohio. Easton, the young Australian who has been campaigning the Patriot Pro Mod, a '63 split window Corvette, since last summer knows consistent runs are right around the corner and he hopes to see results this Saturday on one of the NHRA's premiere tracks.
"I am looking forward to going to Norwalk on Saturday," said Easton on Wednesday night. "We will be in test mode and we'll be looking to make that transition to race mode after a few more positive runs. We feel like we are moving in the right direction with this new transmission.  I am a little frustrated at the moment because I am not making progress fast enough, but I know we can get it to come together. We got a lot of good data (in testing) so we just need to spend some time reviewing it before we head to Norwalk. We are going to be looking to make as many good clean runs as possible and keep moving forward."
On Wednesday night the team made a number of test runs at Dragway 42 in Salem, Ohio and while the track was superb Easton admitted they didn't get the maximum benefit.
"We had a pretty frustrating day at the race track on Wednesday. We didn't make quality runs, but the track was awesome," said Easton. "The track owner Ron Matcham at Dragway 42 came out and prepped the track for us. I have to thank Ron a ton for giving us such a great race track on Wednesday night to test. We are learning with a lot of new parts and having a brilliant track is a big advantage. It was a great race track and we are just still trying to get a handle on the new transmission."
The Patriot Pro Mod team has been testing for the past month with an eye on stepping up their program for a strong run at a variety of 1/8 mile Pro Mod events this summer. The first big race for the team will be the PDRA Inaugural Northern Nationals at Dragway 42, July 18-20.
Photo credit Tom Turrill for media use only
Patriot Pro Mod 2019 Race Schedule (subject to change)
JULY 2019
JULY 18-20           PDRA (NATIONAL EVENT) DRAGWAY 42, SALEM, OH
JULY 25-28           NMCA (NATIONAL EVENT) ROUTE 66 RACEWAY, JOLIET, IL
AUGUST 2019
AUG 1                   ROCKY'S TNT MILAN DRAGWAY, MILAN, MI
AUG 2                   RUN WHAT YA BRUNG MILAN DRAGWAY, MILAN, MI
AUG 3                  OUTLAW 660 DRAGWAY 42, SALEM, OH
AUG 10                 QUAKER CITY HEADS UP QCMP EAST, SALEM, OH
AUG 22-24          NMCA (NATIONAL EVENT) SUMMIT MOTORSPORTS PARK, NORWALK, OH
AUG 24                 OUTLAW 660 DRAGWAY 42, SALEM, OH
SEPTEMBER 2019
SEPT 5                   ROCKY'S TNT MILAN DRAGWAY, MILAN, MI
SEPT 6                   RUN WHAT YA BRUNG MILAN DRAGWAY, MILAN, MI
SEPT 5-7               PDRA (NATIONAL EVENT) GALOT MOTORSPORTS PARK, DUNN, NC
SEPT 14                 QUAKER CITY HEADS UP QCMP EAST, SALEM, OH
SEPT 19-22          NMCA (NATIONAL EVENT) LUCAS OIL RACEWAY, INDIANPOLIS, IN
SEPT 28                 OUTLAW 660 DRAGWAY 42, SALEM, OH
OCTOBER 2019
OCT 3                    ROCKY'S TNT MILAN DRAGWAY, MILAN, MI
OCT 4                    RUN WHAT YA BRUNG MILAN DRAGWAY, MILAN, MI
OCT 24-26            PDRA (NATIONAL EVENT) VMP, DINWIDDIE, VA