Team Aruba
BENSON, NC – Last year's PDRA Drag Wars was, simply, electrifying. This weekend's event, held for the second
consecutive year at GALOT Motorsports Park, is full of promise for the same incredible entertainment. Team Aruba is already on the grounds, taking advantage of the all-day test session PDRA offers on Thursday of every event.
Team Aruba and PDRA visited GALOT Motorsports Park in April of this year, as well, with Trevor Eman and the gang from Aruba taking the top qualifying spot in Extreme Pro Stock and pushing the Aruba.com Mustang all the way to the semi finals. Eman hopes the team can continue that success this weekend.

INDIANAPOLIS, IN – Team Aruba just completed the fifth stop on the 2017 PDRA Tour at the historic Lucas Oil
Raceway at Indianapolis. The hot and humid condition made for a tough weekend for the Aruba.com Mustang. Despite qualifying a very respectable fourth with a 4.097 effort, Trevor Eman fell in round one to Matt Giangrande. Giangrande pulled out his best number of the weekend, a 4.184, enough for a narrow victory over Eman.
"We had a very disappointing weekend," confessed Eman. "We had a good momentum through the first races of the year. Losing first round this race was unexpected. Our team worked hard all weekend to get the car down the track as fast as possible. On the Racepak computer everything looked the way it was supposed to. It almost seems like the Mustang didn't have the energy this weekend in the poor weather conditions we were facing."

INDIANAPOLIS, IN – The Professional Drag Racers Association has reached the halfway point in its fourth season.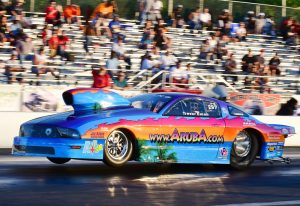 For the Extreme Pro Stock team from Aruba, it's been a successful season thus far. This class itself has grown as it has found solidarity with the series and Trevor Eman and Team Aruba currently sit second in championship points standings.
The fifth stop on the 2017 tour is highly anticipated as it's been held at one of the most historic drag racing facilities around the world. Lucas Oil Raceway at Indianapolis is home to the legendary NHRA U.S. Nationals, and has been the site of celebrated moments for centuries. Now, Team Aruba is hoping to create unforgettable memories of their own in Indianapolis.

Budds Creek, MD – The Professional Drag Racers Association had a short break in between the Southern Extreme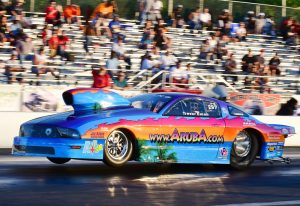 Nationals in South Carolina and the North South Shootout in Maryland. Team Aruba certainly hasn't skipped a beat between the events, going to the pole at Maryland International Raceway after winning in Darlington. While there will still be one final qualifying session today, Trevor Eman's 4.022 at 178.80, recorded in the cool of Friday evening, will be hard to top.
"We struggled a little bit earlier in the day," Eman said. "Unfortunately, we weren't able to make any test runs yesterday, so we felt a little behind compared to everyone else. You get data to work off of whether you make a good run or bad run, so we had data to look at from Q1 and made the changes we thought were necessary to get down the track. I must admit I didn't expect it to run a 4.02, but hey, we'll take it."

DARLINGTON, SC – The PDRA Spring Nationals at Darlington Dragway felt much more like summer, with air
temperatures hovering around 90 degrees fahrenheit and track temps up to 150 degrees. Such conditions often makes it tricky to navigate the 660 feet of race track.
Trevor Eman and the Aruba.com team initially had trouble perfecting a hot weather setup that would get the Aruba.com Mustang down the surface that once gave birth to the first ever quarter-mile sanctioned run over 200 MPH by a doorslammer. What Bill Kuhlmann accomplished that day in 1987 in his Pro Stock machine seemed to fuel the Aruba.com team to push through the heat. They qualified fifth with a 4.099.
Being in the top half of the field certainly helped on race day, but Eman and team knew there were 15 heavy hitters in the field and no one would be an easy win. The team picked up the pace during eliminations, using a 4.092 to get past Dwayne Rice in round one, before slowing slightly to a 4.106 in round two. It was Eman's reaction time advantage that would move the team into the semi finals. There he met Cary Goforth. These two met at the last event in the semi-finals. Goforth won that matchup, so in the Darlington heat Eman was ready for his revenge. Both drivers had incredible reaction times, but the Aruba.com team made all the right calls, picking up to a 4.085 to Goforth's 4.109. Team Aruba would be going to their first final of the season.

DARLINGTON, SC – The Professional Drag Racers Association hosts its third event of the season this weekend at
The Legendary Darlington Dragway. Team Aruba and the Aruba.com Pro Stock Mustang are already on site at the event, utilizing the Thursday test session and gain more familiarity with the track.
While Trevor Eman has wheeled the Mustang down the Darlington eighth-mile, he's only done so in test sessions thus far. This weekend's PDRA Spring Nationals will be his first event at the historic facility.
"It's been awhile since we've been to Darlington," explained Eman. "We've tested here a couple of times back in 2008. It was a great place to test back then, but now with the improvements they've done to the facility, it seems like it has become a great place to race, as well."

ATLANTA, GA – Recently, Summit Racing Equipment held its annual Atlanta Motorama. Team Aruba had the
privilege of making the short trip from their stateside base of Union, S.C. to be on display for the mega car show.
The event, held at Atlanta Motor Speedway, welcomed 15,000 attendees and 2,500 participants. Dubbed a "massive celebration of anything with an engine" the event features hot rods, motorcycles, monster trucks and more.
"We were very honored to be a part of this," Trevor Eman stated on behalf of his team. "I consider it a huge milestone for Team Aruba to be able to stand together with such a huge brand name as Summit Racing Equipment. We've created a recognizable name for this team and events like this help us to market it to all auto enthusiasts, beyond the scope of drag racing. To be able to be part of an event together with Summit, on display next to other major motorsports brands, such as Bigfoot 4×4, is truly a great achievement for us, especially as a team coming from the small Happy Island of Aruba.