ProMedia
Santa Ana, CA -The VP Racing Fuels NMCA West Drag Racing Series championship season concluded with the
completion of the 6th Annual Mickey Thompson NMCA West Coast World Finals at Auto Club Dragway in Fontana, California, October 13-15. NMCA West championships were on the line, as racers pulled out all of the stops while battling major winds that caused many of the classes to be run at the eighth-mile race distance. In addition to the straight-line action, the Hotchkis Auto X presented by Nitto Tire put on a great show as always, with many of the drivers competing for the Hotchkis Grand Champion award.
In ProCharger Outlaw Street competition, Johnny Coleman led qualifying with 4.571 elapsed time at 159.55 mph, and he would improve on that with a 4.56, but in the final round, it was Tom Marshall taking the win and the trip to the Aerospace Components Winner's Circle with a hole-shot victory over Lafayette Williams, 5.121 to 5.119.

The 2017 NMCA West VP Racing Fuel Muscle Car Nationals winds up the season at Auto Club Dragway October 13-
15 with the running of the Sixth Annual Mickey Thompson NMCA West Coast World Finals.
With Fall in the air this race has the makings to be one of the most competitive of the year as racers pull out all the stops, gunning for their last shot at a trip to the Aerospace Components Winner's Circle, a personal best, or perhaps even a class championship.
In many classes, championships are still up for grabs, including: ProCharger Outlaw Street where Johnny Coleman leads Michael Orban and Richard Morris – both of whom are within striking distance. Things are also super-close in Ultra Street where Mike Silva will be trying to hold off charges by Brian Greenberg and Dan Dagata.

Santa Ana, CA – The National Mustang Racers Association (NMRA) is proud to announce its official schedule for its
20th anniversary series tour in 2018. The largest all-Ford motorsport series features an exciting line-up of drag racing classes, car shows and special events. The 2018 NMRA Ford Nationals series includes six events starting with the 24th Annual Nitto Tire NMRA Spring Break Shootout, presented by Steeda Autosports, held at Bradenton Motorsports Park, March 1-4, 2018. The season will conclude with the 20th Annual Nitto Tire NMRA All-Ford World Finals at Beech Bend Raceway, September 27-30, 2018.
The popular NMRA series exhibits steady growth year-after-year due to dedicated Ford fans, racers and solid track partners across the Midwest and East Coast. "We're thrilled with our 2018 season schedule," said Rollie Miller, NMRA General Manager. "It will be an exciting season that also includes events at Atlanta Dragway in Commerce, Georgia, Maple Grove Raceway in Reading, Pennsylvania, National Trail Raceway in Hebron, Ohio, and our annual Nitto Tire NMRA/NMCA Super Bowl of Street-Legal Drag Racing that rewards the winning team with prestigious Nitto Tire Diamond Tree rings at Route 66 Raceway in Joliet, Illinois".

Santa Ana CA – That's all she wrote for the 2017 NMRA Keystone Automotive drag racing series! The action has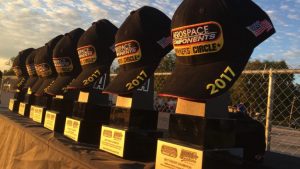 officially concluded after a great weekend of racing and records at Beech Bend Raceway Park in Bowling Green, Kentucky. The forecast early on promised perfect weather, and Mother Nature didn't disappoint. Awesome conditions combined with the hope of winning a championship had every racer on the property pushing for new personal bests.
After a hurried, late-night last-minute engine swap, Manny Buginga of Bridgewater, Massachusetts rallied to take the number one qualifying position in VP Racing Fuels Street Outlaw when he ran 4.342 at 172.06 mph with his Turbonetics turbocharged, MJM Construction Corp '03 Mustang. Then, in eliminations, he pulled up alongside crewman and teammate Rich Bruder. It was a tight race, and although Bruder got to the finish first, Buginga was still happy with the results as the supercharged Fox-body Mustang Bruder was driving belonged to Buginga himself.

Santa Ana CA – The NMCA's finest did not disappoint at the 16th Annual SDPC Raceshop NMCA World Street
Finals, Sept. 21-24 at Lucas Oil Raceway in Indianapolis, Indiana, as they provided plenty of powerful performances, holeshot wins, and championship-deciding drama.
In VP Racing Fuels Xtreme Pro Mod, fourteen of sixteen drivers motored to 3-second elapsed-times in qualifying, and while Jason Hamstra led the field with a 3.83 in his Camaro, his loss in the second round paved the way to the final that featured Steve Summers and his Camaro and Mark Luton and his Mustang. There, Summers secured the win with a 3.80 to Luton's 3.92, and took a trip to the Aerospace Components Winner's Circle.

For almost two decades the Nitto Tire NMRA All-Ford World Finals has forged itself into the history of Beech Bend
Raceway – something that isn't easy to do considering the history attached to the track. Yet, every Ford drag racing enthusiast knows exactly what happens at the end of September and early October each year in Bowling Green, Kentucky. Simply put, it's the Finals — one of drag racing's great events where legends are born and championships won. There is only one NMRA and there is only one Beech Bend Raceway, and this year the two will once again join forces September 28th-October 1st to write the 19th chapter of NMRA history.
What helps make the World Finals a true spectacle is the combination of the regular NMRA classes, along with the huge assortment of other special classes and events, and this year the NMRA has added even more!

World's Fastest Street Cars Invade Indianapolis!
NMCA is returning to Lucas Oil Raceway this year as the 16th Annual Scoggin-Dickey Raceshop NMCA World Street
Finals presented by Chevrolet Performance rolls into town September 21st-24th.
In years past, by the time the final race of the season begins, many championship battles have already been decided – especially in the heads-up classes. That is not the case this year as several of the most exciting classes are going down to the wire including VP Racing Fuels Xtreme Pro Mod where the points battle was tossed on its head recently after points leader, Adam Flamholc, announced that due to health reasons, he would not be attending the 2017 season finale. That essentially puts Jason Hamstra and Steve Summers in a two-way battle for the title, with Billy Banaka having an outside shot.