NMRA
Santa Ana, CA – The National Mustang Racers Association (NMRA) is proud to announce its official schedule for its
20th anniversary series tour in 2018. The largest all-Ford motorsport series features an exciting line-up of drag racing classes, car shows and special events. The 2018 NMRA Ford Nationals series includes six events starting with the 24th Annual Nitto Tire NMRA Spring Break Shootout, presented by Steeda Autosports, held at Bradenton Motorsports Park, March 1-4, 2018. The season will conclude with the 20th Annual Nitto Tire NMRA All-Ford World Finals at Beech Bend Raceway, September 27-30, 2018.
The popular NMRA series exhibits steady growth year-after-year due to dedicated Ford fans, racers and solid track partners across the Midwest and East Coast. "We're thrilled with our 2018 season schedule," said Rollie Miller, NMRA General Manager. "It will be an exciting season that also includes events at Atlanta Dragway in Commerce, Georgia, Maple Grove Raceway in Reading, Pennsylvania, National Trail Raceway in Hebron, Ohio, and our annual Nitto Tire NMRA/NMCA Super Bowl of Street-Legal Drag Racing that rewards the winning team with prestigious Nitto Tire Diamond Tree rings at Route 66 Raceway in Joliet, Illinois".

Santa Ana CA – That's all she wrote for the 2017 NMRA Keystone Automotive drag racing series! The action has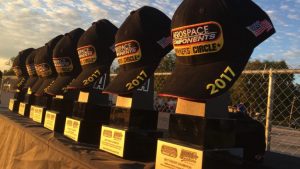 officially concluded after a great weekend of racing and records at Beech Bend Raceway Park in Bowling Green, Kentucky. The forecast early on promised perfect weather, and Mother Nature didn't disappoint. Awesome conditions combined with the hope of winning a championship had every racer on the property pushing for new personal bests.
After a hurried, late-night last-minute engine swap, Manny Buginga of Bridgewater, Massachusetts rallied to take the number one qualifying position in VP Racing Fuels Street Outlaw when he ran 4.342 at 172.06 mph with his Turbonetics turbocharged, MJM Construction Corp '03 Mustang. Then, in eliminations, he pulled up alongside crewman and teammate Rich Bruder. It was a tight race, and although Bruder got to the finish first, Buginga was still happy with the results as the supercharged Fox-body Mustang Bruder was driving belonged to Buginga himself.

For almost two decades the Nitto Tire NMRA All-Ford World Finals has forged itself into the history of Beech Bend
Raceway – something that isn't easy to do considering the history attached to the track. Yet, every Ford drag racing enthusiast knows exactly what happens at the end of September and early October each year in Bowling Green, Kentucky. Simply put, it's the Finals — one of drag racing's great events where legends are born and championships won. There is only one NMRA and there is only one Beech Bend Raceway, and this year the two will once again join forces September 28th-October 1st to write the 19th chapter of NMRA history.
What helps make the World Finals a true spectacle is the combination of the regular NMRA classes, along with the huge assortment of other special classes and events, and this year the NMRA has added even more!

Champions Will Be Crowned!
The world's largest all-Ford drag race is going to be even bigger and better this year! The 19th Annual Nitto Tire
NMRA All-Ford World Finals taking place September 28th-October 1st at Beech Bend Raceway Park in Bowling Green, Kentucky, will be bursting at the seams as the nation's best Ford-powered racers gather one final time in 2017 in celebration of all things Ford.
This year's final event of the NMRA Keystone Automotive Ford Nationals will blow the roof off the grandstands in Bowling Green with not only championships being settled, but also special events which will provide an exclamation point to the 2017 season of all-Ford drag racing when racers gather one final time in the Aerospace Components Winners' Circle.

Wild Heads-Up Drag Racing, Street Outlaws TV Celebrities, All Ford Car Show, Huge Vendor Midway, True Street & MORE!
Santa Ana, CA – It all comes down to one last weekend of drag racing—September 28-October 1, 2017 at the 19th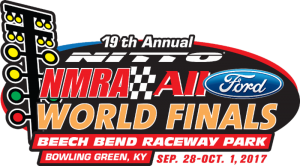 Annual Nitto Tire NMRA All-Ford World Finals in Bowling Green, Kentucky. The NMRA takes over Beech Bend Raceway with championship street racing, featuring the World's Quickest Fords. Bowling Green has a storied history in the Blue Oval drag racing world and the NMRA has made its mark with record-breaking, wheel-to-wheel action. With Nitto Tire Diamond Tree Championship rings on the line in an assortment of NMRA categories, the racers will be leave it all on the track in search of glory and a chance to celebrate in the Aerospace Components Winner's Circle for one last time in 2017.
If you're a fan of the hit TV show, Discovery Channel's Street Outlaws, then you won't want to miss the NMRA World Finals as Bobby Ducote takes on Boosted GT on Saturday, September 30th, in a best 2 out of 3 grudge match! It is OKC vs. New Orleans with the two most prolific small-tire racers on TV. Watch Bobby Ducote purge the nitrous while Boosted GT spools the turbo as they go heads-up and wheels-up in the ultimate celebrity match race…only at the NMRA World Finals.

Who Will Win the Nitto Tire Diamond Tree Rings?
The 12th Annual Nitto Tire NMRA/NMCA Super Bowl of Street-Legal Drag Racing Presented by Precision Turbo has
arrived. The largest race of its kind in the country showcases the world's fastest street cars and the world's fastest Fords racing together at Route 66 Raceway in Joliet, Ill., July 27-30.
Twenty two championship classes from both the NMRA and NMCA will be featured during the event which begins with a test session on Thursday July 27th and concludes with the legendary "Super Bowl" portion of the event on Sunday afternoon when class winners from both organizations race against each other in hopes of being awarded a Nitto Tire Diamond Tree Ring© in the Aerospace Components Winners' Circle.
In the Super Bowl runoffs last year, it was a back and forth battle with the NMCA taking an early two-point lead, followed by the NMRA rallying back to a two-point lead as well. The NMCA needed to sweep the final three pairings, and Kevin Fiscus led the charge, followed by Louie Filippides and DeWayne Mills to secure the team win – complete with Nitto Tire Diamond Tree rings and bonus money – A much needed win for team NMCA which still trails the NMRA team by a seven to four margin.

Santa Ana, CA – As the fourth of six events on this year's NMRA tour, the 14th Annual NMRA Ford SuperNationals
presented by WyoTech, June 8-11, at the recently renovated National Trail Raceway in Hebron, Ohio, packed a lot of punch as drivers delivered pulse-pounding performances to work their way up in points.
With his eye on the Aerospace Components Winner's Circle, Dwayne Barbaree led qualifying in VP Racing Fuels Street Outlaw with a 4.39 at 170 mph in the 1995 SVT Cobra formerly-owned by Daniel Pharris and John Kolivas before being recently purchased by his teammate Russell Stone. He made it to the final where he met madman Manny Buginga, who currently holds the category's elapsed-time and top speed records, and in the tango between the two turbo cars, Buginga uncorked a 4.49 at 165 mph to win over Barbaree, who ran 4.52 at 163 mph.