NMRA
For almost two decades the Nitto Tire NMRA All-Ford World Finals has forged itself into the history of Beech Bend
Raceway – something that isn't easy to do considering the history attached to the track. Yet, every Ford drag racing enthusiast knows exactly what happens at the end of September and early October each year in Bowling Green, Kentucky. Simply put, it's the Finals — one of drag racing's great events where legends are born and championships won. There is only one NMRA and there is only one Beech Bend Raceway, and this year the two will once again join forces September 28th-October 1st to write the 19th chapter of NMRA history.
What helps make the World Finals a true spectacle is the combination of the regular NMRA classes, along with the huge assortment of other special classes and events, and this year the NMRA has added even more!

Champions Will Be Crowned!
The world's largest all-Ford drag race is going to be even bigger and better this year! The 19th Annual Nitto Tire
NMRA All-Ford World Finals taking place September 28th-October 1st at Beech Bend Raceway Park in Bowling Green, Kentucky, will be bursting at the seams as the nation's best Ford-powered racers gather one final time in 2017 in celebration of all things Ford.
This year's final event of the NMRA Keystone Automotive Ford Nationals will blow the roof off the grandstands in Bowling Green with not only championships being settled, but also special events which will provide an exclamation point to the 2017 season of all-Ford drag racing when racers gather one final time in the Aerospace Components Winners' Circle.

Wild Heads-Up Drag Racing, Street Outlaws TV Celebrities, All Ford Car Show, Huge Vendor Midway, True Street & MORE!
Santa Ana, CA – It all comes down to one last weekend of drag racing—September 28-October 1, 2017 at the 19th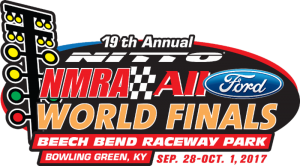 Annual Nitto Tire NMRA All-Ford World Finals in Bowling Green, Kentucky. The NMRA takes over Beech Bend Raceway with championship street racing, featuring the World's Quickest Fords. Bowling Green has a storied history in the Blue Oval drag racing world and the NMRA has made its mark with record-breaking, wheel-to-wheel action. With Nitto Tire Diamond Tree Championship rings on the line in an assortment of NMRA categories, the racers will be leave it all on the track in search of glory and a chance to celebrate in the Aerospace Components Winner's Circle for one last time in 2017.
If you're a fan of the hit TV show, Discovery Channel's Street Outlaws, then you won't want to miss the NMRA World Finals as Bobby Ducote takes on Boosted GT on Saturday, September 30th, in a best 2 out of 3 grudge match! It is OKC vs. New Orleans with the two most prolific small-tire racers on TV. Watch Bobby Ducote purge the nitrous while Boosted GT spools the turbo as they go heads-up and wheels-up in the ultimate celebrity match race…only at the NMRA World Finals.

Who Will Win the Nitto Tire Diamond Tree Rings?
The 12th Annual Nitto Tire NMRA/NMCA Super Bowl of Street-Legal Drag Racing Presented by Precision Turbo has
arrived. The largest race of its kind in the country showcases the world's fastest street cars and the world's fastest Fords racing together at Route 66 Raceway in Joliet, Ill., July 27-30.
Twenty two championship classes from both the NMRA and NMCA will be featured during the event which begins with a test session on Thursday July 27th and concludes with the legendary "Super Bowl" portion of the event on Sunday afternoon when class winners from both organizations race against each other in hopes of being awarded a Nitto Tire Diamond Tree Ring© in the Aerospace Components Winners' Circle.
In the Super Bowl runoffs last year, it was a back and forth battle with the NMCA taking an early two-point lead, followed by the NMRA rallying back to a two-point lead as well. The NMCA needed to sweep the final three pairings, and Kevin Fiscus led the charge, followed by Louie Filippides and DeWayne Mills to secure the team win – complete with Nitto Tire Diamond Tree rings and bonus money – A much needed win for team NMCA which still trails the NMRA team by a seven to four margin.

Santa Ana, CA – As the fourth of six events on this year's NMRA tour, the 14th Annual NMRA Ford SuperNationals
presented by WyoTech, June 8-11, at the recently renovated National Trail Raceway in Hebron, Ohio, packed a lot of punch as drivers delivered pulse-pounding performances to work their way up in points.
With his eye on the Aerospace Components Winner's Circle, Dwayne Barbaree led qualifying in VP Racing Fuels Street Outlaw with a 4.39 at 170 mph in the 1995 SVT Cobra formerly-owned by Daniel Pharris and John Kolivas before being recently purchased by his teammate Russell Stone. He made it to the final where he met madman Manny Buginga, who currently holds the category's elapsed-time and top speed records, and in the tango between the two turbo cars, Buginga uncorked a 4.49 at 165 mph to win over Barbaree, who ran 4.52 at 163 mph.

National Trail Raceway, just outside of Columbus, Ohio, will light up once again as the stars of the NMRA compete at
the Ford SuperNationals the weekend of June 8-11.
With a full lineup of NMRA's wild classes this race promises to be off the hook as it's mid-season for the World's Fastest Fords, and with championship points on the line, racers will be primed to take their shot at glory.
This year there is an added bonus for fans, as racers will be running a complete day of eliminations on Friday, June 9th. Due to poor weather at the recent race at Maple Grove Raceway, all elimination rounds were postponed until the first full day of action at National Trail Raceway. That means this event will actually be sending two different sets of champions to the Aerospace Winner's Circle – one set on Friday, the other Sunday.

The 2017 NMRA Keystone Automotive Drag Racing series pulled in to Commerce, Georgia, after a week of wild
weather in Atlanta, which included tornadoes, an earthquake, and a collapse of a section of I-85. Just like last year, too, the second stop of the season, the 9th Annual NMRA/NMCA All-Star Nationals presented by Steeda Autosports, saw unseasonably chilly temperatures Thursday and Friday. The conditions presented a challenge at first, but the weather showed some sweet southern hospitality in time for Saturday and Sunday and competitors took advantage of the recently repaved surface.
A combination NMRA and NMCA VP Racing Fuels Street Outlaw field meant there were fourteen cars fighting it out, but it was Manny Buginga who led the way with his MJM Construction Corp-backed, turbocharged '03 Cobra in qualifying with his 4.330 at 169.21 mph hit. Jacky McCarty of McCarty Performance, though, had his mind set on getting the win and stopped at nothing as he relentlessly took out the other drivers. McCarty faced off against Jarod Wenrick in the finals, and his 4.435 at 169.87 mph pass in his '93 Mustang helped McCarty make his mission a reality.