NEW ALEXANDRIA, PA — Quaker City Motorsports captured the International Hot Rod Association (IHRA) Division 3 (North Stars)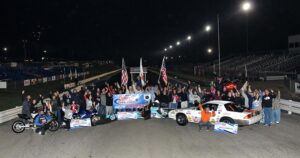 Summit Team Finals held at Keystone Raceway Park over the weekend.
Quaker City Motorsports Park took a 66.5- 62.5 win over defending champions Dragway 42. Other tracks who participated were:, Beaver Springs Dragway, Lancaster Dragway, Thompson Raceway Park and Empire Dragway.
Leading up to the main event, racers participated in Early Bird Gambler's races, Race of Champions race and "best of" awards.
Main Event:
Top
Billy Leasure (Dragway 42) put together a winning package with a 4.892 elapsed time at 136.49 mph against a 4.88 dial-in, along with a .028 reaction time. Runner-up Mark Brewer (Keystone Raceway Park) raced down the track in 6.282 seconds at 108.28 mph against a 6.24 dial-in with a .028 reaction time.