SPRINGFIELD, IL – Brainerd Motorsports Park has reached a multi-year sanction agreement with the World Drag Racing Alliance (WDRA)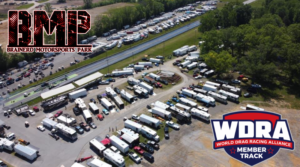 and becomes the eighth new facility to join the flourishing WDRA member track network ahead of the 2024 season.
Formerly sanctioned by IHRA, the eighth-mile drag strip in Ringgold, Georgia, is home to a multitude of racers who enjoy a wide range of racing action from March through November. Owned and operated by Steven and Amy Farrow, Brainerd Motorsports Park events include a points series, big money bracket racing, the monthly Big Dog Brawl, motorcycle drags, nostalgia racing, several impressive junior dragster events, index races, and more.
"We love the passion and dedication Steve and Amy bring to the Alliance," said Frank Kohutek from WDRA. "They are also both active racers which gives them a unique perspective within the drag racing community. They are both very dedicated to their track and their racers. We appreciate them evaluating the WDRA member track programs and benefits and making an informed decision to trust us to go to work for their operation and their racers."