LAS VEGAS – One day removed from the K&N Spring Fling Million that saw Bo Butner defeat Kris Whitfield in the main event final round,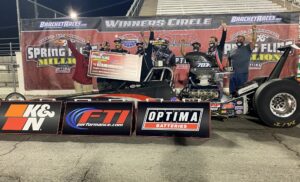 racers awoke Saturday to one final shot at Spring Fling glory. Day number last of the Spring Fling Million included the FTI Performance $30K. Prior to the third and final $30K race of the week, twenty-five randomly selected racers participated in the Spring Fling Reaction Time Challenge.
Those racers had one shot at the track and would earn $100 for any .00x reaction and $1,000 for a perfect .000 reaction. Seven racers posted .00x lights and walked away with $100 but Megan Lotts was the only racer to let go trip zip perfect to earn $1,000. After the perfect light, Lotts received one more shot at the tree. If she posted a second .000 reaction, she would earn a $10,000 payday. On her second attempt, Megan was close to perfect again but just missed the $10,000 after posting an .002 light.
The Fling team then awarded the Todd Barton Design Best Appearing Car award.  Jeff Staley and his beautiful El Camino earned the award which included a trophy and custom t-shirt artwork from Todd Barton Design.