CONCORD, NC – After losing on a holeshot in the final round of the previous event in the E3 Spark Plugs NHRA Pro Mod Drag Racing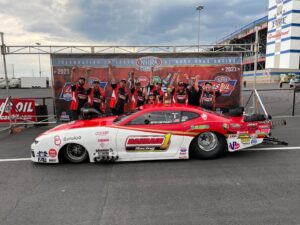 Series, two-time defending world champ Stevie "Fast" Jackson made up for on Sunday, winning in the final-round quad at zMAX Dragway.
The race was the third event of the 2021 E3 Spark Plugs NHRA Pro Mod Drag Racing Series presented by J&A Service season, and Jackson picked up his first victory of the season and the 11th in his standout career.
He went an impressive 5.685-seconds at 253.75 mph in his blown Bahrain 1 Racing Camaro, racing past a final-round quad that also included Brandon Snider, Mike Castellana and Jeffery Barker. Castellana broke before staging, while Barker ran into trouble early in the run. Snider went 5.717 at 250.97, but Jackson had the lead early and never relinquished it en route to a satisfying victory.