Madison, IL – Schumacher and the Maynard Family Racing team announced a partnership expansion with SCAG Power Equipment during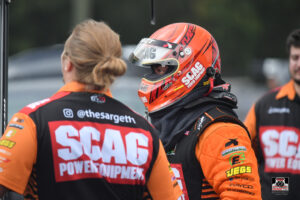 last weekend's Charlotte event. Starting in 2023, SCAG will serve as the primary backer of Schumacher's 11,000-horsepower machine through 2025.
"A couple of things have hurt us this year. Having three qualifying runs rather than four has really put us behind the eight ball being down one run at each race. We're making drastic changes in how we run the car. So, if we miss it Friday night, now we're not qualified, so then we're stuck playing catch up trying to get in the show on Saturday, and we're stuck making a conservative to run to make sure we're qualified. You can't make it down only one out of three qualifying runs and expect to win on Sunday. We can see the light, though. It's getting better, we're getting there. In round one in Charlotte, we were on a good, good run, and then the blower came apart. Our numbers were better than (Hart's). We were on track to run a .60. We haven't run in the 3.60-range all year. And, I think this weekend in St. Louis, it'll run that .60 we've been waiting for.