Antron Brown Motorsports
INDIANAPOLIS, IN – Three-time NHRA Top Fuel world champion Antron Brown announced today that longtime motorsports industry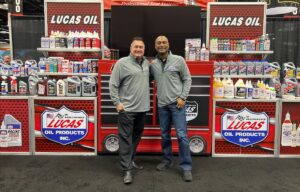 supporter, Lucas Oil Products, Inc., has joined his team, AB Motorsports, as its official lubricants partner for the 2022 NHRA Camping World Drag Racing Series season.
Lucas Oil has manufactured and distributed automotive oil, additives, and lubricants since it was founded by the husband-and-wife team, Forrest and Charlotte Lucas, in 1989, and has been a fixture in the NHRA community ever since. Brown has enjoyed a longtime relationship with the Lucas family for decades, and part of what spurred this new partnership between Lucas Oil and AB Motorsports was the family values shared by the owners on both sides.
Brown's relationship with the Lucas family extends back to when he first embarked on his NHRA career in 1998 aboard a Pro Stock Motorcycle, and Lucas Oil signed on to support the young upstart. Brown credits Forrest and Charlotte for helping him to be able to compete on a full-time basis during his earliest NHRA years, stepping in to fulfill any open races on Brown's schedule. Since that time, Lucas Oil has remained a part of the Brown family racing operation, having supported all three of Brown's children's Jr. Drag Racing careers, and Brown's father, Al, and uncle Andre's Super Comp team, all of which still proudly banner the Lucas Oil logo to this day.

BROWNSBURG, IN – In another positive move to solidify their teams' positions as top contenders in the NHRA Camping World Drag
Racing Series, AB Motorsports, led by three-time Top Fuel world champion Antron Brown, and Justin Ashley Racing/Davis Motorsports, which campaigns the Top Fueler driven and co-owned by 2020 NHRA Rookie of the Year Justin Ashley, today announced they will be forming a Research & Development and Marketing Alliance between their organizations. The alliance will not only pair two of the most marketable Top Fuel stars behind the wheel but also two of the most decorated Top Fuel crew chiefs, with Brown's Brian Corradi and Ashley's Mike Green calling the shots on their teams' 11,000-horsepower machines.
For the first time in his career, which began aboard a Pro Stock Motorcycle in 1998, Brown will take on the dual role of owner/driver of the Matco Tools Toyota Top Fuel dragster in its rookie season operating under the AB Motorsports umbrella. Brown views this strategic pact with long-time friend Ashley, who has had an ownership interest for two seasons along with Dustin Davis in the Vita C Shot Top Fuel dragster team, as a partnership which will benefit both up-and-coming team owners on and off the race track.
"The goal with this partnership is to make both of our programs stronger overall," explained Brown, who closed out 2021 ranked in the Top 10 for the 24th consecutive year. "Even though we're two separate teams with two separate operations, having this partnership will allow us to enjoy many of the advantages that the multi-car teams have. It's not just about the collaboration between our brain trust of crew chiefs, but this will also help us in being able to secure the best parts and pieces; we'll have stronger purchasing power. We're both looking to this alliance to help us compete on a high level and go toe-to-toe with the heavy-hitters in our category."