West Coast Outlaw ProMod Assoc. 2010 Season Preview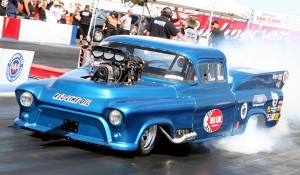 Sacramento, Ca – With the 2010 season about to start for the West Coast Outlaw Pro Mod Association, teams are getting ready for the first race of the year; the Funny Car Fever at Sacrament Raceway Park on April 23-24 hosted by 619 Promotions. The Funny Car Fever will be the first big event of the 2010 season not only for the West Coast Outlaw Pro mod Association but it will also be Sacramento Raceway's first big event of 2010 and the first (of 2) events that 619 Promotions will be hosting this year. Sacramento Raceway has also had some track updates done to the starting line surface over the last few weeks and many racers say that it is the nicest that Sacramento Raceway's track/starting line has ever looked. 
With the unpredictable rain and bad weather this winter in California it has been a struggle for most teams to test during the off-season, but some have found a break and did some testing including Rod Burbage, Jay Diedrich, Marc Meadors, Scott Bailey, Bret Williamson, Dan Myers, Tim Henry and Michael Irwin who will be piloting Steve Gomez' 63 Vette this season. If the testing that was done is any indication to how the 2010 year will be for the West Coast Outlaw Pro Mod guys it should be a great year of racing out West!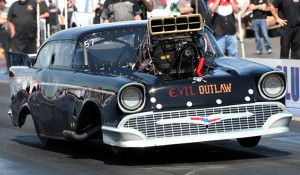 Rod Burbage ran a best of 6.15 last month with his new 2-speed transmission set-up (Bruno/Lenco/Spec-Rite Converter), he hopes to have a 3-peat as he was the 2008 and 2009 West Coast Outlaw Pro Mod Association champion and looks to do it again in 2010. Jay Diedrich took 200 pounds out of his "Evil Outlaw" 1957 Chevy and added a brand new Brad-8 engine for the PSI screw blower to bolt to and went a best of 6.17 @ 242 on the first time out. Marc Meadors added some new engine parts and has tested twice, the first test session showed some good early numbers as he only made 1/8th mile passes and the second time out he had a scary ride on the first (and only) pass as the parachutes ripped off the car after a 6.33 @ 228 pass, Meadors is okay and the car will be fixed and ready to go for the Funny Car Fever in less than 3 weeks. Bret Williamson has run the brand new Don Carter Motorsports/Team Eagle Racing/Gore Family Racing 53 Studebaker only once and on the
first full pass it went a 6.33 @ 225, they came back and on the second pass ran a 6.13 @ 235. Needless to say the whole team is excited about the upcoming season with this new car! Dan Myers made it to the semi-finals while running with the WCHRA, he is optimistic about the engine changes he made over the winter and adding Lonnie Houde as a tuner for the 2010 season makes him confident he will do well this season as he looks forward to running the full 2010 West Coast Outlaw Pro Mod Association schedule.
For full details on the WCOPMA schedule  http://www.westcoastoutlawpromods.com/