Team Aruba Wins 'Best-Appearing Crew' Award at ADRL Hardee's Georgia Drags
UNION, SOUTH CAROLINA — Last weekend, Team Aruba proudly accepted the American Drag Racing League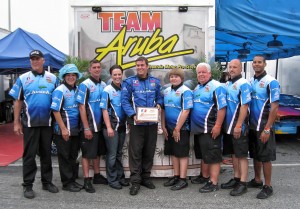 (ADRL) 'Best-Appearing Crew' award at the ADRL Hardee's Georgia Drags VI in Valdosta, Georgia. "We were thrilled to win the Best-Appearing Award," says Trevor Eman, driver for Team Aruba. "Our new uniforms reflect the festive and natural beauty of Aruba. We were very happy to be recognized for our efforts."
Off the track, Team Aruba was quite busy throughout the 3-day event, meeting hundreds of fans as spectators swamped the pits to meet the team. "It was great to meet so many people who support our team," commented Trevor. "I had the opportunity to discuss Aruban travel and autograph many hero cards to give to our guests. We really had a great time."
Team Aruba fans also showed support for the team by donating nearly $500.00 to Autism Speaks, an organization that Team Aruba has been a part of for several years. "For every $2.00 donation to Autism Speaks, we give away a free Autism Speaks T-shirt to show our appreciation. We received a lot of support; our shirts were gone in just a few hours!" says Trevor.
Team Aruba held strong during all qualifying rounds, showing determination as they improved upon their first qualifying round of 4.214 at 172.19/mph, to a second-round run of 4.185 at a top qualifying speed of 172.45/mph. Team Aruba finally managed a better 4.13 at 176.21/mph run during the first round of eliminations, however, an early start turned on the red light.
Team Aruba is now preparing for the second Mountain Motor Pro Stock Association (MMPSA) race to be held at U.S. 131 Motorsports Park in Martin, Michigan on May 7-8. Trevor comments, "The turn-out for the inaugural MMPSA race was pretty good. We're expecting the series to really take off."
Fans attending the event can now print free, online admission tickets at the ADRL website, www.adrl.us. Be sure to check Team Aruba's website, www.teamaruba.com for exclusive photos, news updates, and behind the scenes footage. Fan can also follow Team Aruba on Facebook at www.facebook.com/TeamArubaRacing to view exclusive video, see upcoming events, and discuss Team Aruba with fellow fans.
For more information contained in this advisory, please contact Lindsay Blum by phone at 636.447.0336, by email: media@liveimagegroup.com or visit www.liveimagegroup.com.