XENIA, OH – A pair of powerful JEGS.com dragsters are headed to Kil-Kare Raceway for this weekend's 15th annual Ultimate 64 Shootout.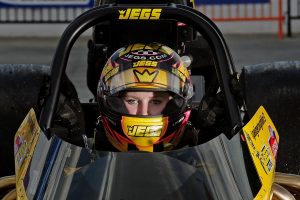 The yellow-and-black attack will be led by confirmed JEGS Allstars racer Paige Coughlin and her cousin Makenna Brown, who is stepping up from the Junior Dragster ranks this year.
While waiting out COVID-19 restrictions, Paige has been getting herself back up to speed with a pair of races in the last two weeks, the ACE Super Slam at Dragway 42 in West Salem, Ohio, and the K&N Spring Fling GALOT presented by Optima Batteries at GALOT Motorsports Park in Dunn, N.C.
"Just like it was last season, my JEGS.com dragster is running really well," Paige said. "The main thing is it's repeating, which is what you want out of your car more than anything. My guys, Justin Beaver and Tony Collier, always make sure I'm 100% ready to go and I thank them for all their hard work during this extra-long off-season.
"I'm so thankful to finally be able to race again. It was a long time out of the seat but once we got started again it felt like I'd never left. We are trying to stay as busy as possible and I know the schedule will be packed from here on out but we'll be ready."