New Campground to Welcome More Campers at Summit Racing Equipment NHRA Nationals
There are many things that make the Summit Racing Equipment NHRA Nationals at Summit Motorsports Park in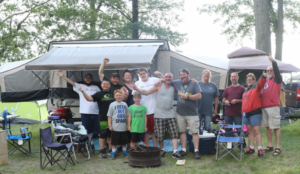 Norwalk, Ohio the spectacular show that it is.
Engines erupt, flames fly and the track trembles as professional drivers and riders pilot their powerful cars and motorcycles in Top Fuel Dragster, Funny Car, Pro Stock, Pro Stock Motorcycle, Pro Mod and other captivating categories. There are perfect passes, and there are close calls.
Many fans choose to stay close to the action by camping in one of several campgrounds at Summit Motorsports Park that offer various amenities for various levels of camping experiences, including trackside electric, trackside non-electric and camping for motorhomes, tents and pop-ups.
And now, to accommodate even more fans who choose to camp on-site for this year's 13th Annual Summit Racing Equipment NHRA Nationals on June 20-23, a new camping area, Northfield Campground, has been created.
Situated just north of the park's Scotty's Campground, Northfield Campground features approximately 350 campsites. Each is 20X50, and while electricity is not available, potable water and motorhome pumping services are.
The cost to rent a campsite is $95 for the whole event, and with an incredible amount of interest in the event, campsites will sell out quickly.
"We have developed a walk-through area to connect Scotty's Campground to the new Northfield Campground so that our guests can visit each other, and we're making plans to put portable restrooms and showers in an area that is centrally located for both campgrounds," said Yvonne Livengood, Summit Motorsports Park Guest Services Advocate. "Camping is extremely popular for the Summit Racing Equipment NHRA Nationals, and we're hoping the additional campground will provide everyone who wants to camp with a place to camp."
Summit Motorsports Park is at 1300 State Route 18 in Norwalk, Ohio. To reserve a campsite, or for more information, call 419-668-5555 or visit www.summitmotorsportspark.com.