Milestone Wins for Antron Brown and Ron Capps as DSR Doubles-Up in Seattle
KENT, WA – With three out of the four nitro final-round entries coming out of the Don Schumacher Racing stable,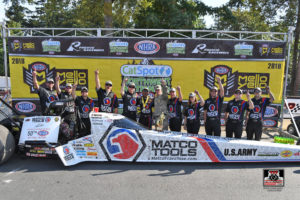 team owner Don Schumacher was able to 'double-up' at the CatSpot NHRA Northwest Nationals, the final event of the Western Swing. Antron Brown (Top Fuel) and Ron Capps (Funny Car) raced to the winner's circle on Sunday afternoon, bringing DSR's win total to an unprecedented 328 victories. It was Brown's 50th Top Fuel Wally trophy, and Capps' 60th professional Wally.
Brown opened the day with a win over Shawn Reed to set up a second-round matchup against teammate Tony Schumacher. Both cars smoked the tires early, but Brown recovered quickly to win the pedalfest. In the semifinals, he would face Steve Torrence in an epic matchup. Brown had a 0.020-second advantage at the light, then held off Torrence to win on a holeshot by 0.009 seconds.
In the finals against teammate Leah Pritchett, Brown took the immediate lead and never trailed for his third consecutive Seattle victory. The final margin of victory was 0.0047 seconds (approximately two feet) and enabled Brown to capture the elusive 50th Top Fuel victory he has sought since Brainerd 2017.

"It's no secret that we struggled at the beginning of the year," said Brown, who joined Schumacher, Larry Dixon and Joe Amato as the only NHRA drivers to win 50 Top Fuel events. "We lost (crew chief) Brian Corradi, and then we had a lot of our team moving around, so they've had to gel in new spots and positions. Our main focus has just been to get better every race and learn this new combination and how to make it work.
"We were good in Sonoma; we were good in Denver, we were good in Virginia. We were just losing close races. We used to be on the opposite side, and today all of the win lights turned on for our team. I couldn't be more proud of my Matco Tools/U.S. Army/Toyota guys in how persistent they've been throughout the year. Now it's happening at the right time with the Countdown approaching. Our car is showing it. We're qualifying in the top five, and we just want to keep doing it. 'Top three' is our goal, but we're going for the number one spot. Now we have a shot to move up a spot or two, and that really will help us in the Countdown."
In Funny Car, Capps' milestone 60th win came on the heels of two consecutive final round appearances for the driver of the Pennzoil Synthetics/NAPA AUTO PARTS Dodge Charger R/T Funny Car.
Along his way to the winner's circle, the four-time Pacific Raceways event champion defeated Jonnie Lindberg, teammate Matt Hagan and powered to an impressive pass on a bye run during the semifinals to earn lane choice in the final round. The final, Capps' 117th, was a battle of the NHRA Countdown to the Championship points leaders with No. 2-ranked Capps facing No. 1-ranked Courtney Force.
It was a nail-biter of a race against Force with both drivers nearly even leaving the starting line. Capps and Force kept pace with each other until just before the finish line when the Pennzoil Synthetics/NAPA AUTO PARTS Dodge surged ahead for the win. Although Capps wasn't able to close in on Force's point lead by much, he was able to prevent her from widening the gap.
"They've got a target on their back," said Capps of Force and her team. "They are the points leaders, obviously. We're trying to make ground up on them, and you can't do that when she's next to me in the final round, you just get 20-points. But, it's going to be fun. We're just shooting to be as high as we can in points during the regular season, and they're going to be tough."
In defeating Force, Capps and the Pennzoil Synthetics/NAPA AUTO PARTS team was able to prevent John Force Racing from 'sweeping' the Western Swing by earning all three of the swing's Funny Car Wally trophies.
"I'm in the waterbox, and there's Don Schumacher, and all I'm thinking is they're going to try and 'sweep the swing.' I was on the bad end of those (two final rounds) in Denver and Sonoma, so more than anything, I wanted to end that for Don. That was in my head, 'don't let John Force sweep the swing in Funny Car,' so I'm glad we could put a stop to that."
It was a quintessential Rahn Tobler/Ron Capps performance that allowed the duo to pick up their 24th win together on Sunday afternoon. It was at Pacific Raceways in 1995 where Capps claimed his first professional win, his only Top Fuel victory. Capps was nostalgic as he recalled a day he considers a crucial turning point in his career.
"I won here in 1995. It was on a Tuesday. I was in an unsponsored car, I borrowed money for a firesuit, and Pennzoil was on my suit, my mom sewed it on. That was a big moment. I've been here many times and have been able to win in Funny Car, but that was a fateful day. From what (former team owner) Don Prudhomme told me, that was the day he started watching me on the track, how I drove, the way I carried myself. That day probably propelled me to the next step of getting a phone call from Don 'The Snake' Prudhomme, and from there led me to be able to drive for Don Schumacher. I've driven for two of the biggest names in the sport, represented three Fortune 500 companies in my 20+-year career. I love racing cars, I live for it, so it's neat to come full circle and stage the car in that same lane where I won on that Tuesday."