Langdon and DHL Top Fuel Dragster Targeting Texas Motorplex for Victory
Ennis, TX – Shawn Langdon and the DHL Kalitta Air Top Fuel dragster are going to use the final three races of the Camping World Drag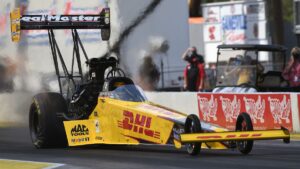 Racing Series to move up as high as possible in the points and also work to protect teammate Doug Kalitta's chances of winning his first Top Fuel world championship. Entering the 35th annual AAA Texas NHRA FallNationals Langdon has a longshot at challenging his teammate for the top spot in Top Fuel. He is sitting in 8th place but only one round out of 5th. A top three finish is not out of the question based on the strength of his DHL Top Fuel team's recent performance.
"We have been running really well," said Langdon. "St. Louis was a race you can throw out the window because conditions were so crazy for everyone. I am glad Doug got the win there and they definitely earned it. It was tough to race him in the first round but I felt whoever won that round was going to win the race."
Over Labor Day weekend Langdon got back in the Top Fuel win column by winning the biggest race of the season, the U.S. Nationals. The win kept a Kalitta Motorsports streak alive with either a Funny Car or Top Fuel dragster winning the event the past four years. After two years behind the wheel of a Funny Car Langdon was glad to get a win in a dragster this season.

"I enjoyed my time racing a Funny Car and it was a big challenge," said Langdon. "I think it made me a better driver because I had to learn so many things it really helped me focus better. I love being back in a Top Fuel dragster though. This is where I came up in the pro ranks and I won a world championship in 2013. I want to get back to those winning ways and I think we can do that over these last three races."
The first test will be at Texas Motorplex, a track where Langdon has had some success but just not four win lights on Sunday. He has raced to the final round in Top Fuel three times, most recently in 2017 when he fell to eventual Top Fuel world champion Brittany Force. He also reached the final in 2013 and 2010. He has twice gone into eliminations as the No. 1 qualifier in 2012 and 2013.
"I like racing at the Texas Motorplex because it is one of the all-concrete tracks on the tour. When the weather is right you can really put up some great numbers. I know this DHL Top Fuel dragster has the capability to run low and I am excited to get to Texas," added Langdon.
Last Event Recap (2020 NHRA  Midwest Nationals): Qual. No. 12; Lost to Doug Kalitta
2019 NHRA FallNationals Recap: In Funny Car – Qual. No. 10; Beat Tim Wilkerson; Lost to Robert Hight
Quotable: Shawn Langdon on finishing season: "We have three races left and our goal is to win all three. At the very least we want to beat the guys in front of us or close to Doug in the points. We both have great teams and I would love to see either of us get that championship."
Career Stats: 264 events, 261 starts, 294 round wins, 17 wins, 34 finals, 19 No. 1 qualifiers; in Top Fuel 216 events, 213 starts, 15 wins, 31 finals, 255 round wins, 19 No. 1 qualifiers
2020 Season:
Winternationals: Qual. No. 4; Lost to Justin Ashley
Arizona Nationals: Qual. No. 7; Beat Clay Millican; Lost to Steve Torrence
Indy1 NHRA Nationals: Qual. No. 8; Beat Justin Ashley; Lost to Steve Torrence
Indy2 NHRA Nationals: Qual. No. 3; Lost to Justin Ashley
Indy3 NHRA Nationals: Qual. No. 14; Lost to Leah Pruett
U.S. Nationals: Qual. No. 1; WINNER; Beat Joey Haas, Cory McClenathan, Justin Ashley and Leah Pruett
Gatornationals: Qual. No. 7; Beat Justin Ashley; Lost to Billy Torrence
Midwest Nationals: Qual. No. 12; Lost to Doug Kalitta