CAVALCADE OF STARS SET TO KICK OFF AT SUMMIT MOTORSPORTS PARK
NORWALK, OH – Summit Motorsports Park will play host to the Cavalcade of Stars presented by Budweiser on May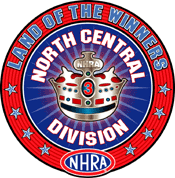 18-20. The event is one of 44 scheduled across the country where drivers in the NHRA Lucas Oil Drag Racing Series earn points leading to divisional, regional and national championships as well as a chance at a share of the year-end purse of more than $519,000. Categories include Top Alcohol Dragster, Top Alcohol Funny Car, Comp Eliminator, Super Stock, Stock Eliminator, Super Comp, Super Gas and Super Street. The division's Oakley Motorsports Top Sportsman and Top Dragster Series, and Pro Stock Snowmobile will be run in conjunction with the event.
Gates at Summit Motorsports Park open at 7 a.m. each day. Qualifying and time trials start at 9 a.m. Friday and continue Saturday at 9 a.m. Top Dragster, Comp Eliminator and Top Sportsman qualifying Friday at 3 p.m. and Saturday at 2 and 7 p.m. Top Alcohol Dragster and Top Alcohol Funny Car qualify Friday at 5 p.m. and Saturday at 4 and 8:30 p.m. Eliminations will begin Sunday at 8:30 a.m. with Top Alcohol Dragster and Top Alcohol Funny Car running eliminations at noon.
Special exhibition shows are scheduled Saturday at 5 and 9:30 p.m. including Pro Stock Snowmobiles, Jet Cars and a firework show at 9:45 p.m.
Tickets for Summit Motorsports Park are $15.00 for Friday, $20.00 for Saturday and $15.00 for Sunday, children 12 and under are free. For more information call the track at (419) 668-5555 or visit www.SummitMotorsportsPark.com/cos.