Tedesco Racing
CONCORD, NC – Battling for position in both Top Alcohol Dragster and Super Gas, reigning world champion Mia
Tedesco says she's solely focused on having fun in her racecars as her schedule shifts to this weekend's 10th annual NHRA Carolina Nationals at zMax Dragway.
"I'm not even thinking about, let alone worrying about the points," Tedesco said. "All that matters right now is having fun and trying our best to win races in both cars. If we do that, the points will work out however they work out. Getting wrapped up in all that stuff doesn't change what needs to happen on the racetrack so that's where our focus will stay."

INDIANAPOLIS – There's a popular saying in the NHRA drag racing pit areas – "It's never a bad day when you're at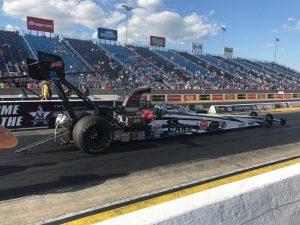 the race track." For 2016 Super Gas world champion and Top Alcohol championship contender Mia Tedesco that saying holds even more consolation after her surprisingly quick exit from competition at the world's biggest and most prestigious drag racing event, the Chevrolet Performance U.S. Nationals at Lucas Oil Raceway in Indianapolis.
Competing in NHRA Lucas Oil Sportsman racing in her CARS Vehicle Service Contracts/Schepel Motors/NGK/Lucas Oil Top Alcohol Dragster and her CARS Vehicle Service Contracts/VP Racing Fuels Super Gas Chevrolet Cavalier, Tedesco is not only a fan favorite, she's also a favorite to win everywhere she races.
After becoming the first female Super Gas world champion last year and winning the previous two Divisional events in her Top Alcohol Dragster in Indianapolis and Bowling Green, Ky., all eyes were focused on Tedesco to have a high probability to "double-up" at the "Big Go", but the frustrating side of racing altered her fortunes.

INDIANAPOLIS – The No. 1 on the side of Mia Tedesco's Super Gas signifies she's the reigning world champion in
the category, and therefore an automatic contender for the title of this weekend's 63rd annual Chevrolet Performance U.S. Nationals. But considering she's won two Top Alcohol Dragster races in a row, Tedesco seems to be an even bigger threat in her "second" car.
"We are running really well in the dragster, no doubt," Tedesco said. "I mean, it's Indy, so you know the very best in the world will be there, but it certainly gives you a lot of confidence knowing you're coming off back-to-back wins.
"The guys have this thing running very consistently, which is huge in drag racing. We're trying very hard to get away from the occasional weird pass where something goes wrong. If you can get down the track under power every time, your chances of winning go way up."

BOWLING GREEN, KY – Mia Tedesco collected her second Top Alcohol Dragster victory in a row Sunday at the
North Central Finals at Beech Bend Raceway Park. Tedesco beat Marty Thacker in the final to pad her Division 3 points total, which already got a boost two weeks ago when she won Chicago.
"It was a lucky weekend for us but we'll certainly take it," Tedesco said. "We tested before the race and our CARS Vehicle Service Contracts/Schepel Motors/NGK/Lucas Oil Top Alcohol Dragster was really not running well. Then we get here and shake the tires in the first qualifier and I was getting concerned. But the guys stayed with it and we came back and ran a 5.275 at 272.23 mph in Q2 to take the pole.

INDIANAPOLIS – A victory and a semifinal finish at the Division 3 double-header weekend at Lucas Oil Raceway in
Indianapolis finally convinced reigning Super Gas world champion Mia Tedesco she made the right call by building a brand-new CARS Vehicle Service Contracts/Schepel Motors/NGK/Lucas Oil Top Alcohol Dragster.
Tedesco crew chief "Racin' Jason" Lynch also won in his CARS Vehicle Service Contracts/Abruzzi Transmissions & Converters/Hoosier Tires Super Gas Cutlass, making this the most successful outing of the year for Tedesco Racing.
"Until recently, it's been kind of a struggle getting this new dragster dialed in," Tedesco said. "We had great success in Top Alcohol the last two seasons but we still built a new car because we knew it would eventually make us even better. I think we're finally starting to see the rewards for all the hard word and testing we've been doing."

HEBRON, OH – Pittsburgh-based Sportsman star Mia Tedesco is thrilled to make the short drive to National Trail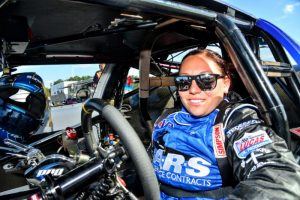 Raceway near Columbus, Ohio, to compete in this weekend's Buckeye Fuel Wars. The race is part of the North Central Division's 2017 schedule, making this an important event for reigning world and Division 3 champion.
"The races in your home division are always extra important because you really want to earn as many points as possible in your own division," Tedesco said. "In our case, we're defending D3 Super Gas champs so we're looking to make a move in our CARS Vehicle Service Contracts /VP Racing Fuels Super Gas Chevrolet Cavalier. We're also racing Super Comp so it'll be a busy weekend for us."

CHICAGO – Running two big events in the same weekend seemed to suit Mia Tedesco just fine as the reigning Super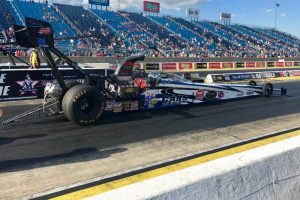 Gas world champion starred in her "other" ride, the CARS Vehicle Service Contracts/Schepel Motors/NGK/Lucas Oil Top Alcohol dragster, with a runner-up result in the 33rd annual JEGS Allstars race and a semifinal finish in the 20th annual Fallen Patriots NHRA Route 66 Nationals.
"I'm always really excited when we have weekends like this," Tedesco said. "Some of the divisional races have two events in one so you get used to running a bunch of rounds, especially when you're running more than one car. I love it because I love to race so the more seat time I can get, the happier I am.