BAYTOWN, TX — Mike Salinas may have his first career NHRA Top Fuel victory thanks to his incredible performance last weekend in Las Vegas. But it's not going to change his mindset or his desire to win even more races.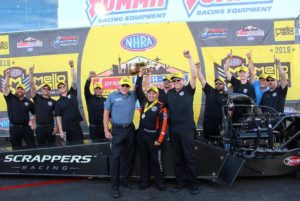 The Top Fuel standout has a quote that describes his approach to life, business and racing, and it's one that will continue to drive his Scrappers Racing team as he heads to Houston Raceway Park for this weekend's NHRA SpringNationals.
"The quote is, 'Practice like you have never won and perform like you have never lost.' That's how we live," Salinas said. "It keeps you hungry when you're practicing and when I get to the track, I want to perform like I've never lost."
That means being confident in his standout team and his ability, something that was reinforced with Salinas' career-changing moment at the four-wide event in Vegas last weekend.