NORTH DINWIDDIE, VA – Scott Palmer knows exactly how drag racing fans in the Old Dominion feel about the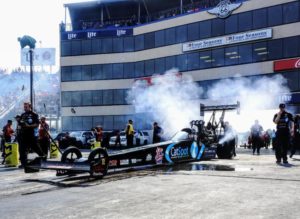 NHRA's return to Virginia Motorsports Park, mainly because he has the exact same emotions.
"I'm a regular guy, a fan, just like everyone who comes through the gates and walks through the pits," Palmer said. "I did that for years and if I wasn't lucky enough to be driving this CatSpot Organic Cat Litter Top Fuel dragster, I'd be right there with them again. I absolutely love this sport."
Through years of hard work and an outright refusal to give up on his dream, Palmer will be attending this weekend's race as the driver of an 11,000-horsepower, nitro-burning dragster. And with backing from CatSpot owner Tommy Thompson and the continued help of championship crew chief Jason McCulloch, who joined the team last weekend in Chicago, Palmer arrives with a legitimate chance to win the Wally trophy.
"We learned a lot in Chicago about running in the heat and the forecast for this weekend looks pretty much the same as what we just experienced so we are going to go there and try to apply this new knowledge," Palmer said. "I love that track and the fans there are awesome. The last time we raced Virginia we turned on the win light against my buddy Spencer Massey so, you know, I have good memories of that place."