MADISON, IL — The Premier Street Car Association comes to the St. Louis area this weekend for Heads-Up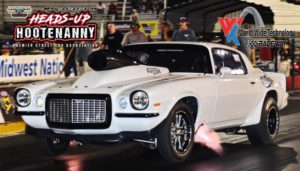 Hootenanny, an event featuring some of the best straight-up drag racing in the country. It's the fourth running of the event at World Wide Technology Raceway Park at Gateway as the PSCA continues its relationship with the NHRA-sanctioned drag strip. Also in attendance for the second-straight year is the Mid-West Pro Mod Series.
Kicking off Friday when the gates open at 8 a.m., this year's Heads-Up Hootenanny is paired up with Gateway's Super Chevy Show, setting up a drag racing enthusiast's dream weekend with near-perfect weather conditions. Headlining the race for PSCA is Vortech Superchargers Outlaw 8.5, an eighth-mile class that brings the excitement every time they stage.
Heads-Up Hootenanny isn't the only PSCA race on the schedule this weekend. Two time zones away at The Strip at Las Vegas Motor Speedway, MuscleCars at the Strip at Las Vegas is also providing race fans with a slice of Americana and a viewing of PSCA's small-tire, no-time class.