PDRA
PITTSBORO, NC – Wesley Jones made the best pass of his career at the PDRA Spring Nationals earlier this year. He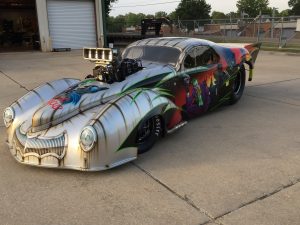 took his famed '41 Willys to a 3.55 elapsed time at almost 215 miles per hour. On the very next pass, just past the finish line, Jones took a wild ride, slamming into the Rockingham Dragway guard wall. Jones suffered an L4 vertebra compression and fracture. His iconic Batman-themed Willys was damaged significantly and Jones would be sidelined as he and the car both recovered.
"We put a front half on and a body on the car," Jones explained of fixing the Willys, built in 2002 by Tommy Mauney. "The front firewall-forward was damaged so I had to replace a lot of front end parts. The body on both sides got damaged and I just decided to replace it instead of repairing it, which was a good thing, because the car ended up losing some weight. It's going to be legal weight now.
BUDDS CREEK, MD – NAS Racing Pro Extreme veteran Tommy D'Aprile and Drag 965 Pro Extreme Motorcycle
rider Eric McKinney earned their first Professional Drag Racers Association (PDRA) wins of the season last weekend, joining repeat winners Tommy Franklin (Switzer Dynamics Pro Nitrous presented by MoTeC) and John Strickland (GALOT Motorsports Park Pro Boost) in the PDRA North-South Shootout winner's circle. The fifth race on the PDRA 2016 tour was finished on Sunday due to rain that moved into the Maryland International Raceway area near the end of first round on Saturday night.
Maryland's own Mo Hall claimed the DiSomma Racing Engines Outlaw 10.5 win in the class' second stop with the PDRA. Number one qualifier John Montecalvo won in PDRA Extreme Pro Stock, adding to his event titles in two other major series.
BUDDS CREEK, MD – A long, hot day of qualifying at the Professional Drag Racers Association (PDRA) North-
South Shootout ended Friday with Brandon Snider leading NAS Racing Pro Extreme, Lizzy Musi topping Switzer Dynamics Pro Nitrous presented by MoTec, John Strickland in GALOT Motorsports Park Pro Boost, and Travis Davis in Drag 965 Pro Extreme Motorcycle.
The Mickey Thompson Tires Outlaw 10.5 National Championship Series racers are also racing at the Maryland International Raceway event, with Maryland's own Mike Decker Jr. leading the field after three qualifying sessions. New Yorker John Montecalvo is the provisional number one qualifier in PDRA Extreme Pro Stock.
In the sportsman classes, John Benoit tops a long list of qualifiers in Ronnie Davis Top Sportsman presented by MagnaFuel. Top Fuel crew member Matt Sackman is the number one qualifier in Lucas Oil Top Dragster heading into Saturday's final qualifying session. Blake Denton and Mia Schultz lead Talbert Pro Junior Dragster and MegaCorp Top Junior Dragster, respectively.
PITTSBORO, NC – Midway through last season, Melanie Salemi waltzed into GALOT Motorsports Pro Boost as if
she'd done it all her life. In just her second race out in her '68 Firebird she won the whole shebang, giving her early confidence and notoriety among fans. Salemi has continued to gain experience behind the wheel this season, going rounds consistently to earn a fourth place points standing. While driving takes top priority at events, the Canada-born racer puts a special focus on interacting with fans.
During this season Salemi implemented a t-shirt giveaway program to connect with her youngest fans. She came up with several trivia questions that would be read over the PA. The first kid to reach the tower with the right answer won a Melanie Salemi t-shirt. The idea was such a hit that other drivers began to follow suit. Salemi says she loves the chance to interact with the kids, who meet her at the trailer to cash in on their prize. Still, there are some fans who don't immediately recognize the petite young woman as pilot of the blown Pro Mod that can cover the eighth-mile in just 3.78 seconds. Salemi tells of how she recently surprised a fan:
PITTSBORO, NC – The term "Pro Mod" has come to mean many things in recent years. So many, in fact, that it's easy
to forget what embodied Pro Modifieds in the beginning. For diehards like Ric Fleck, however, there is only one way to effectually "Pro Mod". It's not just about the power adder utilized or how fast one can get down the track, although many Pro Mod teams have narrowed it down to exactly that. No, for racers like Fleck, Pro Mod means embracing the look as much as the performance. His 1941 Willys, a body style made famous by early Pro Mod pioneers like Scotty Cannon and Tommy Mauney, is as fun to watch for its flashy paint scheme as it is for it's on track performance, which, by the way, is stout in PDRA's Pro Boost this season. Fleck currently sits third in GALOT Motorsports Pro Boost points with semi-final appearances at the last two events.
"For me Pro Boost, hands down, is the best class there is," Fleck remarked. "If you look at the finals last year in Virginia, the entire field is within seven numbers of each other. From 3.79 to a 3.86 out of 16 cars, even with the difference of the turbo cars and the blower cars; that's really tight. That tells ya something. It's really a good tuners race. There's enough rules in place to keep everybody competitive, but not too many rules so that you can't stand out."
BUDDS CREEK, Md – Four of the best racers in Switzer Dynamics Pro Nitrous presented by MoTeC will face off in a
special shootout race at the 2nd annual Professional Drag Racers Association (PDRA) North-South Shootout, July 14-16, at Maryland International Dragway. Fans of the PDRA Racing Facebook page voted to decide the pairings for the Flatout Gaskets Pro Nitrous Wars Shootout, set to run during Friday qualifying. The $5,000-to-win race-within-a-race is in addition to the PDRA's usual four professional classes, four sportsman categories, and the special-feature Extreme Pro Stock and Outlaw 10.5 classes.
Pro Nitrous has been one of the most competitive classes this season, with three different drivers seeing the winner's circle in the first four races. Tommy Franklin won the season opener at Tulsa, Travis Harvey scored the Rockingham win, and Jay Cox won the two most recent PDRA races in Texas and Michigan. Steve Jackson, twice a runner-up to Cox, joins Franklin, Harvey and Cox as the four competitors in the Flatout Gaskets Pro Nitrous Wars Shootout.
PITTSBORO, NC – Frankie "Mad Man" Taylor has been in a self-proclaimed slump lately, but with a runner up at the
PDRA Texas Nationals, followed by a win at the PDRA Summer Drags, he seems to be rising quickly back to the top of NAS Racing Pro Extreme competition.
"I'm adamant on getting the record back," explained the Mad Man, who has held the PX record at 3.65, 3.62, 3.59 and 3.58 seconds. "Competing with the best means you have to beat the best. In Michigan, we did just that, beating Jason Scruggs and Brandon Snider on hole shots and turning on the win light. Doing so put us number three in points, which is our best points position in PDRA so far."
Owner of Taylor Automotive in Dickinson, Texas Taylor still holds the quarter-mile blown, full-bodied outlaw record at 5.47 at almost 264 miles per hour. Although he's confident he could go even faster with the knowledge he has gained since setting the record in 2014, for now his focus remains beating the best in the world on the eighth-mile.