PDRA
MILLINGTON, TN – Pro Extreme star Jason Scruggs continued to lead the quickest and fastest eighth-mile
doorslammer class this Friday when he qualified number one at the 3rd annual Professional Drag Racers Association (PDRA) Memphis Drags. Continual favorites Tommy Franklin and John Strickland led the Pro Nitrous and Pro Boost fields, respectively, while Brunson Grothus rode to the top in Pro Extreme Motorcycle during Friday's rain-shortened qualifying action.
Past Pro Extreme world champion Mick Snyder qualified number one in Top Sportsman, and Darian Boesch led the Top Dragster field after two qualifying session. Blake Denton and Jordan Eperjesi currently lead the fields in Pro Junior Dragster and Top Junior Dragster, respectively.
MILLINGTON, TN – As the Professional Drag Racers Association (PDRA) heads into the second half of its 2016
tour, the championship points battles in two of the premier professional classes are tightening up. Defending NAS Racing Pro Extreme world champion Jason Scruggs currently leads Brandon Snider by 51 points, while a mere 14 points separate Drag 965 Pro Extreme Motorcycle frontrunners Eric McKinney and Chuck Wilburn as the PDRA rolls into Tennesee for the 3rd annual PDRA Memphis Drags, August 11-13, at Memphis International Raceway.
Scruggs and Snider have been fighting back and forth since the first PDRA race of the year in Tulsa, where Snider scored the event victory over Scruggs in the final round. Two races later, Scruggs and his ScruggsFarm.com 1969 Camaro had a commanding lead after taking runner-up at Rockingham and winning Texas. Snider tightened things up by 101 points with his runner-up finish at Michigan, then added another 201 points at the most recent race in Maryland. Scruggs enters the weekend as the defending event champion.
PITTSBORO, NC – Lucas Oil Top Dragster competitor, Justin Kirk, currently sits second in PDRA championship
points, just over three rounds behind points leader David Brown. Despite the fact that Kirk has put himself in a position to possibly win the PDRA Top Dragster World Championship, he admits it's been a difficult year. This season he hasn't seen much of the success he's become known in his budding career.
After fighting their current dragster for the first five events, Kirk and his team decided they'd had enough. They were planning to build a new dragster in the off season, but they found a deal they couldn't pass up. With the help of backer BWC Trucking, Kirk quickly decided to purchase Bob Sheridan's 2014 Spitzer dragster. "Bob Sheridan was wanting to go a different route with his racing," Kirk explained. "The dragster has only got about six or eight races on it. We just decided to snatch that one up now instead of waiting to build a new one. It's practically brand new; he just got the bugs worked out for us."
PITTSBORO, NC – Wesley Jones made the best pass of his career at the PDRA Spring Nationals earlier this year. He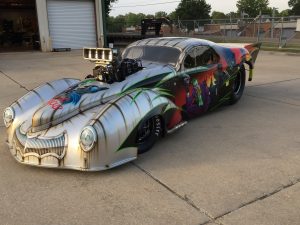 took his famed '41 Willys to a 3.55 elapsed time at almost 215 miles per hour. On the very next pass, just past the finish line, Jones took a wild ride, slamming into the Rockingham Dragway guard wall. Jones suffered an L4 vertebra compression and fracture. His iconic Batman-themed Willys was damaged significantly and Jones would be sidelined as he and the car both recovered.
"We put a front half on and a body on the car," Jones explained of fixing the Willys, built in 2002 by Tommy Mauney. "The front firewall-forward was damaged so I had to replace a lot of front end parts. The body on both sides got damaged and I just decided to replace it instead of repairing it, which was a good thing, because the car ended up losing some weight. It's going to be legal weight now.
BUDDS CREEK, MD – NAS Racing Pro Extreme veteran Tommy D'Aprile and Drag 965 Pro Extreme Motorcycle
rider Eric McKinney earned their first Professional Drag Racers Association (PDRA) wins of the season last weekend, joining repeat winners Tommy Franklin (Switzer Dynamics Pro Nitrous presented by MoTeC) and John Strickland (GALOT Motorsports Park Pro Boost) in the PDRA North-South Shootout winner's circle. The fifth race on the PDRA 2016 tour was finished on Sunday due to rain that moved into the Maryland International Raceway area near the end of first round on Saturday night.
Maryland's own Mo Hall claimed the DiSomma Racing Engines Outlaw 10.5 win in the class' second stop with the PDRA. Number one qualifier John Montecalvo won in PDRA Extreme Pro Stock, adding to his event titles in two other major series.
BUDDS CREEK, MD – A long, hot day of qualifying at the Professional Drag Racers Association (PDRA) North-
South Shootout ended Friday with Brandon Snider leading NAS Racing Pro Extreme, Lizzy Musi topping Switzer Dynamics Pro Nitrous presented by MoTec, John Strickland in GALOT Motorsports Park Pro Boost, and Travis Davis in Drag 965 Pro Extreme Motorcycle.
The Mickey Thompson Tires Outlaw 10.5 National Championship Series racers are also racing at the Maryland International Raceway event, with Maryland's own Mike Decker Jr. leading the field after three qualifying sessions. New Yorker John Montecalvo is the provisional number one qualifier in PDRA Extreme Pro Stock.
In the sportsman classes, John Benoit tops a long list of qualifiers in Ronnie Davis Top Sportsman presented by MagnaFuel. Top Fuel crew member Matt Sackman is the number one qualifier in Lucas Oil Top Dragster heading into Saturday's final qualifying session. Blake Denton and Mia Schultz lead Talbert Pro Junior Dragster and MegaCorp Top Junior Dragster, respectively.
PITTSBORO, NC – Midway through last season, Melanie Salemi waltzed into GALOT Motorsports Pro Boost as if
she'd done it all her life. In just her second race out in her '68 Firebird she won the whole shebang, giving her early confidence and notoriety among fans. Salemi has continued to gain experience behind the wheel this season, going rounds consistently to earn a fourth place points standing. While driving takes top priority at events, the Canada-born racer puts a special focus on interacting with fans.
During this season Salemi implemented a t-shirt giveaway program to connect with her youngest fans. She came up with several trivia questions that would be read over the PA. The first kid to reach the tower with the right answer won a Melanie Salemi t-shirt. The idea was such a hit that other drivers began to follow suit. Salemi says she loves the chance to interact with the kids, who meet her at the trailer to cash in on their prize. Still, there are some fans who don't immediately recognize the petite young woman as pilot of the blown Pro Mod that can cover the eighth-mile in just 3.78 seconds. Salemi tells of how she recently surprised a fan: