PDRA
PITTSBORO, NC – PDRA Pro Nitrous has been a hotbed of big talk this offseason. The class has risen to elite status
in recent years. Just qualifying for an event deserves ample accolade, which at times, has given birth to ample ego among competitors, as well. Not all Pro Nitrous drivers are alike, however. Chris Rini isn't one for all the talk, but that doesn't mean he's not more than ready to prove himself on the track. In 2016 he'll follow the entire PDRA Pro Nitrous circuit for the first time, and the competition can be sure that while his mouth may not be hard at work, his racing program certainly is.
Rini is debuting a brand new '69 Chevy Camaro built by Jerry Bickel Race Cars this season. The slick looking car will pay tribute to the late founder of ATI, Jim Beattie, by copying the Funny Car 'Black Magic' paint scheme he made famous in the '70s.
PITTSBORO, NC – PDRA Top Dragster 2015 World Champion Justin Melton will probably not be defending his title
at the PDRA's 2016 series opener in Tulsa, Oklahoma. His opportunity to pilot an M&M Race Cars dragster owned by good friend Danny Payne was a venture with good results, perhaps a little too good, in fact. The Melton/Payne partnership produced a Championship-winning season, which had the by-product of an increase in business at M&M Race Cars, the Melton family business that not only builds chassis, but also engines with a unique combination that is overtaking fast bracket racing.
This is Melton's first World Championship and while he's somewhat discouraged about not being able to run the full PDRA schedule in 2016, he remains humble and thankful for the Championship and what it's meant for business.
"As soon as I can I'd like to be back on the PDRA tour," told Melton. "M&M Race Cars is a family business with me, my dad and my brother. So between me taking off and running all the events this year, plus the increase in sales, I'm tied up here at the shop for a little bit. It's a good thing. I'm not complaining.
PITTSBORO, NC – The Professional Drag Racers Association (PDRA) series opener promises to be a marquee stop
on the 2016 tour. After a one year hiatus from the schedule, the PDRA returns to famed Tulsa Raceway Park (TRP), March 10-12 bringing professional heads up eighth mile drag racing back to Tulsa fans. The PDRA's one-of-a-kind experience goes hand in hand with TRP's mission to give their fans the best drag racing experience in the nation.
You've watched street racing on TV. Now come see what cars were meant to do on the strip!
Kicking off the opening ceremonies will be incredible side-by-side jet cars. Also taking on TRP's eighth-mile is Danny O'Day's Superwinch Wheel Stander, the world's quickest wheel stander. The Pro Mod stars of the PDRA will look to set the stage for their 2016 season as they take on TRP's eighth mile track at speeds over 220 MPH. Get the first look as champion racers Jason Scruggs, Jason Harris, Rickie Smith and Craig Sullivan unveil new rides. Come watch local heroes Frankie Taylor and Randall Reid in Pro Extreme, and Pat Stoken in Pro Nitrous. Be the first to witness the Keith Haney and Jay Cox rivalry play out in 660 feet as they put their fast talking to the test on the track.
PITTSBORO, NC – For the eighth time in his illustrious career Ronnie Davis will spout the number one and reign as
Top Sportsman Champion. By capturing the 2015 PDRA MagnaFuel Top Sportsman World Championship, Davis earned his eighth divisional or national level championship across three organizations (PDRA, IHRA, NHRA).
At the PDRA World Finals at Virginia Motorsports Park in October of 2015, Davis had what he calls a "clean sweep" by winning the event and securing the World Championship in the same weekend. Amazingly, this wasn't the first time this happened for the owner of Davis Golf Cart Sales.
"In 2010 I was third in NHRA Division 2 points going into the last race of the year we could claim," storied Davis. "I believe Billy Vaughn was leading points and Jeff Pittman was second. I don't think anybody gave me a chance since I was in third place. My strategy for that race was to qualify number one and get a bye first round if there was one and then win the race. I figured the points out, if I won the race I would win the championship by one point. I qualified number one, drove good and won the race. I beat Billy Vaughn for the championship by one point.
PITTSBORO, NC – A few years back Florida racer David Pike had an idea to get together with a few buddies and raise
money for the local cystic fibrosis (CF) foundation while at the track. His own daughter battles CF and he had recently learned of a young girl his daughter's age who lost her battle with the disease. Kayla James was a two time Junior Dragster Track Champion at Immokalee Dragway. Life was taken from her at just 17 years old. Once Pike's idea reached other racers and those affected by CF, it exploded. In 2015, the first annual Drag Race for a Cure was held at Orlando Speed World Dragway. Over 300 racers attended.
The second annual Drag Race for a Cure will be held March 26, 2016 again at Orlando Speed World Dragway. One hundred percent of the event proceeds will go to charity. This year the chosen charities are the Autism Society of Greater Orlando and the Cystic Fibrosis Foundation of Orlando. Although only two years in the making, this event has already commanded national attention. Top industry companies, former NFL players, the Tampa Bay Rays, and numerous drag racers have committed to supporting this event through their time, money and talents. PDRA Top Dragster competitor Ryan Snell is helping to orchestrate the second Annual Drag Race for a Cure and several other PDRA competitors have signed on with their support.
PITTSBORO, NC – With the close of the 2015 season, the Professional Drag Racers Association crowned its second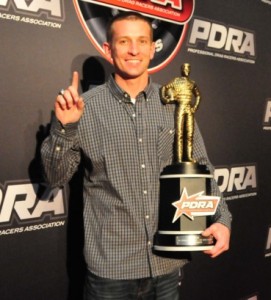 round of World Champions. Each of the PDRA's eight classes welcomed a new regime, except one. Eric McKinney reigns as Drag965 Pro Extreme Motorcycle World Champion for the second year in a row, making him the only PXM World Champion in the PDRA's budding existence.
As one of the most successful drag bike racers in history, McKinney has worked to advance both his own program and the Pro Mod bike class. There is little he has not done within this arena. He has seen the class both struggle and soar, and, according to McKinney, the future of PXM is brighter than ever.
"The PDRA has been the best thing that's happened for our class," stated the Champ. "It's about as top notch organization as you can race for. I've raced with a bunch of organizations in my day and this is by the far the best organization I've ever raced in. It's a class act.
PITTSBORO, NC – As the Professional Drag Racers Association prepares for its third national tour, the staff and
ownership continue to increase their commitment to sponsors, racers, and fans alike. The PDRA is proud to welcome its newest marketing team member, Will Smith. Smith will work alongside entertainment veteran production and marketing executive Shawna Brakefield, also recently hired to expand PDRA's marketing and promotional efforts. Smith will work closely with PDRA sponsors in fulfillment and engagement, as well as further race promotions and branding.
Smith grew up in drag racing and has been involved with the sport both professionally and as a hobby for many years. For the past three years, Smith has served as Marketing Manager at Speedtech.
"I welcome this great opportunity to work with one of drag racing's most promising organizations," stated Smith. "I have a passion for drag racing and I believe this is a great fit. I'm very grateful to be involved in the PDRA. Having worked with Speedtech and been a sponsor of the organization, I've met a lot of great people. Now I'm looking forward to building upon those relationships in a new capacity, as well as generating new relationships with racers, sponsors and fans."