PDRA
BRADENTON, FL – For the second day in a row, rain hindered the racing action at the Professional Drag Racers
Association (PDRA) Sunshine State Shootout presented by Mel Bush Motorsports. Saturday's first round of eliminations was delayed until 8 p.m. before another storm covered Bradenton Motorsports Park, forcing PDRA officials to postpone the balance of the event into Sunday.
"We've made every effort over the last two days to get this race in at Bradenton," stressed PDRA race director Bob Harris. "We had some great racing and incredible elapsed times recorded last night. However, we've been fighting rain all weekend. We were working diligently to prepare the track surface to go racing this evening, but the mist picked back up around 8 p.m. when we were just about ready to run. We decided to call the race until 9 a.m. on Sunday."
BRADENTON, FL – Water from the sky and the ground attempted to prevent Friday qualifying action at the
Professional Drag Racers Association (PDRA) Sunshine State Shootout presented by Mel Bush Motorsports, but the PDRA track crew fought back to allow the stars of the all-eighth-mile series to record some of the quickest elapsed times of the season. After two  qualifying at Bradenton Motorsports Park, Jason Scruggs (NAS Racing Pro Extreme), Tommy Franklin (Switzer Dynamics Pro Nitrous presented by MoTeC), John Strickland (GALOT Motorsports Park Pro Boost), and Chris Garner-Jones (Drag 965 Pro Extreme Motorcycle) lead the fields in the professional classes.
In the PDRA's sportsman classes, Billy Albert leads the field in Ronnie Davis Top Sportsman presented by MagnaFuel, and Paul Daigrepont tops the Lucas Oil Top Dragster list. South Carolina's Hailey Hawkins is the provisional number one qualifier in Talbert Pro Junior Dragster with her 7.903 et, while local racer Jason Stewart used a .006 reaction time to top the field in MegaCorp Top Junior Dragster.
PITTSBORO, NC – Pat Musi of Musi Racing Engines recently announced a partnership with Al Anabi Performance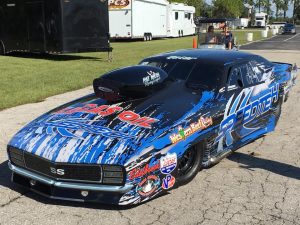 (AAP) to tune their nitrous-assisted Pro Mod in Qatar and Bahrain events. When it looked like Lizzy Musi would sit out this weekend's Mel Bush Motorsports Sunshine State Shootout in order to complete necessary repairs on her Frank Brandao-owned car, Al Anabi quickly offered her a ride.
"We were going to scrub Bradenton and get the car ready for Virginia," told Musi. "Sheik Khalid calls and asks us about Bradenton. He tells me they're preparing a '69 car for Al-Naemi. Turns out him and Lizzy are basically the same size and he offers us that car. He told me, 'That's what we're all about. When we're together, we're together. Whatever it takes, get her to Bradenton.'"
PITTSBORO, NC – The PDRA Live Feed, produced by Motor Mania TV, has been one of the most well received
features of the organization since its inception. Live side-by-side racing could be, and regularly has been, viewed around the world. When Quarter-Max began presenting Starting Line and Top End Zones featuring live interviews with racers, those watching on computers, tablets, and phones were given the inside scoop straight from the horse's mouth.
This year, Musi Racing Engines added the 'Musi Minute' with Pro Nitrous driver Lizzy and Andy McCoy Race Cars (AMRC) brought fans the 'Ask the Pros' segment. Both have had a great response this year, allowing fans more interaction, both at home and at events. In the 'Musi Minute' Lizzy picks a fan at the event to interview and give them their minute of Live Feed fame. For 'Ask the Pros' Andy McCoy, along with the Pee Dee Fleet Pro Boost team owned by Russell Miller, answer fan questions submitted online.
PITTSBORO, NC – Racing, especially within the PDRA, is a family affair. Many of the professional drivers have sons
and daughters that also race in the PDRA ranks. And while any of these drivers are capable of winning, having a parent and child do so on the same day is a difficult task. Almost three full seasons into the PDRA's existence, the Kirk family is the first to make it happen.
Longtime Extreme Pro Stock powerhouse, Doug Kirk, is no stranger to winning. His son, Justin, entered the Lucas Oil Top Dragster scene last season and quickly began earning a name for himself. This season he put himself in championship contention early, but was still searching for his first national event win.
After battling some issues in the previous dragster, Kirk's car owners Randy and Kathy Kelley purchased a new-to-them 2014 Spitzer which the team debuted at the Memphis Drags. There, they experienced engine trouble and electrical problems.
BRADENTON, FL – Fresh off of his recent win at PDRA Dragstock XIII earlier this month, Pro Extreme star Tommy
D'Aprile has announced that he will face off against a jet dragster at the Professional Drag Racers Association (PDRA) Sunshine State Shootout presented by Mel Bush Motorsports, Sept. 29-Oct. 1. The rare doorslammer versus jet dragster match race is just one of the reasons why D'Aprile is looking forward to his home race at Bradenton Motorsports Park, the eighth of nine stops on the PDRA 2016 tour.
"For Mel and Johanne (Bush) this is a big race. This is the only time when PDRA comes to Florida, so we're going to be racing in front of local friends and family who usually don't get to see us race. We're certainly wanting to do well in the race itself, but we're just excited to have everyone out to enjoy the experience of seeing all of these fast cars in one place at one time.
PITTSBORO, NC – For drag racers, fall is arguably the most exciting time of year. After the 'dog days' of summer, fall
brings with it cooler temperatures and more opportunities to improve times, break records, and, most importantly, define what it means to be a champion.
With two races left in the PDRA's 2016 season, what it means to be a champion is being carefully carved in stone by the best eighth-mile racers in the world. After fighting a hard fight for seven months, the champion will increase his or her intensity. When pressure is at its highest, the champion will rise to meet it. When faced with the toughest problem yet, the champion will innovate and overcome. Champions aren't created through drag racing; they define themselves through it. They've had what it takes all along. They've been championing through their long hours, their sweat and toil, their unrelenting spirit, their ingenuity. But the time is drawing close when a select handful will receive the glory they're due.