With certain clarity, Cory Roth can recall how he spent much of his childhood at Summit Motorsports Park and other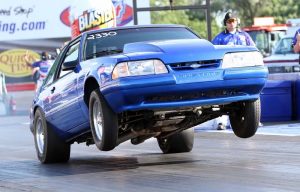 race tracks watching his dad, Al, bracket-race his '67 Mustang and '61 Falcon, and how he was allowed to stay up late to help work on the cars.
The lessons he learned helped him down the road, as he climbed into his own race car, a stunning red '87 Mustang, to tackle Street Stock and Street Bandit in Fun Ford Weekend and Hot Street in the National Mustang Racers Association. He put his name on the map in both series by running to high eight-second elapsed-times via a naturally aspirated small-block Ford that he and his dad built and backed with a G-Force 5-speed, and before long, he earned multiple wins and the '99 Street Stock championship.