Everything from Darts and Daytonas to Challengers and Chargers will be featured and flying at the 6th Annual JR1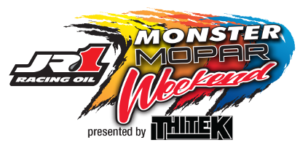 Racing Oil Monster Mopar Weekend presented by Thitek, Friday-Sunday, July 27-29, 2018 at Summit Motorsports Park in Norwalk, Ohio.
In addition to a car show, there will be racing in categories including Big Dog, DDS Trailer Sales Super Pro, Pro, Nick Wilson Memorial Nostalgia Super Stock presented by A&A Transmissions, Mr2 Performance Hemi Super Stock, Bloomer Performance Sportsman, King of the Street, CRT 10.00 Shootout and Gentry Auto 11.50 Index.
The OSTDyno HemiFest, with the CJR Performance Hellcat Shootout and Modern Street Hemi Shootout Gen 3 Hemi Showdown, will add to the action, and the combined purse is a plentiful $40,000. There also will be a trophy class.
A manufacturers' midway and swap-meet featuring everything from tachometers to transmissions will round out the event.