NHRA
HOLLYWOOD, FL – Menards NHRA Heartland Nationals Winners Edition featuring "Winnerviews" with Ron
Capps, Antron Brown, Tanner Gray, Steve Jackson, and Austin Williams.
Ron Capps discusses his historic 4th consecutive Funny Car win, his role in stopping the last 4 in a row, and hanging with WFO listeners in Topeka.
Top Fuel winner, Antron Brown gives the details of his victory, talks a little Top Gear America, and has a message for Stevie Fast.
Pro Stock winner Tanner Gray takes a break from his school work to debrief on his 2nd win of the season.

Jumps into Top 50 on first day on Amazon.com
DALLAS — Veteran sports personality Bob Wilber has released his long-awaited autobiography, "Bats, Balls, &
Burnouts" with publisher Outskirts Press. It is on sale to the public, effective immediately, and can be purchased online at Amazon.com and other internet retailers. It can also be obtained in both print and digital versions. In just its first day on amazon.com it moved into the Top 50 Sports Biographies or Memoirs on sale.
The memoir traces Wilber's life from the age of three to the present day, including tales of a childhood as the youngest son of a former Major League catcher (Del Wilber) and a radio-personality mother (Taffy Wilber) before recounting numerous stories about his own baseball career, his sports marketing experiences, and three stints as a senior-level executive for professional indoor soccer franchises in St. Louis, Kansas City, and Indianapolis.
In 1991 Wilber was named general manager of Heartland Park Topeka, and in that position he saw his first drag race. In 1996, he began a career working directly for National Hot Rod Association (NHRA) drivers as a team manager and public relations representative, initially for Funny Car star Whit Bazemore, followed by Funny Car driver Del Worsham (1997-2008), as well as Worsham's Funny Car teammates Frank Pedregon (2000-2002), Johnny Gray (2003-2004), Phil Burkart (2004-2006), and Jeff Arend (2007). Wilber then completed his 20-year career with Funny Car star Tim Wilkerson (2009-2015).

READING, PA – Maple Grove Raceway hosts the Lucas Oil Drag Racing Series NHRA Northeast division on May 26-
28 highlighted by the Showdown at Sundown on Saturday. The event is one of 46 scheduled across the country where drivers earn points leading to divisional, regional and national championships as well as a chance at a share of the year-end purse of more than $519,000.
Categories include Top Alcohol Dragster, Top Alcohol Funny Car, Comp Eliminator, Super Stock, Stock Eliminator, Super Comp, Super Gas and Super Street. The division's MXI/Magnaflux Top Dragster and Top Sportsman Series' presented by Select Performance will also run in conjunction with the event.
Saturday night features the Showdown at Sundown with Jet Funny Cars, along with the Top Alcohol Dragsters and Funny Car eliminations once the sun sets beginning at 5 p.m. See schedule below for details on run times. Pricing for each day is $20 per day, children 12 and under are free with paid adult. A special $25 per car load price is offered on Saturday after 3 p.m.

COMMERCE, GA – In the final results of the NHRA Lucas Oil Drag Racing Series Southeast Division event at
Atlanta Dragway, past national champions, Kevin Brannon and Jeffrey Barker, as well as a double up win from David Rampy highlighted the list of winners for the fifth of seven events in the Southeast division.
David Rampy, Piedmont, Ala., gained two trophies for his collection, taking home the win in Comp Eliminator and Super Stock. In Comp Eliminator Rampy ran down Jim Kimbrough, Pace, Fla., posting a winning lap of 7.230 seconds at 183.62 mph. Rampy's win in Super Stock was won at the tree, defeating Alain Cauchon of Drummondville, Quebec.

Spectacular racing was in the spotlight at the 11th Annual Cavalcade of Stars presented by Budweiser, May 19-22,
2017 at Summit Motorsports Park.
The NHRA Lucas Oil Drag Racing Series event which went into overtime when rain rolled in on its last scheduled day also featured jet engine-powered vehicles and fireworks.
Top Alcohol Dragster driver JP Gutierrez led qualifying with a 5.42 and 261 mph hit from his MGM Grand Detroit/Children's Center of Detroit car and won with a 5.52 at 259 mph over Brandon Greco's 6.17 at 128 mph. The top qualified position and the win are firsts for the Michigan-based driver who's been working his way up in the category he's been in for five years.

NORWALK, OH – Former NHRA Top Fuel World Champion Larry Dixon took home the win and the trophy in his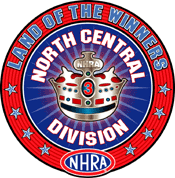 NHRA Lucas Oil Drag Racing Series Top Alcohol Funny Car debut at the wheel of the Bartone Bros. '17 Camaro for this weekend's Cavalcade of Stars presented by Budweiser at Summit Motorsports Park.
Dixon, Avon, Ind., qualified in the No. 4 spot then defeated the No. 2 qualifier Andy Bohl in a close semi-final round match up with a 5.576, 261.57 to Bohl's 5.616, 267.37 setting up a final round match up with Tony Bogolo. Dixon posted the quickest run of the event at 5.533 seconds at 265.90 mph to take the win over Bogolo who clocked in at 6.289, 178.45.
John Paul Gutierrez, Berkley, Mich., qualified in the No. 1 spot in Top Alcohol Dragster then knocked out reigning North Central Region Champion Mia Tedesco and Jared Dreher in rounds one and two. Gutierrez faced off with Brandon Greco in the final and laid down a lap of 5.527 seconds at 259.91 mph for the win as Greco slowed to a 6.172, 128.54 mph run. The win was the first for Gutierrez.

FONTANA, CA – Seven California racers took home wins from the NHRA Lucas Oil Drag Racing Series, Pacific
Division event at Auto Club Dragway at Auto Club Speedway over the weekend. Racers from all over the state were represented in the final rounds making this a golden weekend for NHRA racing in California.
It was a brotherly dual in Super Comp where Val Torres, Chino Hills, Calif., faced off against his brother Gabriel Torres, La Puente, Calif. Gabriel was better off the line posting a 0.018 second reaction time and a winning run of 8.920 seconds, 166.25 mph. The more experienced brother, Val Torres, who has six wins in Super Comp alone, had a 0.032 second reaction time and posted a runner up finish of 8.910 seconds, 173.09 mph.