NHRA
ENNIS, TX – Texas Motorplex will host the 2017 NHRA South Central Division Summit Racing Series Finals,
September 22-24.  Top drivers from NHRA member tracks across the South Central division will compete in five classes for individual and team honors.
Individual champions in Super Pro, No-Box/Pro, Sportsman and Motorcycle will advance to the NHRA Summit National Championship against the winners from NHRA's other six divisions at the Auto Club NHRA Finals in Pomona, Calif., in November.  A High School class will also compete during the event.
Participants in the top classes will compete for cash awards of more than $20,000.  Drivers who advance to Pomona will each receive an additional $3,000 and the champions in each class will earn $5,000.  Competitors in the High School class will earn trophies.

WEST VALLEY CITY, UT – The Pacific Division arrives at Rocky Mountain Raceways for the Night of Fire
Doubleheader Sept. 21-24. The event is one of 45 scheduled across the country where drivers in the NHRA Lucas Oil Drag Racing Series earn points leading to divisional and national championships as well as a chance at a share of the year-end purse of more than $519,000. Categories include Comp Eliminator, Super Stock, Stock Eliminator, Super Comp, Super Gas and Super Street. The Pacific Division Top Sportsman Series, Top Dragster Series and Sportsman Motorcycle Series will also run in conjunction with the event.
The first race on the doubleheader starts with qualifying and time trials on Thursday at 9:00 a.m. Top Dragster, Comp Eliminator and Top Sportsman qualify at noon and 4 p.m. on Thursday.  Eliminations will begin at 12:30 p.m. on Friday followed by Jet car exhibitions at 9 p.m.

INDIANAPOLIS – The team from Milan Dragway combined for a total of 53 points to win the Team Championship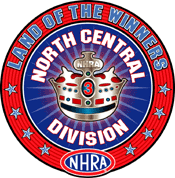 for the 2017 NHRA North Central Division Summit Finals at Lucas Oil Raceway with individual winners led by local racer Boyd Butcher in Pro ET. Host track Lucas Oil Raceway finished second in the team standings at 52 with Summit Motor Sports Park coming in third at 48 points.
Butcher, Beech Grove, Ind., took the win with his '73 Nova, and ran 6.773 seconds at 101.21 mph against Jim Laughlin, Albany, Wis., in his '78 Malibu.  Laughlin left early with a red light handing the win to Butcher.
Carli Keil, Rossford, Ohio, faced off with Bill Swain, Ionia, Mich., in the Super Pro final with Keil taking the early lead. Keil's final time was 4.911 seconds at 139.39 mph with Swain close behind with a time of 4.833 at 138.96 mph.

TOPEKA, KS – Bandimere Speedway took home the team title at this weekend's NHRA Summit Racing Series West
Central Division Finals at Heartland Park Topeka, Topeka, Kan. The team from Bandimere shared the winner's circle with five individual winners including Kanas racers Todd Piper and Eugene Lamb.
Bandimere Speedway racked up 52 points and needed everyone one of them as I-29 Dragstrip and the host track of Heartland Park landed in a tie for second at 51.
Piper, Wamego, Kan., raced his '14 dragster to a lap of 7.230 seconds at 180.24 mph to knock out Dustin Smiley, Emerson, Iowa.  Piper was out first with a great .003 second reaction time as Smiley closed in hard but ran out of track coming up a few hundredths of a second short.

CONCORD, NC – The Lucas Oil Drag Racing Series was in full effect this past weekend during the 10th annual NHRA
Carolina Nationals at zMAX Dragway. Frank Aragona and John Labbous Jr., both moved closer to National Championship rings with final round victories Sunday.
Aragona, Freehold N.J., squared off against Comp Eliminator Lucas Oil Drag Racing Series National points leader David Rampy of Piedmont, Ala. Aragona took the starting line advantage and powered his way down the strip to victory, running 7.388 seconds, 171.31 mph; Rampy 7.354 seconds, 160.94 mph.

WOODBURN, OR – At Woodburn Dragstrip, racers Joey Severance, Woodburn, Ore., and Shane Westerfield,
Anaheim, Calif., took home the wins in Top Alcohol Dragster and Top Alcohol Funny Car.
Severance faced off against Garrett Bateman, Albany, Ore., and posted a winning run of 5.285 seconds, 272.80 mph with Bateman coming in close behind at 5.269 seconds, 277.69 mph for his runner up finish.
Westerfield got the Top Alcohol Funny Car win with a pass of 5.490 seconds at 270.27 mph as he faced off against Sean Bellemeur, Placentia, Calif., in the final. Westerfield left the line first and extended his lead all the way to the finish line.
Justin Lamb took home the elusive double in winning both the Super Stock and Stock titles.  Lamb, Henderson, Nev., drove his Super Stock '10 Chevrolet to a pass of 8.696 seconds, 146.48 mph, taking the win over Rick McKinney, Richmond, B.C., at 10.792, 121.00. In Stock Eliminator, Lamb wheeled his '17 Camaro to the win in 8.919 seconds, 172.05 mph against Kyle Rizzoli, San Luis Obispo, Calif., and his '69 Camaro with a 10.427 second, 120.14 mph pass.

NUMIDIA, PA – The team from Cecil County Dragway combined for a total of 65 points to run away with the trophy
and the Team Championship for the 2017 NHRA Summit Racing Series Northeast Division Finals at Numidia Dragway.  Individual winners were led by local racer and Numidia Dragway runner Mike MacKey in Street followed by Todd Marin, Butch Weinreich, Austin Youndt, and Kevin Kohr.
Host track Numidia Dragway held on to finish second in the team standing with 45 points as Mason Dixon Dragway and Esta Safety Park tied for third at 44.