MWPMS
TULSA, OK – The Mid-West Pro Mod Series (MWPMS) proudly announced today that Frankenstein Engine
Dynamics (FED) has signed on as title sponsor for the 2018 MWPMS season. Following a successful five-race season this year, the MWPMS recently released a confirmed seven-event schedule for 2018, with a tentative eighth race still being negotiated.
"We couldn't be happier or more excited going forward with Frankenstein Engine Dynamics so prominently attached to the Mid-West Pro Mod Series," stated MWPMS organizer and promoter Keith Haney, who also competes within the series. "I really appreciate the confidence and commitment the guys at Frankenstein are showing toward us and believe gaining a major backer like Frankenstein really demonstrates the strength of our organization."
Chris Frank, president and development engineer at Frankenstein Engine Dynamics, said that after being part of the racing community for 12 years everyone at FED is equally excited to both sponsor and compete in the Tulsa-based MWPMS.

TULSA, OK – Fresh off its inaugural, five-event season, the Tulsa-based Mid-West Pro Mod Series (MWPMS)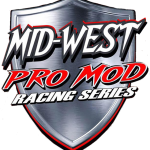 announced an expanded seven-race schedule for next year, with a tentative eighth event still in the works. Additionally, a sister organization, the Mid-West Outlaw Radial Series (MWORS), was created to race alongside the MWPMS, with a standalone Drag Radial event scheduled for March in Tulsa.
"What we've done is work together with the race tracks and promoters to create a points series for the Drag Radial guys. Instead of them just going from race to race, hoping to win or maybe finish runner-up, we wanted to give them the incentive to compete for a season championship," Mid-West Pro Mod Series organizer Keith Haney explained.
The Mid-West Outlaw Radial Series has been established for 2018 to provide a season-long points chase alongside the Mid-West Pro Mod Series.

TULSA, OK – Drag racers from all across the United States are heading to Osage Casino Tulsa Raceway Park this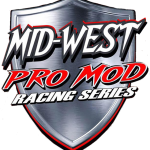 weekend (Oct. 13-14), for the Mid-West Pro Mod Series (MWPMS) World Finals, held in conjunction with the Throwdown in T-Town, which promises to rank among the biggest drag races held nationwide this year. And incredibly, fans will be admitted free just by downloading tickets from a link on the track's Web site at www.tulsaracewaypark.com.
MWPMS world champions in four classes will be crowned at Tulsa in the last of five races for the organization's inaugural season, headlined by the wild and unpredictable Pro Mod class, where drivers wheel their fire-breathing machines to 3.7-second passes at more than 210 mph over the eighth mile. Also racing for championships will be teams in Radial vs. the World, X275 and MX235, all using various sizes of drag radial tires as opposed to the huge, rear slicks on the Pro Mods.

Tulsa, OK – Rising from a fourth-place qualifying effort of 3.97 seconds over the eighth-mile at San Antonio Raceway
this past weekend, Eddie Rogers went on to score his second Mid-West Pro Mod Series (MWPMS) victory of the season.
Rogers steered his supercharged '69 Chevelle to a winning 4.04-seconds pass in the final over the blown, late-model Corvette of Jonas Aleshire, who was disqualified for leaving a fraction of a second before the green light flashed.
Eddie Rogers won his second MWPMS event of the year Sep. 24,  at San Antonio Raceway in Texas.

Tulsa, OK – The Mid-West Pro Mod Series (MWPMS), based in Tulsa, Oklahoma, announced today that it has named
David "Cookie" Cook as its new race director. Cook also will oversee all track preparation efforts for the growing eighth-mile drag racing organization that typically appears as a supplemental draw for each host track's regularly scheduled special events.
"I'm pretty excited about this," Cook said. "There are a lot of race teams based in this part of the country but there's not a lot of national touring series that come over this far, so I think the Mid-West Pro Mod Series really fills a void. It's already well on its way to becoming one of the best Pro Mod series in the country and I'm ready to do whatever I can to help it get there as soon as possible."
Cook, a highly experienced track prep specialist for Osage Casino Tulsa Raceway Park (TRP), previously held a similar position with the American Drag Racing League and Professional Drag Racers Association. He also travels annually to the Middle East to fill a similar role during the winter drag racing season in Qatar.

Tulsa, OK — The Mid-West Pro Mod Series (MWPMS), based in Tulsa, Oklahoma, announced today that Keith
Goolsby has been named its new Marketing and Sales Director.
"My primary goal is to increase sponsorships and build up the Mid-West Pro Mod Series purse," Goolsby said. "But ultimately I just want to bring to tracks all across the Midwest a sponsor-heavy Pro Mod series that will fill the stands and at the end of the day send everyone home feeling happy and satisfied."
Goolsby will work closely with Mid-West Pro Mod Series founder and Osage Casino Tulsa Raceway Park co-owner Keith Haney, who also competes in the series with his nitrous-boosted 2014 Camaro.
"We're only three races into our inaugural season, but it's already apparent the Mid-West Pro Mod Series is ready to take off and grow," Haney said. "Keith already knows practically everyone at the race tracks we're going to, plus he has a great reputation among our sponsors, so it's a great fit all around for everybody involved. He brings a tremendous amount of experience to this role and he'll make sure the sponsors will be taken care of——100 percent."

Tulsa, OK – Drag racing is a sport built on passion, but passion alone can't keep the lights on, employees paid and the
track gates open. For that a track needs to be profitable, offering a facility and events that make its customers-racers, fans and sponsors-want to come back time after time. That's why Osage Casino Tulsa Raceway Park co-owner Keith Haney helped create the Mid-West Pro Mod Series (MWPMS), a professional drag racing organization that delivers a generous sponsor package, star drivers, immaculate cars and an unrivaled eighth-mile show to complement each host track's special event.
"We're not trying to be the whole show, we want to come in and help boost a track's already established event, such as their Night of Fire or Labor Day race, things like that," Haney explains.
"Our goal is to help the race tracks make money, pure and simple, or at least not to lose money when they feature a class, because what happens is if they start losing money on a class, any class, they stop having it and there's no place to race anymore. So now, if we go in and try to help these race tracks, who's winning? They are, and we are. It's a joint effort between the two."