TULSA, OK – Just qualifying for the inaugural $50,000-to-win Elite 16 event presented by Elite Motorsports and the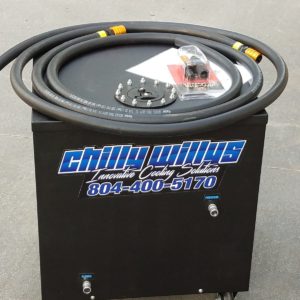 Tulsa-based Mid-West Pro Mod Series (MWPMS) is already guaranteed to be one very cool accomplishment. Thanks to Chilly Willys Engine Coolers, each of the 16 quickest Pro Mods at the famous Texas Motorplex Nov. 1-3, will be known as a Chilly Willys Qualifier. Additionally, Jim Phillips Collision Center of Evansville, Il., will be paying a bonus to the number-one starter.
"When Keith (Haney, Elite 16 organizer and promoter) came to me with the idea, I was all for it right from the start. I like to support guys who give back to the sport, who know what it takes to run these cars, and Keith is definitely someone who knows all about that," Chilly Willys owner Brian Shaw said. "He's paying a good purse, which is few and far between in Pro Mod racing, and I really appreciate that. So I'm glad to help out."
Based in Moseley, Va., Chilly Willys builds a compact engine cooling unit that manufactures and recirculates its own cold water, to as low as 39 degrees Fahrenheit without any need for ice. It requires only water and a 110-volt power source to work between rounds, with a digital L.E.D. display making it easy to preset a desired water temperature. A single Chilly Willys unit works quickly enough to individually cool even a multi-car team between rounds.