For the second race in a row, Randy Parker of Four Oaks, North Carolina, was the Dodge Top Finisher winner in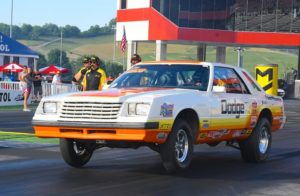 Stock Eliminator. Parker drove his I/SA 1980 Dodge Mirada, powered by a Mopar 360 cubic-inch small block through two rounds of competition at Bristol.
Like Parker, Mopar Sportsman Racer Ed Longhaney from Wade, North Carolina, repeated as Dodge Top Finisher in Super Stock, after also winning the award last week at the NHRA Richmond event. Driving his fast and consistent SS/KA 1974 Plymouth Duster 360, Longhaney raced through six rounds of competition to reach the final round and earn a runner-up spot in the highly competitive Super Stock class.
The Dodge Top Finisher award, now in its second year, awards $500 to the Stock Eliminator and Super Stock drivers who advance the furthest behind the wheel of a Mopar-powered Dodge, Chrysler, or Plymouth race car. The honor is awarded in both Sportsman categories at all 24 NHRA national events.
In NHRA Factory Stock Showdown competition, Joe Welch qualified No. 2 in his 2015 Mopar Dodge Challenger Drag Pak and drove to the event win at the NHRA Thunder Valley Nationals. Welch's 8.275/164.67 run in the final round knocked out Arthur Kohn to earn his first NHRA National event win.