Team Eaton Aeroquip's Robertson Runs First Three Second Pass
Courtesy of Pro Power Motorsports
Photo Courtesy of Mike Davis
Norwalk, OH– Norwalk, Ohio's Summit Raceway Park's Door Wars held during their Friday Night Chaos Series is quickly becoming a haven for Mid-West and North East Outlaw Pro Modifieds. The series is continuing to grow by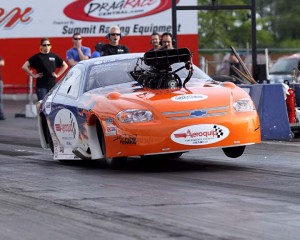 leaps and bounds but, what has been lacking is the sub four second passes that Outlaw fans have become used to on the national scene; that was until now.
 Todd Robertson of Harrison Twp, Michigan took his supercharged alky burning Cobalt to the first three second pass in Door Wars history with a 3.96 elapsed time, giving hardcore Outlaw fans just what they have been looking for.
 "It's been about three years since talk of the first three started at a Door Wars race," said Team Owner/driver Todd, Robertson. "There have been a lot of good cars here trying to be the first and even some heavy hitters from the national circuits so, to be the first one in the threes at a Door Wars event is special to us. I can't thank my crew and my sponsors enough for everything they do for this team," added Robertson.
 Robertson's night started off on the good foot as he wheeled his Eaton Aeroquip backed Cobalt to the top of the field and took home both the number one qualifier & top speed bonuses, awarded by Malcuit Construction.
 After defeating the nitrous assisted entry of John Vergotz in round one Robertson and his Crew Chief, Dennis Kolomyjec decided to take a shot at the track with a bye run in the second round. Kolomyjec was excited about the conditions provided by the Summit Raceway Park crew.
 "We had a little trouble about one second into the run. We knew that with the 60 foot times that we were laying down if we could get through that area we could really lay some power down," said Kolomyjec.
 Robertson and Kolomyjec's  efforts were rewarded with a Door Wars first; a 3.96 elapsed time at just over 186 miles per hour, the first three second pass for the Door Wars series.
 "The track was just outstanding. It's a credit to the track personnel that we were able to perform as well as we did," said Robertson.
For the second consecutive outing Todd Robertson and his Eaton Aeroquip backed Cobalt have taken home bridesmaid honors. Last week Robertson runner-upped at the Napa Auto Parts Run What Ya Brung class during Milan Dragway's Aeroquip Performance Products Heads Up Series. This week's results mirrored last week's except for the venue.
 In the final both Robertson and his combatant, David Roemer had traction problems. Robertson found his Cobalt considerably out of shape and instead of chancing it, he lifted handing the win to an almost equally ill handling Roemer.
"We're very happy with our progress this season but this bridesmaid stuff is getting old pretty quick," laughed Robertson. "I'm sure we'll take one pretty soon," added Robertson.