Monthly Archives:
August 2011
Courtesy of PRI
LAGUNA BEACH, CA – A brief, fill-in-the-blanks online form allows racing industry professionals to register for credentials for the Performance Racing Industry Trade Show in just minutes.  The credential request will then be
confirmed within one business day.
Racing business people need only fill out the form, and hit the submit button. If they have attended the PRI Trade Show previously, there is no need to attach proof of being part of a racing business or professional race team. First-time visitors are asked to submit verification they are part of a racing business, such as a copy of a business license. There is no charge to attend.
Approximately 1100 companies will exhibit the latest advances in racing products and motorsports engineering at the 24th Annual PRI Trade Show, December 1-3, 2011, in Orlando, Florida. It is the world's largest racing trade show, and the centerpiece event of Race Industry Week 2011.
Courtesy of Hinbest Racing
Photo by Mike Goodwin
ORANGEVILLE, ON – During the IHRA National event at the Grand Bend Motorplex recently, Katie Ward, driver of Hinbest Racing's Quick 32 Sportsman Series top dragster, was on her way to winning the Top ET class when her car
suffered catastrophic engine failure followed by a major nitrous explosion.
"We suffered a blow, that's for sure, however we don't believe in giving up." Katie said after the incident. "We were out for the season, with no money to rebuild and be competitive."
"But with the can-do attitude of our team, we went out and built a marketing package for the local NAPA Auto Pro facilities. They all came on board to support our team and were pleased to help us continue racing in 2011."
Our new team sponsors are:
Erskine's Service Centre – NAPA Auto Pro – Orangeville, ON
Bernard's Quality Cars – NAPA Auto Pro – Flesherton, ON
Auto Centre – NAPA Auto Pro – Shelburne, ON
Amaranth Auto – NAPA Auto Pro, Amaranth, ON
We also received support to rebuild from Ideal Supply, and the Canadian Automotive Institute. These two companies are the best in their field and continually support the community.
Courtesy of Jegs
INDIANAPOLIS, IN – One year ago, Troy Coughlin Jr. reached a high-water mark in his brief drag racing career by driving his JEGS.com dragster to the Super Comp title of the sport's most prestigious event — the Mac Tools U.S.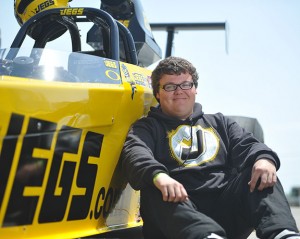 Nationals presented by Lucas Oil.
Now T.J. is back with dreams of defending his Indy triumph, and not even his drag racing aunt Samantha, who recently joined the Coughlin clan by marrying T.J.'s uncle Jeg, is going to get in his way.
"Winning Indy was beyond anything I could have imagined," T.J. said. "I can't wait to get back to the track and breathe it all in again. I love that place and everything it represents.
"In order to win this race again I'm going to have to beat the best of the best, and if Aunt Sam happens to be in the other lane, well, we'll race each other as hard as we can and see who wins. Otherwise, I'll be her biggest fan. I can tell you she knows how to drive a racecar. She'll be a tough draw for anyone."
Courtesy of Jegs
BOWLING GREEN, KY – Mike Coughlin exited the Division 3 event at Beech Bend Raceway Park with his head held high after driving his JEGS.com Chevy Cobalt to runner-up finish in the Top Sportsman class. 
Although he lost a close final-round race against his good friend, Ricky Adkins, Coughlin made a big move in the points standings as he continues his pursuit of a third North Central Division championship.
After qualifying No. 4 in the 32-car field, Coughlin used consistent 6.8-second runs to reach his third final round of the year. Coughlin and Adkins then locked horns in a memorable race that was decided by a fraction of a second at the finish line. Coughlin had a competitive .014-second reaction time and ran a 6.826 on his dial-in time of 6.81 seconds, but he was still just two-thousandths of a second — approximately five inches — behind Adkins at the finish line.
"I hate to lose any race but that one was so close, it could have gone either way," Coughlin said. "I really can't complain about anything this weekend. My car was absolutely flawless and I feel like I did a good job driving. I just came up a tiny bit short. 
Courtesy of TMRC
HAWK POINT, MO – At the end of 2010, Dan Devore and Kaylee Taylor Van Wyk of Jasper County Speed Shop
contacted Tim McAmis Race Cars and Performance Parts to inquire about a new project for their race team.  After some consultation with sales representative and project manager Billy Johnston, Dan and Kaylee decided a V4 1968 Camaro would be a perfect fit for their blown alcohol HEMI power plant.
Jasper County Speed Shop would enlist TMRC to construct the Camaro into a full roller and complete the project in-house with instructions, kits and components from Tim McAmis Performance Parts. To start the process a state of the art TMRC chassis was configured followed by mounting of the fiberglass V4 body.
Courtesy of ADRL
O'FALLON, MO – Buddy Perkinson attended Dragstock VII at Rockingham Dragway in 2010 as a fan.  This time, he'll be g
oing as a driver.
The 19-year-old budding star has been named the new driver for the Dingman Racing Extreme Pro Stock team and he will make his American Drag Racing League (ADRL) debut in the "Canned Heat" XPS car at Dragstock VIII on Sept. 9-10 in Rockingham, N.C.
"I went to the race there last year and I couldn't find anywhere to sit, there was so many people there," said Perkinson, who qualified for two NHRA Pro Stock races this season.
"I'm really excited for this opportunity and I can't thank (team owner) Billy Dingman enough. They have an excellent program and I can't wait to run these big 822 cubic-inch Hutter Racing Engines."
Perkinson came highly-recommend from Roy Hill, and team owner Billy Dingman quickly named him as the driver of the car for the final three races of the 2011 ADRL season.
Courtesy of IHRA
NORWALK, OH – Nearly a decade old, the International Hot Rod Association's popular Summit SuperSeries program is enjoying a period of record growth as the richest and most prestigious grassroots racing series in the country boasts a
record number of tracks and participants leading to the expansion of the program in 2011.
Created in 2002 as a way to give local racers a chance to compete on a national level, the Summit SuperSeries has grown exponentially since then as the IHRA member track list nears triple digits for the first time ever and the number of participants in the Summit SuperSeries approaches numbers once thought impossible when the series began just a few years ago.
"When this series began several years ago we knew it would be popular, but we never dreamed it would grow to a level of this magnitude," said Sherrie Barbour, IHRA Special Programs Manager.