Team Eaton
Courtesy of Pro Power Motorsports
Photo Courtesy of Mike Davis
Norwalk, OH– Norwalk, Ohio's Summit Raceway Park's Door Wars held during their Friday Night Chaos Series is quickly becoming a haven for Mid-West and North East Outlaw Pro Modifieds. The series is continuing to grow by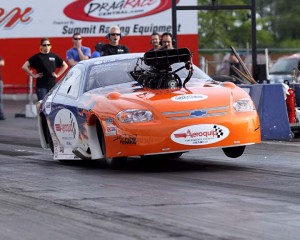 leaps and bounds but, what has been lacking is the sub four second passes that Outlaw fans have become used to on the national scene; that was until now.
 Todd Robertson of Harrison Twp, Michigan took his supercharged alky burning Cobalt to the first three second pass in Door Wars history with a 3.96 elapsed time, giving hardcore Outlaw fans just what they have been looking for.
 "It's been about three years since talk of the first three started at a Door Wars race," said Team Owner/driver Todd, Robertson. "There have been a lot of good cars here trying to be the first and even some heavy hitters from the national circuits so, to be the first one in the threes at a Door Wars event is special to us. I can't thank my crew and my sponsors enough for everything they do for this team," added Robertson.