PDRA
PITTSBORO, NC – Fifteen years ago local Maryland racer, Chris Matters, had a hunch he would make a great drag
race announcer. So when Maryland International Raceway put out the call for a new announcer, he put his name in the hat and was hired on the spot. Matters has been a regular MDIR announcer ever since. Now he has been named the newest member of the Professional Drag Racers Association announcing team. Matters will join Carl Robinson as a tower announcer, while Derrick Beach will remain the roving pit reporter for PDRA TV.
From his first night on the mic at MDIR, it was clear Matters' hunch was right. He was a natural. He created a niche for himself in the small tire doorslammer world, where he also competes. In between deployments with the Navy, where he's been an active serviceman for the last 13 years, Matters has also announced for the Pritchett Brothers' 1320X Shows and their Ultimate Outlaws Shootout, Holcomb Ford's Civil Wars, events put on by Donald Long, the NMRA, NMCA, and LSX Challenges, as well as the Yellow Bullet Nationals.
MEMPHIS, TN – Keith Haney and his Keith Haney Racing team are ready for the other Pro Nitrous teams to sing the
blues during the PDRA Memphis Drags this weekend at Memphis International Raceway.
Haney is coming off a spectacular performance in the Throwdown at T-Town last weekend at Osage Casino Tulsa Raceway Park, where his Lucas Oil/RacingJunk.com Camaro qualified No. 2 and raced to the final round. Now, he's looking to improve that by one spot in Memphis.
"We're ready for 'em," Haney said. "We've got a good hot rod and things are going our way. I've been having some good, consistent passes, and this Reher-Morrison motor is doing some serious mph. The team's doing great."
PITTSBORO, NC – The season started out a little rocky for Pro Nitrous driver Ron Muenks when Lizzy Musi tagged
his '68 Camaro owned by Dave Pierce during a qualifying run at the season opener in Ennis, Texas. Thankfully, both drivers were fine, and Muenks was even able to patch his car back up for eliminations. The team made more permanent repairs once the car was back at their shop in Oklahoma. They quickly refocused their energies and have been hunting their first PDRA Pro Nitrous win since.
"I just want to say how grateful I am to Dave Pierce for his unwavering commitment to this team and the PDRA," told Muenks. "Dave does everything from shopping for supplies, stocking the refrigerator and trailer, to cleaning the car from top to bottom. After the accident, Dave never wavered in his commitment to repair the car for the next round, which was evidenced by him jumping right in there with the rest of the team. It would have been very easy to be done for the season, but Dave is committed to this team and the PDRA."
PITTSBORO, NC – Brad Anderson Enterprises (BAE) sponsors the Pro Extreme #1 Qualifier Award at each PDRA
event. The company has been pivotal in a myriad of racing success stories since its inception in 1982. It's only fitting, then, that BAE honors the top qualifier in the premier class of the PDRA.
Anderson earned three championships during his days competing in Alcohol Funny Car, and two others with his son behind the wheel. The greater amassment of championship in which BAE played a factor is astounding, with Anderson himself having lost count, although he estimates that his products have been part of around 80% of world championships in various classes throughout the years.
Pro Extreme crew chief has two cars at top of PDRA standings
MILLINGTON, TN – At first glance, racing in the Mid-South in the middle of August might present its own unique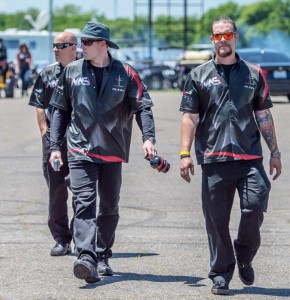 set of challenges but for Al Billes, a crew chief with NAS Racing in the Professional Drag Racers Association, there's not much he hasn't encountered before.
Billes and key members of his crew have raced around with world with a variety of racing series in every set of conditions imaginable, so summertime at Memphis International Raceway during the PDRA Memphis Drags is nothing to lose sleep over.
"It's been hot everywhere we've gone this year," Billes said. "There's been high heat and high humidity all over the place this summer. This weekend is going to more of what we're used to running on this year.
Al Billes (left) is one of the most respected crew chiefs in Pro Mod racing. The cars Billes oversees are running first and third in the PDRA's Pro Extreme class.
PITTSBORO, NC – Champion racer Mick Snyder has been sidelined thus far for the 2015 PDRA season while waiting
on a new '68 Camaro to be completed. Snyder had big plans for his new whip, including a first-of-its-kind supercharger/electronic fuel injection combination. When it became apparent the Camaro wasn't going to be completed for the majority of the season, Snyder went about switching over his tried-and-true "Orange Menace" Powersource Transportation Corvette to test his innovative combination in Top Sportsman.
"We put a roots blower on it and changed everything over to ComSyncEFI," Snyder explained. "I wanted to try this because nobody's ever done it before and it looked like something exciting. It took me three months to talk Dad into doing it. Once I got him talked into it, we got involved with Ryan Micke and made it happen.
Injured Daddy Dave won't race, will still greet fans at PDRA event 
MILLINGTON, TN – When the Professional Drag Racing Association rolls up to Memphis International Raceway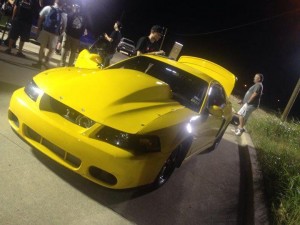 (MIR) on August 20-22 for the Memphis Drags, it will be bringing an extra star of the show "Street Outlaws" with it.
The driver Boosted and his yellow Mustang will now race fellow "Street Outlaws" star Chuck three times during Saturday night's racing.
Boosted GT will take the place of Daddy Dave in the match race scheduled at the PDRA Memphis Drags.
Daddy Dave was originally scheduled for the match race with Chuck, but Dave suffered injuries and significantly damaged his car at an exhibition earlier in the month. Dave is now on the mend and still plans to be at the Memphis Drags to meet with fans and sign autographs.