PDRA
PITTSBORO, NC – There is nothing more important to competitive racers than safety. Not a new car, not massive
amounts of horsepower, not even winning races and championships. Without an environment that is as safe as humanly possible nothing else matters.
Carl White understands this, and he lives it every day. A longtime racer and provider of safety equipment, White, through White Safety Equipment, is committed to using his experience and knowledge to make well-designed, quality safety equipment available to racers.
Sonny's Racing Engines is proud to announce that they will once again be providing support to PDRA competitors
with the Sonny's Pro Nitrous Low Qualifier Challenge.
Building on the success they had as an integral part of the PDRA's inaugural 2014 season, Sonny's Racing Engines, of Lynchburg, Virginia, has stepped up once again to the tune of $33,000 in contingency and bonus payouts.
This season the Sonny's Pro Nitrous Low Qualifier Challenge will pay $500.00 to the No.1 qualifiers in the Switzer Dynamics Pro Nitrous category, regardless of what engine they use.
With the start of the 2015 Professional Drag Racers Association (PDRA) season less than two months away no one is
looking forward to it more than 22-year-old Justin Kirk. The third-generation racer from Lenore, WV, is excited about stepping into Randy Kelley's supercharged dragster and going after Rookie of the Year honors and maybe even this season's PDRA Top Dragster championship.
"Last fall we were actually looking for a blower to put on my car, the one we ran at four races in 2013 with the ADRL, so we called Randy up to see if he had one or knew where we could look," Kirk said. "He said he was cutting back a little this year and suggested maybe I should just drive his car. I wasn't expecting that, to be honest, but it's a great car and I couldn't be happier about the opportunity. It's like a dream come true for me."
PITTSBORO, NC – The Professional Drag Racers Association is stepping up their Live Feed coverage by Motor Mania
TV for their sophomore season. PDRA TV was a huge hit in 2014 with an average of 22,000 viewers per race. For the 2015 season, Andy McCoy Race Cars is joining the PDRA team of sponsors as the presenter of the Driver Showcase portion of the Live Feed.
The Andy McCoy Race Cars Driver Showcase will feature an inside look at the unique and storied drivers of the PDRA, taking fans behind the scenes of all their favorite teams.
"We wanted to do more with the PDRA," explained Andy McCoy. "In talking to the PDRA staff, we decided the Driver's Showcase would be a really good fit for us. I've been friends with Jason for a long time. I grew up with him down in Mississippi. I've seen him and his dad grow in their success over the years. I like to surround myself with successful people and with them it's a no brainer. I listen to what they have to say.
PITTSBORO, NC – One of the youngest standouts in motorsports broadcasting is joining the Professional Drag
Racers Association for the 2015. Derrick Beach started announcing when he was just 12 years old at his home track, National Trail Raceway in Columbus, Ohio. At the age of 16 he then joined the NHRA as Division 3 announcer. At just 18 years of age, he went on the NHRA national event tour, where he announced for two years. Last year he stepped back from the busy travel schedule and focused on specialty events, such as the Spring Fling at Bristol Dragway. Now in 2015, he joins the PDRA team of announcers.
Together with seasoned veteran Brian Olson, Beach will bring voice to the action on and off the track at all PDRA National Events in 2015. Although still early in his career, Beach has announced events from Super Chevy to NMCA and NMRA. He even made ESPN guest-commentator appearances when he was still in Junior Dragster competition. He's also been on Horsepower TV for the NHRA Hot Rod Reunion.
PITTSBORO, NC – In only their second season as the world's premier eighth-mile drag racing association, the PDRA
is already expanding their class line up. Pro Open Outlaw will debut at select events on the PDRA tour in 2015 with an eight car field. Powershield Coatings, a division of Toefco Engineered Coating Systems, has stepped up to sponsor the class.
Pro Open Outlaw (PO) will be a unique addition to the PDRA lineup of professional categories. As signified by the class name this will be a true outlaw class, open to dragster and altered body types. Few rules will govern the class. Other than the obvious SFI safety standards, rules include 14-71 blowers only- cast or billet. Screw blowers are prohibited, as is nitromethane. Transmissions must use torque convertors. Turbos are limited to 88mm. Wheelie bars are required. Pro Open Outlaw will operate on a pro ladder with a .400 pro tree. Weights have been set at 1700 lb minimum for small blocks and 1900 lb minimum for big block entries.
PITTSBORO, NC – Canadian-turned-New Yorker, Melanie Simmons Salemi, will be pulling the next gear in her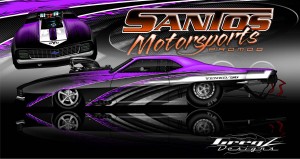 racing career, moving from Top Dragster to Pro Boost in 2015. Pro Boost quickly became one of the most sought after classes in the PDRA, among racers and fans alike. The class has had only one female competitor (Carol Long) prior to Melanie campaigning in the PDRA 2015 season.
The 30 year old is teaming up with fellow Canadian and Pro Boost racer, Jay Santos. Both Salemi and Santos will have new '69 Camaros for the 2015 season built by Melanie's brother-in-law, Jim Salemi who owns G-Force Race Cars.